The Brush Pile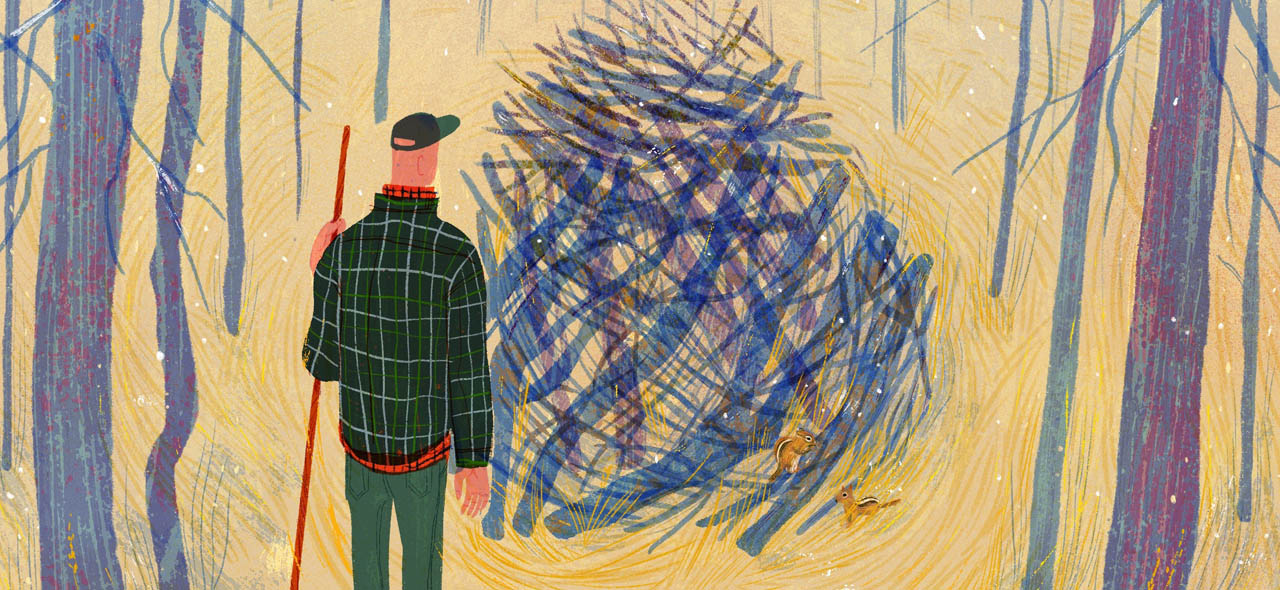 December 6, 2022
About 100 yards from my house, near the edge of an open field, lies a large brush pile. It's unsightly, at least from the human perspective — a lump of tangled, decomposing chaos marring the open views of the field. Each time I pass, I think: I've got to do something about that.



We all have piles of something we believe we need to clean up — stacks of papers that might be important one day (but never are), dusty once-used garden pots sitting in a shed, stiff odd-sized canvases of a child's early art. Many of these piles stay hidden, tucked into basement corners or entombed in boxes on closet shelves. Others are more visible but stubbornly stay beneath awareness. They become part of the landscape — their absence might cause more notice than their presence. The large brush pile in my lower field is too noticeable to ignore — my driveway passes only a few yards from it. I'm forced to acknowledge it's there almost every day.
I've dealt with piles of vegetation of one sort or another all my life. For part of my youth, I lived in a small rural town in northwest Illinois. Hardwood, mostly oak as best as I can recall, shaded most of our yard. In the fall, my family spent a weekend or two raking leaves into piles that we then burned, the aroma sweet like pipe smoke. When I became a homeowner, at first in St. Paul, Minn. and later in Highland Park in Pittsburgh, leaf burning was banned. We bagged the leaves in plastic lawn bags and piled the bags on our front walk for pickup by the city trash collector. Sealing something that decomposes on its own, leaving little toxic waste, in something that stays around for who knows how long seems ridiculous on the face of it. The City of Pittsburgh established a yard debris pickup day — leaves were to be bagged only in paper and placed on the curb. And finally, the city sucked up leaves in huge vacuum machines as part of street cleaning. Precisely which day or days each year this happens in a specific neighborhood in Pittsburgh was a bit of a mystery. The main challenge each fall for me was when to herd the leaves to the curbside. The decision was full of risk.
Raking before all the leaves had dropped meant either a repeat effort or a messy-looking lawn until spring. In addition, "your" leaves might wander from your curb to your neighbors' yards, raising the ethical question: Who is responsible for the wayward leaf, the original owner of the tree from which the leaf fell, or the owner of the land on which the leaf rests? And then there's the overhanging branch conundrum. My father, an electrical engineer for whom neatness was critical, complained bitterly when picking up the small number of leaves shed from his neighbor's pin oak.
Cleaning the yard too late risked the misery of raking cold, wet leaves after Thanksgiving and missing the pickup day or the street-cleaning machines.
The payoff of all this leaf collection effort was a "clean" yard, a look that for a few days said: "This guy takes care of his place." I might have written this last sentence in a more gender-neutral manner but I'm guessing the domestic responsibility for leaf management more often, but not exclusively, falls to the male head of the family. I apologize to women who have assumed this role, although I'm not sure it's something any gender should aspire to.
As I approached retirement, I moved into a smaller house on a larger property in Upper Burrell, a largely rural township east of Pittsburgh. I began to see puffs of purple in the valley in front of my house and to smell wood smoke — there was no ban on burning vegetation in my township! Still, the idea of raking or blowing the enormous amount of leaves into piles to burn each fall felt overwhelming. I knew I couldn't move the massive number of downed leaves to the road for pickup because it was a quarter-mile down my driveway and there was no township machine to take them away. I "solved" the leaf problem by having them blown into the woods surrounding my home by the gentleman who cuts my lawn. In addition to the man-made wind, the winter winds do a nice job on most of the lawn around my house.
Despite this luxury of almost automatic cleanup, a bigger problem arose. My driveway is lined by woods in many places. The flora of the forest seeks any path possible to sunlight, so I must trim it back frequently with a pole saw. I'd overfill my pickup bed and haul the brush to a pile about 10 yards from my fenced vegetable garden. That pile became the drop-off spot for any plant life I needed to clear — mostly smaller branches or limbs from naturally fallen trees, along with trimmings from the many plants reaching into the edges of my fields.
Each fall, I ignited the pile with varying petroleum accelerants. Small animals who'd established a home in the pile, chipmunks mostly, darted in terror to escape the flames. I worried about their less-mobile newborns. Some of these bonfires were magnificent. I watched in terrifying wonder while holding a single garden hose, a joke in the face of the heat of flames that sometimes rose two stories high. I worried the fire would spread to nearby trees, as it did one year to a homeowner who lives a few miles from me. In the absence of rain, the ash pile of these fires would smolder for a week. And then the earth healed its skin. The normal grass and other field vegetation, leaving no scar, retook the blackened space by the end of the next summer.
Tired of hauling the brush and scratching the finish on my truck, I moved the location of the brush pile closer to the wooded part of the driveway and what I estimated would be a safe distance from the overhanging trees when it burned. What I hadn't considered was that I had no nearby water source to grant me at least some sense of control. And perhaps even more stupidly, I chose a location for the pile that was likely sitting near or directly over a buried gas line that runs to my house. I'm not sure if a bonfire over a gas line truly increases the risk of explosion or, less catastrophic, the creation of an eternal flame. The internet didn't offer a clear answer, though as I typed the question, I thought, Duh. Even if the issue was studied and tests somehow were done proving it safe, I doubt the fire chief would say, "Sure, go ahead. Build a large fire over your gas line. What could go wrong?"
The brush pile has grown now for several years. A large maple fell on its own a few years back and its remains contributed a sizable amount to the pile, including a few larger branches. As it grew, it became more and more obvious that the pile was too close to the woods to burn. I would need a few firefighters and a pumper to stand by. More and more I'm confident it's now a home for a few families of chipmunks, some field mice, a rabbit or two, or some larger creatures, like a possum or raccoon. Perhaps even a fox. I doubt any species would respond to a posted eviction notice.
As news about climate change grew over the past decade, another question came to the back of my mind: Does burning a brush pile generate more or less CO2 than natural decomposition? My sister posed the question without my prompting on a social media site. As is common on social media discussions and internet searches, the issue became more complex than one might first guess. Methane, a more potent greenhouse gas than CO2, is generated by natural decomposition but not in rapid combustion. It turns out that the amount of methane produced by natural breakdown of plant life is miniscule in effect on climate compared to the amount of CO2 produced through burning. And burning infuses a large bolus of CO2 over a short period of time, while more natural decomposition spreads the pain out. It's another example of flattening the curve. It became clear that burning is the worse choice.
I've stopped adding to my brush pile and instead throw the plant matter into the woods. Last week, the big brush pile seemed smaller. It had started to collapse onto itself. From an aesthetic perspective, it remains an eyesore. I've come to believe, though, that clutter has its place. I've decided to leave it be.
I'll still recall my childhood leaf-burning weekends and the bonfires I recently lit with pleasure rather than regret. And though I won't light another large bonfire on my land, I'll still enjoy the pleasure of burning a log or two over the winter months in my fireplace.