The Neighbors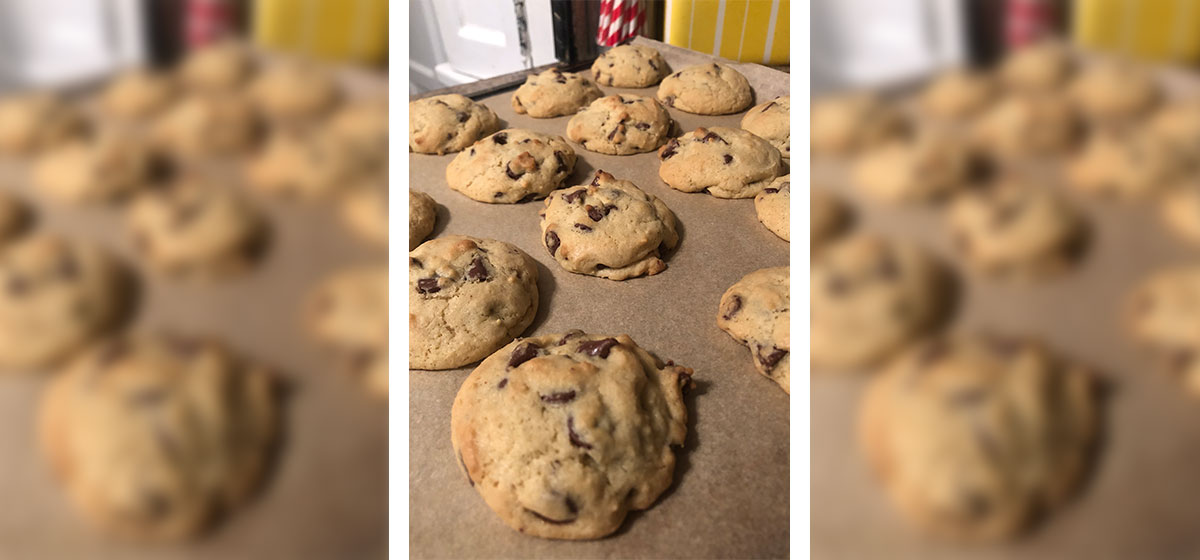 June 15, 2020
The cookies had come out of the oven earlier in the week. Delicious and gooey and way too tempting. Free range brown eggs, Amish butter flavored with sea salt, and semi-sweet chocolate chips that had tumbled out of a shimmering gold bag from Ghirardelli, the same chocolate chips that had been pillaged from the shelves at Target since mid-March. Due to high demand, some products may be unavailable. PLEASE limit your purchase to one bag per customer. The cookies were cooled on a wire rack, then sealed into quart-sized, Ziploc freezer bags.

There were always homemade chocolate chip cookies in the freezer. Because you never knew when Dan would offer to leave some biscotti in his mailbox, or Kim would tap his maple trees in upstate New York and replenish your supply of pure, Bourbon infused syrup, or Yvonne would send you on your way with a bag of freshly made pasta noodles flavored with basil. You never knew when Tom would call, either.
"I've been busy," he'd say.
It took all of 30 seconds for him to round the corner, a plastic tub filled with homemade peanut butter in his hands. On the lid, he had taped a small, neatly cut piece of paper that was scribbled with a hand-written note: "Return for 1 refill."
The peanut butter always consisted of the same three ingredients: Planters extra-large Virginia peanuts, second-pressed olive oil, and a little bit of honey—just a touch—that Tom would whip up in a food processor holding court on his dining room table. It was better than anything bought in the store; better than Jif or Skippy or those organic brands that cost $6 bucks a pop that came with an inch of oil swimming on top. Tom's homemade peanut butter was thick, textured, just sweet enough, and usually devoured by the spoonful while passing through the kitchen, where a little jar of honey in a plastic, bear-shaped container sat on the counter.
Nate's bees had finally produced some, the same bees he had ordered from an apiary in Ohio that arrived via two-day priority from the post-office. Five thousand bees and one queen buzzing around in a wooden crate made of scrap wood kinda stapled together that totally freaked out the mailman. Nate keeps his beekeeper's hats on his front porch. Two sets of elbow length gloves, one beekeeper's jacket and one full body suit. When he's fully outfitted, the look resembles something NASA would use to prepare its astronauts for a lunar landing. The hive sits in the side yard, right next to their flower garden. The knowledge came from "Beekeeping for Dummies," 4th edition.
There were always cookies in the freezer because there were always neighbors to give them to; handed through the door, left in a mailbox, placed into a bag and hung on a door knob.
"Check your back porch," the text read.
"Nice. Quarantine's version of a back-alley drug deal," came the reply. "Want me to drop off a bottle of homemade wine?"