A Walk in the Park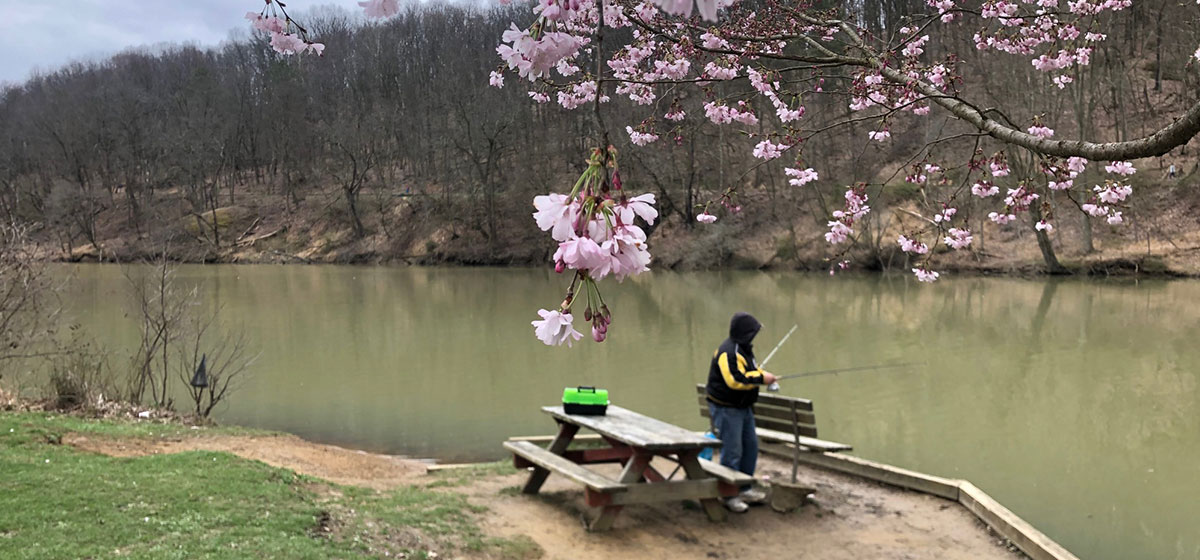 April 22, 2020
The lake is stocked with trout. Rainbow trout and golden trout. Scales that manage to shimmer even on an overcast day, when the sun is trying but the clouds are winning. When fishing lines are being cast into water the color of army fatigues, creating a whisper of a ripple with the cast of each line. Pffffftwheeeee, plunk! Neon orange bobs bouncing on the surface. Cast. Wait. Reel. Cast again. Catch. Release.

"How's your girlfriend, Mike?"
Mike's girlfriend is currently nestled a few feet away from his well-worn pair of canvas boots, half caked in mud and old paint and stuffed with a pair of slouching, white tube socks. The mallard hen has been camped out at his ankles for most of the morning.
"My buddy. She's good," Mike replies.
"She hasn't left your side all day."
"Yeah. She's my buddy."
The fishermen are sitting in canvas chairs on the bank, standing close to the shore, or perched on top of weathered wooden picnic tables with carvings that bear witness to forgotten love stories. Andy + Sue. There are tackle boxes open, rolls of fishing line on the ground, and bait being stored in little plastic containers, the same kind that hold the blue cheese for your take out order of wings. There are patient dads teaching daughters how to cast their line, "Just like this, over the shoulder. Yeah, that's good," and impatient dads trying to get their sons to be patient. "For the love of God, will you wait a minute while I get set up here?"
The fishing poles have been mounted in the ground, propped up by one rig or another, or held by old men chewing on cigars and young men periodically checking their iPhones.
"Got a few today."
"Haven't caught a damn thing."
The same trucks are usually parked in the lot across the street. The Ford F150s, GMC Sierras, Toyota Tacomas, Chevy Silverados, and a little forest green Kia SUV.
"Is there a Walmart around here?"
"Nah. Only Target."
"Are you kidding me? No Walmart?"
The lake isn't too busy today. It's gray and was raining earlier and now there's a breeze that's cooling off what could have been a mild, spring day. Some of the fishermen packed up and left. A handful stood in the rain, rubber waders on, waiting for the clouds to pass. Which they did, eventually; pushing north to reveal a patch of brilliant, blue sky that opened over the handfuls of blooming cherry blossom trees.
"What's a few drops of rain, anyway?" one of them asks, a tan-colored, floppy canvas hat on his head, on the back of which his fishing license is pinned. He feels a tug on the line and reels it in. Dangling from it is a small trout, squirming and flopping. He carefully removes the hook and gently places the fish back into the water. Picking up his fishing pole, he pulls his arm back, and with a flick of his wrist, releases it towards the water. Pffffftwheeeee, plunk!
"Caught a five pounder the other day," the man in the neon green hoodie says, showing off a photo on his iPhone. "Nothin' better to do since we can't work. I kinda hope this lasts through turkey season. I could fish in the mornin' and go turkey huntin' in the afternoon."