Steelers Add Key Players Who Should See Playing Time
2018 NFL Draft recap
steelers.com, Albert Pena/Associated Press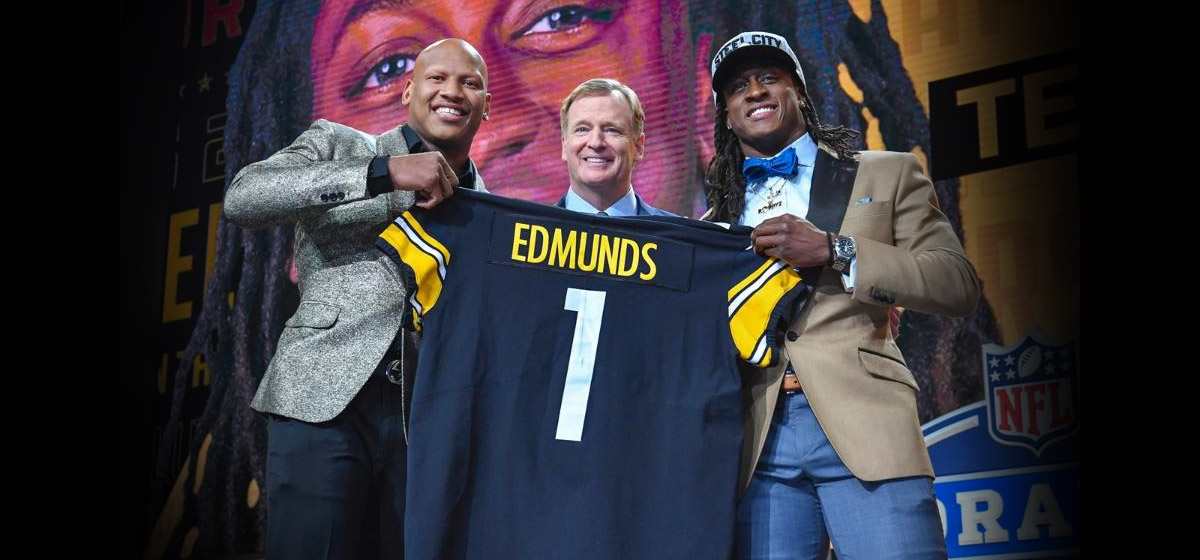 May 10, 2018
The 2018 NFL draft is in the books. The league again elected to feature a number of former NFL players to make team selections, perhaps to quell the booing of Commissioner Roger Goodell. It didn't make a difference.

It did, however, produce a very emotional draft moment. To a roaring crowd, linebacker Ryan Shazier walked to the podium and announced the Steelers selection. It was bittersweet—he's an inspiration, but continues to serve as a harsh reminder of the risks these men take for a brief and violent career.
Divisionally, we saw some high-impact selections. The AFC North welcomes two franchise caliber quarterbacks to Cleveland and Baltimore. Cincinnati also addressed a couple significant needs, though they didn't attempt to bolster the quarterback position. Or maybe they did—read on!
We saw a couple masterful trades by Kevin Colbert and the Steelers front office:
Disgruntled wide receiver Martavis Bryant was sent to Oakland for a 3rd round pick. On the surface, it may seem like Pittsburgh didn't get enough in return.
This trade will ultimately wind up benefiting the Steelers for a number of reasons:
a. Bryant was publically unhappy, and a ticking time bomb—another failed drug test gets him suspended indefinitely.
b. He wasn't as productive post-suspension.
c. He's on the final year of his contract.
In the end, Jon Gruden and the Raiders' front office will likely wish they could have this one back.
The 2nd trade was a work of art. Cincinnati was (and still is) without a true backup quarterback. At pick #76, Mason Rudolph was falling right into their laps. Until he wasn't—the Steelers swooped in at the last second, leapfrogging the Bengals' two consecutive picks.
We'll never know for sure if we poached their selection, but we do have a couple clues that we might have:
a. Surely the backup plan going into Bengals training camp was not someone with twice as many career interceptions as touchdowns (Matt Barkley).
b. They not only met with Mason Rudolph pre-draft, but also worked him out with starting quarterback Andy Dalton.
All in all, it was a solid draft for the Steelers. Still, it can be argued that their greatest positional need at inside linebacker went unaddressed. With the best options off the board, GM Kevin Colbert took a very familiar route and likely took his best players available instead.
It should still pay off nicely. Here's a look at the Steelers' draft class of 2018.
---
Round 1: Terrell Edmunds, Safety
Virginia Tech | Age: 21 | Height: 6'1" | Weight: 217 lbs.
What to know:
Pittsburgh traded for safety Morgan Burnett this offseason—the positional need was not quite as dire. An area of weakness is now one of strength, and Edmunds will get to absorb the professional level in a part-time role before being thrown to the wolves.
Pittsburgh's 1st round selection in Edmunds left many pundits confused. There are, however, a handful of things that make him an attractive selection. Much like T.J. Watt (last year's round 1 selection), Edmunds has an impressive lineage. His father, Ferrell, was a 2-time NFL Pro Bowler, and his mother a collegiate track and field athlete. Terrell and his brother, Tremaine, also made history when they became the first brothers to be selected in the same 1st round. Older brother, Trey, currently plays for the New Orleans Saints.
The football IQ is also outstanding. Always with his head on a swivel, Edmunds is a constant scanner of the pre-snap formations. He's got a great instinct and natural feel for the game, although I think his aggressiveness can lend him to overcommitting.
Edmunds is also a freakish athlete at 6'1 220lbs. He put up a great 40 yard dash time at the NFL combine, and was amongst the best in the vertical leap and broad jump at the position. Oh, and not just this year—we're talking in the history of the NFL combine. This man is gifted.
Edmunds may wind up being a 1st round diamond, but it may take some polishing—he's far from the perfect prospect. Having watched him more than a few times at Virginia Tech (my alma mater), the one thing that stood out was his tackling—it needs work. There's no question about his ability to track down the ball carrier. Consistently bringing him down is a different story. Some of the other nuisances can be fixed—there were more than a few times where poor angles and anticipation completely eliminated him from a play.
What to expect:
There are a lot of things to like about Terrell Edmunds; it's just hard to project where he'll fit in. Assuming he can stay healthy (he is coming off of a shoulder surgery in 2017), he will almost certainly be seeing the field consistently by midseason. They may even play him a bit at linebacker in certain packages—he's got the instincts and the speed to be effective.
---
Round 2: James Washington, Wide Receiver
Oklahoma State | Age: 22 | Height: 5'11" | Weight: 213 lbs.
What to know:
Out with the old, in with the new. The Steelers have now consecutively dipped back into the 2nd round wide receiver pool. Losing a talent like Martavis Bryant hurts, but Steeler fans shouldn't lose much sleep: James Washington is the real deal.
For starters, this guy looks like he was custom built in a video game. He's got the legs and stride of a receiver and the torso of a Heisman trophy running back—it's an intimidating combination. Recipient of the 2017 Fred Biletnikoff trophy for most prolific college wide receiver, Washington has proven to be a consistent threat. He amassed an eye-popping 15 100-yard games over his final 2 seasons, including a monster 296-yard performance against Pitt at Heinz Field (ouch). For reference: JuJu Smith-Schuster and Antonio Brown had a total of 10 and eight 100-yard games in their final two college years, respectively.
Though you'd never call it a disappointing combine performance, you'd like to see a faster time for a "deep threat" receiver. However, as we noted last year, a "slower" 4.5+ second 40-yard time is not indicative of future success—there are already plenty of NFL defensive backs who can verify Smith-Schuster is no tortoise.
What to expect:
Martavis Bryant leaves 50 receptions up for grabs. Though Washington is not quite as polished a route runner or as physical as JuJu was, he has equal if not better opportunity. Remember: this was supposed to be a position of strength last off-season with Martavis back and a healthy Sammie Coates. Given the general uncertainty of the depth chart, it is not farfetched to project Washington with a 500+ yard rookie campaign. There are opportunities to be had, and hearts to be won.
---
Round 3: Mason Rudolph, Quarterback
Oklahoma State | Age: 22 | Height: 6'5" | Weight: 235 lbs.
What to know:
There are many comeback stories in this league, but one of them does not seem to be the tale of Joshua Dobbs, the 2017 3rd round quarterback selection. Unless he has made some serious strides, I do not foresee him sticking around much longer.
Enter Mason Rudolph, a prospect many thought would be selected earlier. From a pure value perspective, it does not get much better than this for the Steelers.
On paper, there's a lot to like. Standing at 6'5, 235 lbs, he's got your prototypical size and compares very similarly to a young Roethlisberger. He doesn't turn the ball over, and he's been a top college passer for 3 years (he actually led all of college football in 2017).
The tape tells a bit of a different tale. Rudolph is extremely reliant on timing, i.e. the receiver being in the right place at the right time as practiced. There is also a noticeable lack of velocity on his throws. When you watch one of the earlier drafted prospects, the contrast in ball speed is extremely apparent. Rudolph's throws don't get there quite as fast, and the tight spirals that you like to see are not as automatic. He had the smallest hands among quarterbacks at the combine, which may or may not play some sort of role.
What to expect:
For the second year in a row, Ben Roethlisberger has dangled retirement rumors, and Pittsburgh is starting to get antsy. While Dobbs did not have quite the expectation surrounding him this time last year, Mason Rudolph is met with unusually high ones for a 3rd round pick. There are a lot of factors in his favor: a great mentor, his college go-to wide receiver on the roster, and a city excited to see what he's got. Tom Brady, Aaron Rodgers, Drew Brees… Mason Rudolph may never reach their elite level, but he's off to a similar start: sitting and learning behind a Pro Bowl incumbent.
---
Round 3: Chuckwuma Okorafor, Offensive Tackle
Western Michigan | Age: 20 | Height: 6'6" | Weight: 320 lbs.
What to know:
"Chuks" is a big boy and exactly what you look for at his position. It does not take long to locate him on the field, either. This man can absolutely bully at the line of scrimmage. He uses his massive arms to gain leverage, and moves around pretty darn well considering his size.
However, if there's one word you'd be hard pressed to use to describe him, it's "tenacious." As powerful as he is, he can also be bullied.
What to expect:
Plain and simple: not a lot to expect this year. He'll get plenty of run in the preseason, i.e. he'll be getting a butt kicking. With a little seasoning, Okorafor could wind up being a solid selection. He's come a long way already, having moved from Botswana as a teenager and playing football for the first time during high school. I think he'll stick around, but will be a bigger conversation topic next summer.
---
Round 5: Marcus Allen, Safety
Penn State | Age: 21 | Height: 6'2" | Weight: 215 lbs.
What to know:
Great value here considering the need. He had a wide variance of landing spots among draft experts—I saw him as a mid-3rd round prospect. And while the Steelers may take their time with the development of Terrell Edmunds, it's actually Allen who may see the field a little more consistently this year.
Edmunds is the far superior athlete, but Allen is no slouch—he also put up decent numbers at the combine. He'd never be described as a "ball hawk," but is a strong, reliable tackler on tape. And while Edmunds will be tasked with tracking some of the best all-around playmakers in the league, Allen will be getting his hands dirty in the trenches. Every team needs guys who bring that to the table, and Allen leaves Penn State 5th in tackles in school history.
What to expect:
The ideal scenario is Allen turning into something the Steelers were hoping Malik Golden could be. Although 5th rounders at any position rarely see the field their rookie year, my money is on seeing him early, notably on special teams. Also noteworthy: Pittsburgh worked him out at linebacker pre-draft—keep an eye on that.
---
Round 5: Jaylen Samuels, Running Back
NC State | Age: 21 | Height: 6'0" | Weight: 225 lbs.
What to know:
There has been a lot of buzz about this selection, and for good reason: Samuels is an exciting player. But what exactly is he?
Samuels was a jack of all trades in the NC State offense. Here's a challenge: try watching his videos and figuring out where he is pre-snap. That's for good reason: he's very good at scoring touchdowns, racking up a ridiculous 47 in his collegiate career (again, for reference, Le'Veon Bell scored 34 in his 3 years at Michigan State).
He also seems to be high character. Samuels sported the #1 jersey the last two seasons, an honor as voted on annually by his teammates. Said head coach Dave Doeren: "JaySam shows up every day with the same work ethic, the same attitude and the same effort and he is an excellent leader for our team. I'm proud that his teammates chose to honor him in this way."
At the combine, "JaySam" worked out with the tight ends, which at 6'0 tall will likely not be his position in Pittsburgh barring a 6-inch growth spurt. He has excellent hands and looks extremely natural catching the ball. He runs a variety of solid routes, and is also an incredibly patient ball-carrier. That said, he's a much more savvy athlete than he is an explosive one.
It's tough to really say which Steeler, if any, is put on notice. Fan favorite James Conner is coming off of December MCL surgery—perhaps some healthy competition for backup duties will be something to watch. Samuels averaged a healthy 6.1 yards a carry at NC State, but the receiving game is clearly his forte.
What to expect:
No matter how you slice it, the guy in Samuels' path is Le'Veon Bell. Sorry Jaylen, it's nothing personal—Bell just does it all. On most teams, Samuels would provide the pass catching flexibility out of the backfield a traditional early-down back doesn't possess. Le'Veon is anything but traditional: he led all running backs in catches last year. Ultimately, how much we see of Samuels is up to the creativity of new offensive coordinator Randy Fichtner. It's a good problem to have, and players like Samuels find their way to the field one way or another. Get familiar with his name—you'll be hearing it a lot this preseason.
---
Round 7: Joshua Frazier, Defensive Tackle
Alabama | Age: 22 | Height: 6'3" | Weight: 321 lbs.
What to know:
The odds are stacked against 7th round selections, but Frazier landed in a good situation. New defensive line coach Karl Dunbar now gets to continue to work with one of his pupils from Alabama.
Highly recruited out of high school, Frazier never lived up to the lofty expectations that come with being a top-100 recruit. He leaves Alabama with a total of 28 tackles in his 4-year career.
The scouting reports are not particularly glowing, but he actually plays a little bit faster than he's given credit. He's high energy and high effort—he just doesn't seem to be high impact. Perhaps with a little bit of coaching and professional level experience, he could be a late bloomer. For now, he's simply a project.
What to expect:
Although he didn't make quite the jump people were hoping in year two, no one expects a 7th rounder to push incumbent nose tackle Javon Hargrave. Current backup Daniel McCullers may be in trouble, but experience could trump potential. Reading the tea leaves a bit, I think McCullers hangs onto the job for another season on his cheap 1-year deal. However, his contract is largely unguaranteed—if Frazier comes out of the gate hot, McCullers could be looking for work.