Steelers Draft: Matt Milligan Gives the Scoop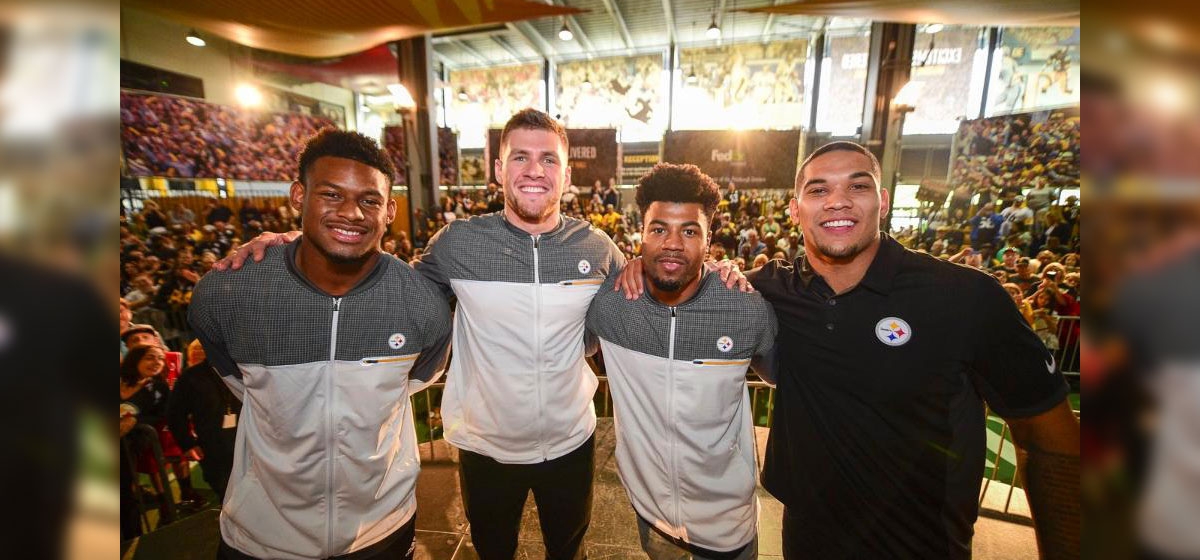 May 8, 2017
The theatrics of the NFL draft reached new heights this year. Between a touching tribute to the late Dan Rooney and a pandemonium-inducing tirade by former Cowboys Wide receiver Drew Pearson, there were plenty of made-for-TV moments. A total of 6 trades were processed during the 1st round, 3 of which involved the eventual drafting of a quarterback.

Through all the chaos, it was business as usual for the Steelers. In fact, they've now made a selection in every single draft since its inception in 1936, when they selected running back William Shakespeare in the 1st round (not a typo).
If there's one word that encapsulates Pittsburgh's draft acquisitions, it's "upside." Here's a look at the 2017 class:
Round 1: T.J. Watt, Outside Linebacker
University of Wisconsin-Madison | Age: 22 | Height: 6'4" | Weight: 252 lbs.
What to know:
While there's certainly a lot to love about the Steelers' first round draft selection, there are equally as many questions. Coming off of an impressive statistical season leading the Big Ten in sacks, Watt ultimately chose to forgo his senior eligibility. That's rather commonplace; 22 of the 32 round 1 selections left college eligibility on the table for a chance to be drafted.
What isn't so commonplace is Watt's complete lack of overall experience not only on the field, but at this position. After being recruited to play tight end, injuries would ultimately keep him off the field for his first 3 seasons at Wisconsin. 2016 marked the first time Watt would be able to play out a full year, at a position he wasn't even recruited to play, per coaching request.
While a switch to outside linebacker would obviously work out in his favor, it's hard to fault the skeptics. A 1st round investment of such raw talent for a team with a "win now" mentality may seem a bit of a reach. There are, however, a few attributes working in his favor:
Let's get the first thing out of the way: bloodline. It helps to have not only one, but two brothers currently playing in the NFL. Middle brother, Derek, is currently rostered with the now LA Chargers, while older brother and 3-time NFL defensive player of the year, J.J., needs little introduction.
T.J. is also, for lack of a more elegant term, a freak. His monstrously long arms consistently show up on tape, as do the 11-inch mitts on the end of them. If you're into the NFL combine, then you were probably pretty pleased as well. Watt showed up and dismantled it, finishing five of the seven drills in the top 2. He's got a certain swagger about him on the field, and can occasionally be heard through your TV speakers crowing after a timely sack or a big stop.
What to expect
At the end of the day, Watt represents a hardworking, athletic presence that can rotate in with the timeless James Harrison. Steeltown should be excited about their 1st round selection, who should be wreaking havoc in backfields sooner rather than later. Harrison can't stay young forever (though I'd never say it to his face), and T.J. will undoubtedly pick up a few tricks of the trade from the otherworldly veteran until father time catches up. Keep an eye out for more consistent playing time in the 2nd half of the season, with potentially a full time roll in 2018. 
Round 2: John "JuJu" Smith-Schuster, WR
University of Southern California | Age: 20 | Height: 6'1" | Weight: 215 lbs.
What to know
The shot heard round the 'burgh was fired shortly after the 2nd round wide receiver selection was made. Fresh off of a reinstatement to the NFL, Martavis Bryant let the Twitter universe know how he felt about the pick.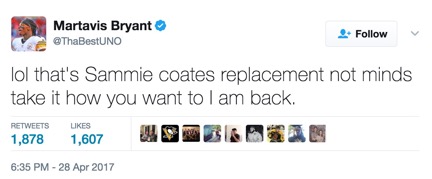 Coates tweeted back with seemingly nervous laughter, while Coach Mike Tomlin chimed in to "play nice." But the question remains: what is up Steelers GM Kevin Colbert's sleeve here?
On paper, it's a "luxury pick;" the Steelers have a plethora of outside wide receiver options going into the 2017 season. However, dig a little deeper and things are not as stable as they may seem:
Antonio Brown, though still playing at an elite level, will be 29 when the season begins;
Sammie Coates had plenty of opportunity, but couldn't quite seem to lock down a long term role;
Martavis Bryant hasn't played football in over a year, and is set to become a free agent when this season concludes;
After a disappointing tenure in Pittsburgh, 5th year wide out Markus Wheaton now resides in Chicago;
Darius Heyward-Bey and recently-signed Justin Hunter are owed virtually nothing in dead cap space and may not make it through camp;
Cobi Hamilton is still quite the enigma—flashes from time to time, disappears at others;
Eli Rogers has a high ceiling and 2016 7th rounder Demarcus Ayers caught a few balls late last season, but both will be limited mostly to slot duty.
Enter the 20-year-old Juju Smith-Schuster, a big bodied specimen considered by many to be the #1 prospect at the position coming into 2016, and former 5-star recruit. As a sophomore, JuJu abused the box score week after week, finishing with almost 1,500 yards and 10 touchdowns. His massive 10.5-inch hands don't often let a football go through them. Then in 2016, he took a step back; breakout quarterback Sam Darnold set the world ablaze while Smith-Schuster was only occasionally the main beneficiary.
The Steelers have plenty of speed on the perimeter. What they haven't had in a long time is a physical presence reminiscent of Hines Ward. What Smith-Schuster lacks in speed, he makes up for in tenacity. Many wide receivers in this league will make a catch, turn up field and take what they can before darting out of bounds. NFL corners won't be so fortunate with JuJu—he's tough to bring down, difficult to force out, and won't let tacklers come at him from an angle without greeting them with a bone-jarring stiff-arm.
Everyone will read scouting reports about how JuJu will struggle to separate from NFL cornerbacks due to a perceived lack of speed (when did a 4.56 40-time become a death knell?). You'll read about how he was the product of a system that overinflated his numbers. You'll see the occasional quip about the legacy, or lack thereof, of USC-turned-NFL wide receivers.
What you won't always read about is his well-respected work ethic and character. You have to dig around for comments from players and coaches about JuJu continuously staying after practice, or his selfless appreciation in adding 'Schuster' to his name to honor his step-father. Toughness isn't a box score stat, either. In November 2015, Smith-Schuster had a screw and plate surgically placed into his hand after he broke a bone below his ring finger. Five days later, JuJu took the field and hauled in eight catches for 138 yards and a TD against Arizona. Oh—and at 18 years old.
What to expect
Expectations should be tempered slightly with the return of Martavis Bryant, who absolutely electrified at times in 2015 before his suspension. JuJu should grow a rapport with Pittsburgh quarterbacks early and often in the preseason, and will see the frequency of appearances turn up a bit as the regular season progresses. This is a make-or-break year for Martavis, and the 2018 offseason will present a difficult decision for Kevin Colbert. The drafting of Smith-Schuster serves as a warning shot to both Coates and Bryant—just ask Emmanuel Sanders, Mike Wallace and Plaxico Burress.
Round 3: Cameron Sutton, Cornerback
University of Tennessee | Age: 22 | Height: 5'11" | Weight: 188 lbs.
What to know
Cameron Sutton falls squarely into the "buy low" category of cornerbacks heading into this draft. Heading into the 2016 season, Sutton had started every single game of his 3-year career. That streak would come to an end early in 2016 when he broke his ankle, and he'd be forced to miss almost half the year. Combine the injury with the deep class of cornerbacks this year, and the Steelers found themselves with a nice bargain at the end of the 3rd round.
Sutton is a twitchy athlete with quick, choppy feet. He is, however, underwhelming in the size department. At 188 lbs. with arms that measured in the shortest among corners at the combine, there are times where he can be overpowered by more physical receivers.
What Sutton lacks in size, however he makes up for in instinct and effort. He can quite easily mirror quick-footed WRs, and can match step-for-step on the outside when he has to. What impresses me the most about Sutton is his recovery, something that will be a necessary tool in a division with some slithery wide receivers to keep tabs on. But when he's "beat," he's never very far behind—he has an instinctual propensity to get back to the receiver, and can knock out a would-be completed pass if the timing isn't just right.
Though its not from a lack of effort, his run support will be a weakness out of the gate with his size. You hear a lot of what an NFL training regimen can do for an undersized athlete at the next level, but it will be critical to getting him on the field. That's something he can obviously work on, but it will take some time. He has all the tools, and once he learns to diagnose the route tree a little faster, look out.
What to expect
There should be some considerable competition in the secondary this offseason. Though Artie Burns is all but guaranteed a starting role, there remain some roles largely up for grabs. The future of the Steelers secondary relies upon Ross Cockrell's effectiveness, Senquez Golson's (eventual?) appearance and William Gay's age. Sutton will need a bit of seasoning, but where we won't have to wait to see him: the return game—he averaged an eye-popping 18 yards per punt return his junior season.
Round 3: James Conner, Running Back
University of Pittsburgh | Age: 22 | Height: 5'11" | Weight: 229 lbs.
What to know
Many Pittsburghers have already become accustomed to seeing James Conner on the weekend—just not on Sundays.
Those who even remotely follow the college game are probably familiar with Conner's story. After setting the ACC rushing touchdown record (26) and receiving ACC Player of the Year honors, Conner would be diagnosed with Hodgkin's Lymphoma in 2015.
Football players are tough by nature, and James has a reputation for bulldozing his way through defenders. His disease would suffer a similar fate, and Conner would announce in May of 2016 that he was cancer-free. After missing all but one game in 2015, Conner returned to the field for the 2016 season to play in every game. The stats weren't all there, but he was—that's what matters.
In a similar way to Sutton, Conner is somewhat of a buy-low investment for the Pittsburgh front office. Though his comeback year wasn't as impressive statistically, the stat sheet does offer at least some explanation. The almost 700 fewer rushing yards in 2015 were also accomplished by 80 fewer carries. And while his yards per carry took a dip from his previous seasons, his receiving game was much improved—Conner caught 21 balls for 300 yards last season, compared to a combined total of 9 catches from his previous 3 seasons. All of this, and as of this writing less than 1 year removed from his last chemotherapy treatment.
The hardworking, relentless hometown boy out of Erie runs like he has a vendetta against the world, much like a certain Hall of Famer from past years. Make no mistake—this is not a finesse player a-la Le'Veon. Conner is a chain moving "spell" back who will be brought in on short yardage and goal line situations. He may struggle to find room on the outside at the next level, but his marked improvement in the passing game should remedy some of those concerns in the short term.
Pittsburghers love a good comeback story and a "can't quit" attitude, and that's precisely what James Conner brings back to Heinz Field.
What to expect
Le'Veon Bell is arguably the best running back in the league, so there's no competition here. Though his yards per carry is elite, he can get run down and fans are well aware of his missed games for an assortment of reasons. What may be a little different from the earlier round picks is when we see Conner—I expect to see him almost right away, bringing a style of football onto the field that Steelers fans will be giddy to see. Le'Veon wears out defenses enough on his own; let's see how they fare when a battering ram comes in to give him a breather.
Round 4: Joshua Dobbs, Quarterback
University of Tennessee | Age: 22 | Height: 6'3" | Weight: 216 lbs.
What to know
Finally, some high-quality competition for backup quarterback Landry Jones has found its way to the 'burgh. With Big Ben toying with Steelers fans through the offseason before ultimately deciding to return, it makes sense for the organization to start grooming a successor. And last I checked, supporters of Jones as the eventual successor are few and far between.
Dobbs will find a familiar face entering camp on the other side of the ball, as he and Cameron Sutton were roommates during their 1st year at Tennessee. While injury set Sutton back in his showcase year, Dobbs' improvement was minor compared to expectations. Though his 63% completion percentage showed improvement from 2015, it's still a far cry from his 1st round counterparts. And while his completion percentage went up, so did his turnovers.
Two things Dobbs is certainly not lacking are athleticism and intelligence. At Tennessee, he majored in aerospace engineering, and has spent the better part of this winter balancing training regimens with his remaining course load to graduate this Spring. At the combine, he put on a similar show to T.J. Watt, and finished almost every drill in the top two at the position. He also showed off some of the 4.64 40-yard speed that allowed him to rack up over 2,000 rushing yards over his 4-year career. Though tall, he's a bit on the lankier side and will have to bulk up a bit to take hits at the next level.
He's oozing with talent, plain and simple. A play comes to mind against Florida when Dobbs throws the ball to a wide receiver behind the line, who then zips it back over to Dobbs on the other side of the field. These plays have a tendency to end in disaster—naturally, Dobbs took it to the house for 58 yards.
What to expect
Quarterbacks are a fickle thing at the pro level—no one really knows what they're in for. With that said, last year's most successful pro passer came out of the 4th round, as Dak Prescott managed his way into the playoffs with fellow rookie Ezekiel Elliott.
While the Steelers don't fall into the category of teams drafting a signal caller expecting immediate results, it's not too early to start planning. Roethlisberger has shown to be mostly durable, but his style of play leaves him susceptible to injury on a yearly basis. Dobbs will battle it out with Jones in the preseason for the right to back up, but he will probably require more marinating than your typical rookie given his accuracy issues. Though his delivery is relatively quick, there doesn't seem to be a lot of "zip" behind them and he does have some mechanical issues to work through (nothing an engineering major can't fix, right?). A year learning under Ben and working with some of the greatest receivers on the planet will do him a world of good, and fans should be excited next year to see how he's progressed.
Round 5: Brian Allen, Cornerback
Utah | Age: 23 | Height: 6'3" | Weight: 215 lbs.
What to know
A low risk/high upside pick is what Brian Allen brings to the table this year. At 6'3" and 34" arms, he's got the size to potentially smother wide outs on the outside. He also comes with impressive speed numbers in the 40 and 3-cone, especially for his size.
What makes Allen unique is his time played at a wide receiver in high school (and even some while at Utah), and it shows in both positive in negative ways. He's got decent hands, and has a few routes he can cover pretty easily given his length, particularly the longer routes. On the flipside, his reaction times and rhythm are not quite there yet. Scouting reports indicate a very hard time flipping his hips to run with a receiver, something that will take time to develop while also learning the nuances of the full NFL route tree. Reports also note that he is a weak (and self-admittedly inexperienced) tackler, which might be a bit overplayed looking at his film—nothing that can't be fixed.
What to expect
Unless Allen takes some miraculous leap forward in development during the offseason programs, I think it's pretty safe to assume we won't be seeing much of him, if at all, during his first year campaign. This selection is purely a developmental one, and I expect him to get burned a-plenty when he sees the field in the preseason. All that said: if he can fill the cornerback mold, he could become something special given his physical traits and tools.
Round 6: Colin Holba, Long-snapper
Louisville | Age: 22 | Height: 6'4" | Weight: 248 lbs.
What to know
Not many draft pundits could have predicted Pittsburgh's 6th round selection in a long-snapper. Depth was not addressed at a few key areas of need, especially tight end and defensive line. Given Ladarius Green's uncertain future and Cam Heyward's comeback from injury, it goes without saying that things could get dicey this year if a similar injury-bug bites.
On the bright side, with this selection we know they're drafting someone who they think can slide in right away and provide competition. According to NFLdraftscouts.com (a site linked from CBS Sports), Holba was the 422nd ranked prospect, and number three at the long snapper position. What we know: he can snap a football at varying distances better than most.
What to expect
At the very worst: the Steelers stash him; no harm, no foul. At the very best: Holba gives 35-year-old and long time Steeler Greg Warren a run for his money.
People may not have been overly enthused with the selection, no doubt. But if there's anybody excited to have two long snappers hanging around, it's James Harrison, who filled in for an injured Greg Warren against the Giants in 2008. The results were not pretty; he subsequently snapped the ball over punter Mitch Berger's head into the end zone for a game tying safety.
Round 7: Keion Adams, Linebacker
Western Michigan | Age: 21 | Height: 6'4" | Weight: 245 lbs.
What to know
Speaking of depth, linebackers coach Joey Porter now has a little more of it.
A former basketball player and North Carolina native, Keion Adams comes with plenty of athleticism to build upon. He's quick off the line, has active feet, and has a very noticeable overall awareness for where the ball is. Something that stands out on tape is his "motor;" he has a little spin move that keeps his gears grinding, and his pursuit does not stop until the play is over. He's had decent sack numbers his last two years, racking up 7.5 sacks in his senior season coupled with 10 tackles for a loss. Even more encouraging: that number should no doubt be higher.
A review of a few of his games reveals a guy with a knack for getting his hands on the quarterback. Much of the time, he was in the mix to make a play, but either made the incorrect "finishing" move, or couldn't ultimately bring down the quarterback. The potential is there—there is a lot of instances on film with his hands grabbing a foot or a shoulder pad only to have them slip away. At the very least, he's disruptive.
What to expect
Well, nothing's ever "expected" from a 7th round pick. But despite the depth, Adams actually has a better than decent shot to make this roster with a little guidance from Porter and company. Give him some time to polish his moves, Adams could be yet another late round gem mined by the Steelers front office. He improved every single year at Western Michigan, coming in without any experience at the position, and was an all-MAC selection when the dust settled. He seems very humble in his interviews, and aware of needing to find ways to improve. At worst, Adams is a practice squad stash with a high amount of upside.