COVID Decks Pittsburgh's Pro Sports Teams
City coffers also shrink
Wikimedia Commons, Steven W. Adams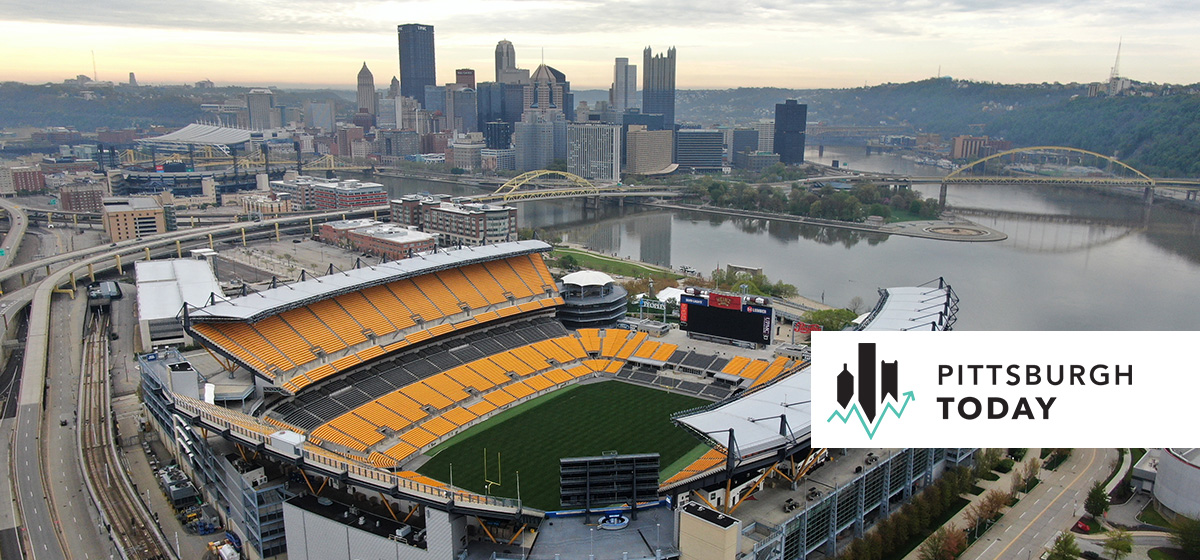 October 7, 2020
With stands empty and uncertainty over when and if fans will return, Pittsburgh's professional sports franchises are bracing for heavy financial shortfalls.

Thanks to lucrative media contracts, some pro sports leagues are less vulnerable than others. But overall, the loss of revenue from ticket and concessions sales at stadiums and arenas is a critical hit to team budgets and one that could cost the City of Pittsburgh more than $10 million in tax revenue.
"This is going to be a big hole for the city," City of Pittsburgh Controller Michael Lamb said. "Not just in 2020, but going forward."
NFL
The National Football League benefits from its popularity on the field and on television, which has allowed it to negotiate substantial media contracts, around $5 billion per year, and reap considerable licensing revenue—sources of income every team evenly shares that should cushion the impact of the pandemic.
"[The NFL] could survive a whole season with empty stadiums," said Duane Rockerbie, a sports economist with the University of Lethbridge in Canada.
Burt Lauten, director of communication for the Pittsburgh Steelers, declined to reveal any specific details on the team's finances but said, "I can say we will take a major hit on revenues by not having fans at Heinz Field this year."
The Steelers earned $457 million during the 2019–20 season, according to an analysis of pro sports team financials done by Forbes Magazine. Gate revenue generated $72 million, about 16 percent of the team's income.
But the NFL is not immune from taking major financial losses, given the unpredictable nature of the coronavirus pandemic. The possibility of widespread outbreaks that could cripple the season lingers as a concern.
Already, there have been disruptions in the young season. A COVID outbreak among Tennessee Titans players forced a postponement of a match-up with the Steelers last Sunday, and a game between the New England Patriots and Kansas City Chiefs on the same day was postponed due to positive tests on both teams. The league, so far, has been able to reschedule postponed games by swapping out each team's bye week.
Having fans in the stands is not prohibited by the league. The NFL has no official COVID policy for in-person attendance. Some teams have allowed limited numbers of spectators since the beginning of the season. After playing for empty stadiums in September, Steelers President Art Rooney II announced that a limited number of fans would be permitted at Heinz Field just days before the team's home game Sunday against the Philadelphia Eagles. Tailgating is not permitted.
Teams travel to opposing cities, much as they did in pre-pandemic times after the NFL ruled out deploying a 'bubble system' where teams quarantine in one or several locations to decrease the risk of COVID infection.
NHL
As the Tampa Bay Lightning clinched its long-awaited Stanley Cup victory, the National Hockey League was poised to end the turbulent season with a relatively stable financial outlook, at least in the short term.
It's partly a gift of timing. When the season was suspended in March, each team in the league had already played around 70 out of their 82 regular-season games. Most player salaries, the league's largest expense, were already paid, and the majority of television and radio revenue was banked for the season.
A lack of gate revenue and a shortened playoff schedule will result in some losses for the current season. But NHL owners have a financial cushion thanks to their revenue sharing agreement with the players' union, which allows a certain percentage of player salaries to be held in escrow until the end of the season. Should player salaries exceed 50 percent of all hockey related revenue at year's end, the league takes the escrow money to ensure an even split. The league's salary cap agreement provides further stability by redistributing revenues from larger and more profitable media markets to smaller-market teams.
"The long-term outlook of the NHL is probably not too bad," Rockerbie said. "Unless, of course, COVID just keeps going."
More significant losses are looming already. With COVID cases climbing in the United States and Canada, and the 2020–21 season tentatively scheduled to start on December 1, the league is staring at the possibility of a full regular season with no gate or concession revenue.
The Pittsburgh Penguins did not respond to requests for information related to team finances. But according to Forbes Magazine, the team generated $184 million in revenue during the 2018–19 season, with gate receipts generating $76 million, or 40 percent of the total.
MLB
Major League Baseball's Pirates faced the most disruption of any Pittsburgh sport playing to empty seats over a drastically shortened season.
The Pirates make about $44 million in gate revenue a season as part of the more than $270 million total revenue it takes in, according to a Forbes analysis based on 2019 data. The Pirates did not respond to requests for comment.
The MLB revenue-sharing arrangement does not redistribute the funds as evenly among teams as in the NHL and NFL. Baseball shares national TV and media revenues equally. But only 48 percent of local revenue is subject to revenue sharing, creating income gaps among teams. MLB also has no guaranteed revenue split between teams in players, allowing some teams to pay a premium to hire talent beyond the league's salary cap.
Income from revenue-sharing accounts for a significant share of the budgets of smaller-market teams, such as the Pirates. But those earnings are sensitive to cancelled games. This season, COVID canceled 102 games of baseball's schedule 162-game season. The state of the 2021 major league season remains as uncertain as how long the pandemic will last.
The home team
The pain extends beyond dugouts and front-offices.
In Pittsburgh, and across the country, crowds at live sporting events generated significant tax revenues and fueled a wide variety of jobs in the service and retail industries.
The city's annual revenue from its amusement tax on tickets for live events is typically around $16 million. "For 2020, just that line item alone is probably a 10 to 12 million hit," city Controller Lamb estimated. And he said that with parking during sports events accounting for about 40 percent of parking revenue, another $20 million could be lost.
The city's total tax revenues were $497 million in 2019, making the revenue losses for city coffers relatively small. Still, Lamb said the shortfall will contribute to pandemic-related financial woes for the city which officials will need to address as they draft a budget for next year.
"Until people feel more comfortable being near each other, I think we're going to continue to have a problem with any special event-related revenue."