Cameron Heyward, Gridiron Philanthropist
A life's recounting in the subject's own words
Photo by the Pittsburgh Steelers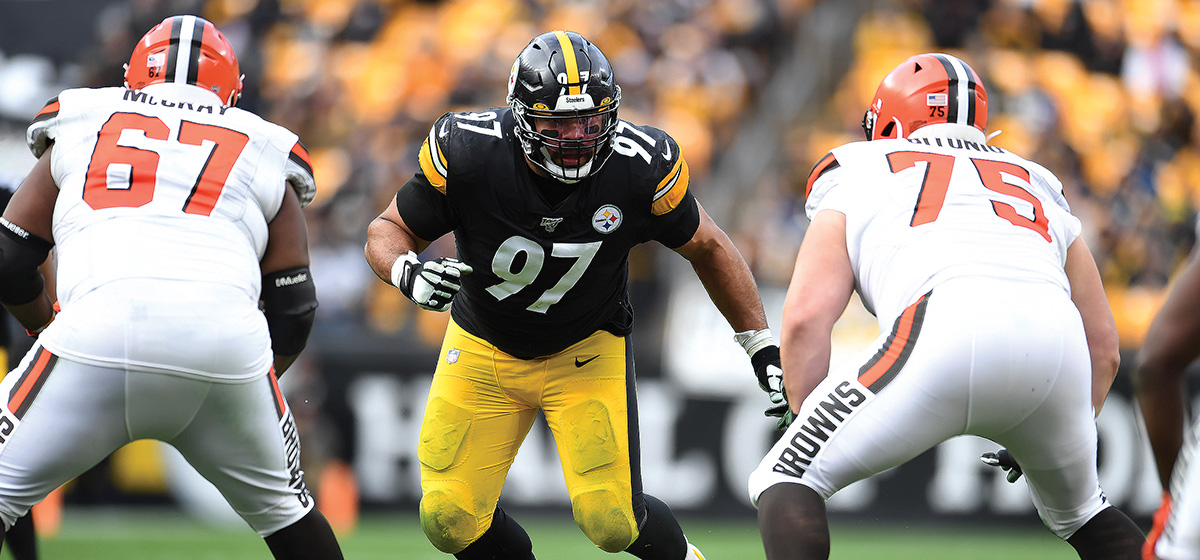 January 4, 2021
I was born in Pittsburgh on May 6, 1989. My grandma still lives here. When I was young, we moved around a lot because my dad, Craig Heyward, played 11 years in the NFL for five different teams. When I was 6, we moved to Atlanta so that my dad could play for the Falcons, and we decided to make it our home. So, when my dad moved on to play for the St. Louis Rams and then the Indianapolis Colts, we stayed in Georgia, and that's where I grew up.

My dad was full of bravado, a man that you would never see feeling down. But sadly, he had to stop playing football in 1999 because he developed a brain tumor. The first time I heard that my dad had to quit football, I was shocked because that's all I knew: My dad was a football player. Instead of playing the game he loved, he had to have brain surgery, after which he lost sight in his right eye.
Years later, there came a day when my dad was supposed to pick me up from school. He didn't show, and wasn't answering his phone. Soon, we found out that he had a stroke, which paralyzed him on his right side and rendered him almost unable to speak. At that time, we learned that the brain tumor had returned, and was significantly worse. I heard a doctor say, "I don't know how long he has." My brothers were in the room with me, and we all broke down. No sons are ever ready to hear that their dad is dying.
---
Cameron Heyward
Gridiron Philanthropist
Pittsburgh Steelers, Defensive Tackle (2011–present)
Ohio State University, B.S., Human Development and Family Sciences (2011)
---
We had about 10 or 11 months together afterward, and my dad was working towards walking again. He was dealing with a bout of pneumonia when I went away to play in a high school basketball tournament. Not seeing my mom on the trip wasn't something I was used to. When I finally met up with her, she couldn't even muster the strength to tell me that my dad had passed away. It was the worst day of my life. Watching ESPN, I heard stories about my dad's passing, and kept waiting for the reporters to say his name again. It broke my heart to know that he was really gone. He would not attend my wedding. And if and when Allie and I had kids, he would never meet them.
Most people know that my dad was nicknamed "Ironhead," but not many know why. They think it had something to do with the way he played football. But actually, he got the nickname when he was about 10 years old. He grew up in Passaic, N.J., and used to attend a local Boys & Girls Club. In truth, my dad was a bit of a knucklehead back then, and one day, a kid snapped a pool stick on top of his head. My dad went home, more or less unfazed, and when his mother found out what had happened, she started calling him "Ironhead," and the name stuck.
The name "Ironhead" Heyward is special to me because the legacy my dad left is a unique one. Stories I've heard about him are sometimes off-the-wall, but to know that he had a big impact on many different people is a source of pride for me. I'm appreciative of all that he taught me, especially by example. Today, I play a game that I love, which was a game that he loved, too. We're connected through football. One day, hopefully, I'll make it all the way to heaven and will have a chance to talk to my dad about my life and my family. Like most kids, I had a bit of an attitude growing up and would act like I wasn't listening to him, but I was. One thing that has stuck with me about my dad is that he came from nothing. He had to work for everything he got. For him, it didn't matter how you reached where you are. He always told us to make the most out of every situation, and to make sure to leave a lasting imprint. My dad left his legacy; now it's time for me to take his legacy, improve on it, and make my legacy. That's what I've always tried to do.
All in all, I couldn't have asked for two better parents. They were always my biggest supporters. And when my dad died, my mom really stepped up. I have two younger brothers, one older half-brother, and a sister, and our mom has always been there for us. She's been our rock. My dad passed away just before my senior year in high school, and when I began looking at colleges for my education and to play football, my mom was really my agent. She knew more about defenses than I did at the time, and she'd ask recruiters questions like, "Do you play a '4-3,' or a '3-4?'" "Where and when do you see my son playing?" She helped to direct me. My mom has always played a huge role in the lives of her children. She did whatever it took.
For my first two years of high school, I went to Whitefield Academy, a private, college-preparatory school in Georgia, which was almost an hour's drive from our home. My mom and dad would switch off driving every day to take me to and from school. I played basketball there. Then right before my junior year, my dad had his stroke, so I transferred to the local high school, Peachtree Ridge, which was near our home in Atlanta, and for the next two years, I played football and basketball there, and had a very good time.
When I was a senior, after considering all of my college options, my mom and I settled on Ohio State University. We went on an unofficial visit for the Ohio State-Michigan game and fell in love with the place. The decision for me to go there was a big one for my mom. Her son would have to travel all the way to Ohio from Georgia, and she wanted to know that I would be in good hands. We loved the football coach, Jim Tressel, because he seemed to care about his players more as people than as athletes. And he was flexible. Coach "Tres" was willing to let me play a multitude of defensive positions, and now in the NFL, I've played almost every position across the line. Jim Tressel prepared me for it. And I can say that, from the moment I stepped onto that campus until the moment I left, Coach Tressel was always there when I needed him. I was able to graduate in four years with a degree in Human Development and Family Sciences.
I suppose I could have left Ohio State after my junior year to enter the NFL Draft like so many players do these days, but I chose not to do that. After all, my dad had left Pitt early, and my mom went with him, so neither of them graduated college. My goal was to be the first person in my immediate family to earn a college degree. My grandparents were both teachers, and my aunt was actually valedictorian of her high school class and then magna cum laude at Pitt, so I come from a family that believes in education and I wanted to make sure to reflect that value.
During my senior year at Ohio State, we went to the Sugar Bowl, and unfortunately, I injured my elbow. Naturally, I was thinking, "Oh, no! Is this going to mess up my chances in the draft? Did I just squander my NFL opportunity?" But after lots of work and rehab, I was back to full health by draft night and felt confident that I could still be chosen in the first round, which I was. I never thought that the call would come from Pittsburgh, but it did. I would get to go back "home," where my grandparents still lived, where my father spent formative years of his life playing college football at Pitt. And now I can say that the city has been my home for my entire career. I have embraced and been embraced by the community more than I ever thought I would. In 2015, my mom helped me and Allie found the Heyward House foundation, to help underserved kids in the inner-city of Pittsburgh and elsewhere, including the Atlanta area, where I was raised. Many Steelers players who came before me had set the mark in terms of philanthropy. Troy Polamalu, Brett Keisel and Aaron Smith all became prominent members of their communities. They believed in giving back and doing it the right way. I wanted to do the same.
In our first five years at the Heyward House, we've done some really cool things, like working with Boys & Girls Clubs, providing after-school programs, and assembling hygiene buckets during the COVID-19 pandemic. We started a new initiative called "Craig's Closet," which was inspired by my dad, who owned only one suit throughout his high school and college days. We provide suits for kids to wear for college and job interviews, or even for their high school proms. These are big moments in the lives of young people. We always say, "If you look good, you'll feel good," and I think that goes a long way. We've also launched another initiative named after my grandparents, Judy and Rufus Jordan. We call it the "Literacy Project." We create little libraries all around Pittsburgh, and that's really taking off. It's great because it's not just for kids. We provide financial literacy books for young adults, which is something that can really help our community. When I was a kid, on Christmas Day every year our family would go and hand out blankets and meals to the homeless. Being young, I didn't think about it much at the time, but looking back, that really changed my life. I came to understand that I'm privileged. That was my mom's thing. She got to see my dad grow up in this business, and she wanted us to understand how blessed we are and that there are ways and opportunities to give back. I can't just be a football player. I have a responsibility to help other people.
Allie and I have three kids. Our son, Callen, is 5 years old. Our daughter, Chloe, is 3. And our other daughter, Caia, is just 16 months. Now, I knew that I could be a good father to my son, but how would I be as a dad to a couple of girls? Friends told me, "You'll be a great dad for your daughters." I said, "Well, I don't know. We'll see." But the girls have definitely calmed me down and given me more perspective.
I just signed a new contract with the Steelers, which is great. It's nice to be recognized and to be paid well for what you do. But when I play football, it's not just to make a buck. For me, it's always been, "Do I love it?" And if I love it, I'm going to play, and play hard. I enjoy it out there. Like my dad, I give a lot of myself to the game and want to be good. And if I'm still loving it at age 40, and feel like I can play at a high level, then you'll continue to see me out there. But a lot of things have to go right for me to get to that stage.
I like the process and the grind of football. I like being able to work towards something each week and then measure myself and my team against others. Obviously, I haven't reached my goal of winning a Super Bowl yet. But that is my ultimate goal as a player. I feel that football immortality is only achieved by winning a Super Bowl trophy. In the end, I want to be respected as one of the NFL's great players. And I want to be considered one of those players who brought a championship to a city that deserves it.
"I like the process and the grind of football. I like being able to work towards something each week and then measure myself and my team against others." —Cameron Heyward
Some people, especially in this time of COVID-19, ask me about asthma, which I've had all my life—weather-induced, allergy-induced, and so on. It's been challenging. When I was young, I was hospitalized a couple of times around Christmas because I was allergic to Christmas trees. I even have exercise-induced asthma. Can you believe it? An athlete with exercise-induced asthma? Growing up, my mom always told me, "Don't be a hero, Cam. If you're not feeling up to it, let the coaches know and take a breather." There are many kids who have asthma and want to play sports, so I want to stress that it doesn't have to hinder athletic performance. You can still be a dominant athlete, even if you have asthma. These days, I take every precaution. I wear a mask to make sure I stay safe and to keep my family safe as well. Everybody has to do their part. But if we didn't have the testing we do now in the NFL, I don't think I would be playing.
"I want to continue to improve my community, and to hold myself and others accountable." —Cameron Heyward
For me, the current state of the nation is very disheartening. My grandfather is black, but my grandmother is white. And years ago, they would go to protests with my mom in a stroller. My grandpa was the first black teacher at Carrick High School and ended up on the school board for the Pittsburgh Public Schools. He passed away last summer believing that there are things we think have changed, but really haven't. There have been conversations, even between me and my wife, who is white, about things she didn't understand about my experience. I might not have mentioned them because that's just the way I am. But some things were truly shocking to her, and she never knew how I felt about them. There are things that need to be said these days, and not just for me and my family, but for other people and their families, too.
In life, one thing you have to be is consistent. I understand that people want to make statements about race and politics. But I ask them, "What are you doing for your community? How are you helping to bridge the gap between people? Are you trying to open people's eyes?" I don't think statements do very much. They may be nice to hear sometimes, but they don't mean much if you don't back them up with actions. Coach [Mike] Tomlin has told me, and I will take this to my grave, "If we win a Super Bowl, that's not enough." Those words ring in my ears because they remind me that I have more to give my community than just a trophy. I want to continue to improve my community, and to hold myself and others accountable.