A Hearty Fall Favorite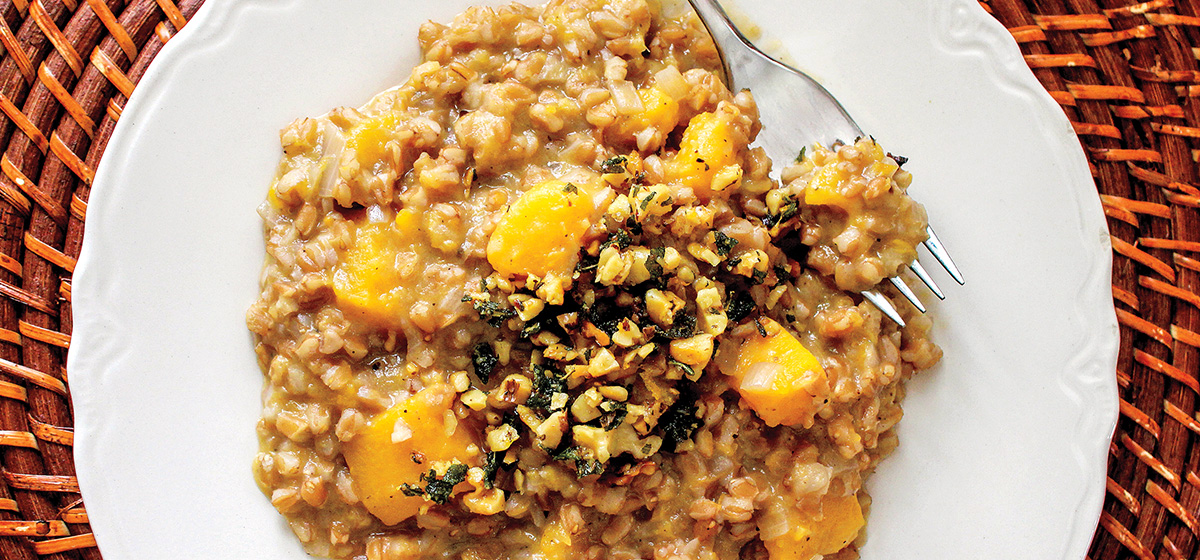 September 28, 2020
The arrival of autumn means cooler nights, shorter days and the return of warm, comforting dinners. Few dishes fit the bill better than risotto, especially when made with a favorite fall vegetable: butternut squash.
Traditional Italian risotto is made by slowly cooking the rice, adding broth as the rice absorbs it, and stirring frequently. When the rice is stirred, the grains rub together, releasing their starch. The result is a sublimely creamy but labor-intensive dish, as it requires standing over the stove stirring nearly the entire time.
This rustic take on classic risotto, made with chewy, whole-grain farro, skips the constant stirring. Because farro does not cook the way rice does, it requires less vigilance. In fact, the whole first half of the cooking is a "cheat"—the farro is partially cooked at a simmer before switching to the one-ladle-at-a-time risotto method. While the finished dish doesn't have quite the same texture as traditional risotto, it's arguably more interesting—simultaneously creamy and chewy, with a deep toasted, nutty flavor that complements the butternut squash.
When roasted, butternut squash becomes caramelized and sweet. It's delicious on its own, but when paired with rich ingredients as it is in risotto, it can often end up tasting flat. This recipe's solution to that problem lies in the crispy sage gremolata. Gremolata is an Italian condiment made with garlic, parsley and lemon zest. It's typically paired with grilled or braised meat or fish (it's a traditional accompaniment to the Milanese braised-veal dish, Osso Bucco).
This autumnal take on gremolata swaps out the parsley for fried sage and toasted walnuts, along with lemon zest and grated raw garlic. It's equal parts bright, fragrant and sharp and is the perfect balance to the sweet roasted squash. (Try it with other hearty fall dishes, like roast chicken or crispy potatoes.)
Finally, you'll want to look for pearled or semi-pearled farro for this recipe. The type you use will affect the cooking time and the amount of broth you'll need, so it's important to taste as you go to make sure you don't overcook the grains. Farro's chewy, nutty texture is what makes this dish special.
Farro Risotto with Butternut Squash and Crispy Sage Gremolata
Serves 4
8 cups low-sodium chicken broth
4 tablespoons olive oil, divided
1 small (1 1/2 pound) butternut squash, peeled, seeded, and 3/4-inch diced
Kosher salt and black pepper
1/2 cup fresh sage leaves, coarsely chopped
1/3 cup walnuts, chopped
1 small garlic clove
Zest of one lemon
2 tablespoons unsalted butter
1 cup chopped shallots (3 to 4 shallots)
2/3 cup + 1 tablespoon dry white wine, wuch as sauvignon blanc, divided
1 1/2 cups pearled farro, such as Bob's Red Mill
1/2 cup freshly grated pecorino romano cheese
Step 1: Preheat the oven to 425 degrees and bring the chicken broth to a simmer in a large saucepan.
Step 2: Place the squash on a sheet pan and toss with 1 tablespoon olive oil, ½ teaspoon salt, and ¼ teaspoon pepper. Roast for 25 to 30 minutes, tossing once halfway through, until tender and lightly caramelized. Set aside.
Step 3: Meanwhile, make the gremolata. Heat a medium-sized Dutch oven over medium-high heat. Add the remaining 3 tablespoons olive oil, and when the oil is very hot, add the sage and walnuts. Cook over medium heat for about 2 minutes, or until the sage leaves are crisp and the walnuts are golden brown. Using a slotted spoon, transfer to a paper-towel lined plate. Using a Microplane grater, zest the lemon and grate the garlic clove over the sage and walnuts, add ¼ teaspoon salt, and mix well. Set aside to cool.
Step 4: Add the butter to the Dutch oven and melt over medium-low heat. Add the shallots and cook over medium-low heat until tender but not browned, 3 to 5 minutes. Add the farro and cook for 2 minutes to toast the grains lightly, stirring often. Add the white wine and simmer until most of the liquid has evaporated.
Step 5: Add about 3 cups of the simmering broth to the Dutch oven and bring to a boil over medium-high heat. Lower the heat and simmer uncovered, stirring occasionally, until the liquid has almost entirely evaporated, about 15 minutes.
Step 6: Add about 1 cup broth and cook, stirring occasionally, until the broth is almost absorbed. Continue cooking, adding broth as necessary and stirring often, until the farro is tender and most or all of the broth has been absorbed, about 15 to 20 minutes. Add the roasted butternut squash, 1 teaspoon salt, and ½ teaspoon pepper and cook until heated through, smashing some of the squash with the side of a wooden spoon to help thicken the risotto.
Step 7: Turn off the heat, stir in the Pecorino and remaining tablespoon of wine. Taste the risotto for seasonings, then serve in shallow bowls, topped with the gremolata.