Secretary's Treasure
Paul O'Neill's Watergate pad is right on the money
Photographs by Smalling Photo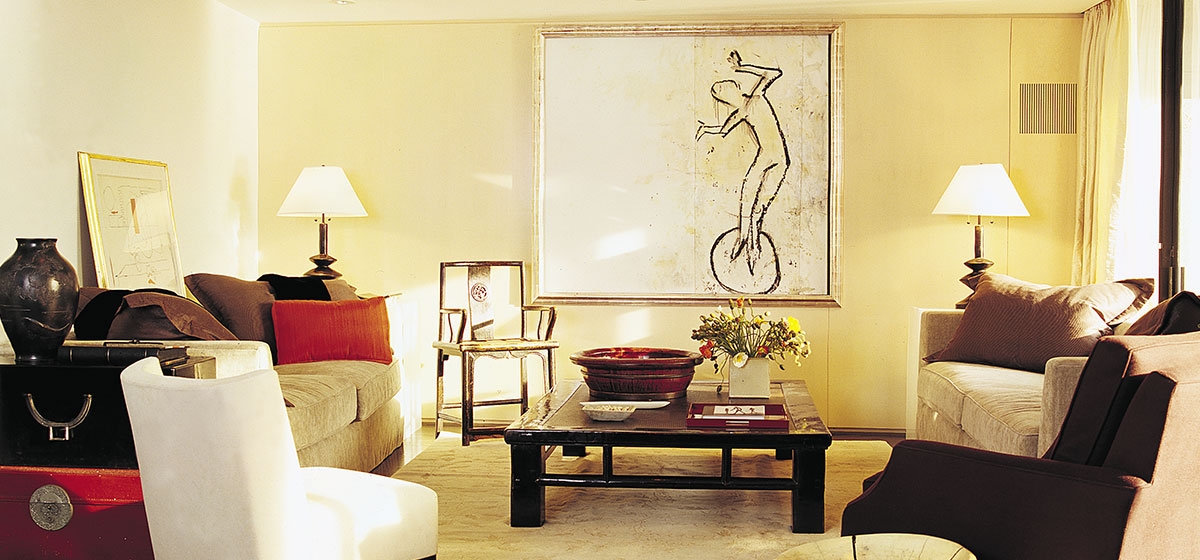 November 20, 2005
When Paul O'Neill was appointed Secretary of the Treasury in 2001, he planned to secure a pied-á-terre in Washington, retain his main residence in Pittsburgh and, with his wife, Nancy, vacation at their Maryland beach house. But finding an acceptable home in the capital proved to be somewhat difficult.

---
---
A quick trip to the famed Watergate ended his search. On impulse he bought two adjoining apartments and called his longtime interior designer, Rachel Farley. He asked her to gut the space, create a contemporary environment for both family living and official entertaining and to have the project completed as soon as possible. There was one other thing. Could she do an historical restoration of his offices in the Treasury Building at the same time?
"I really believe it's about the clients," says Farley, who is based in Pittsburgh but has clients around the country, including Sharon Stone. "I like filtering, editing and directing their taste."
In the case of O'Neill, Farley had a great deal with which to work. The former chairman of Alcoa turned the company into the most successful manufacturer of aluminum in the world and then commissioned sleek, new headquarters on the river in Downtown Pittsburgh. Though his worth in Alcoa stock alone was nearly $180 million (at the time he had to sell to meet federal requirements), O'Neill was involved in every aspect of the building's design, from site selection to the decision to make his office a simple, open cubicle like those of the other employees. His extraordinary tenure at Alcoa was marked by a forward-thinking idealism that put the safety of workers (improved by 93 percent) before profits (which increased 327 percent anyway).
It was to be expected that O'Neill and the Bush administration would have to part ways. Words like "maverick" invariably accompany references to O'Neill, in part because he is generous in sharing original ideas on almost every subject. His intellect, love of beauty and design and sense of humor are combined with a courageous, inquisitive nature. O'Neill is a captain of industry with the soul of a painter, and he does, indeed, paint. So does Farley, who has a master of arts degree and sensibilities very similar to O'Neill's. Yet it was Nancy O'Neill who suggested that the couple's new apartment be different from the traditional directions Farley had taken in their 1905 Shadyside home. She wanted it to be clean, with an Asian influence — the antique Chinese opium bed that became a coffee table was the first piece purchased for the residence.
"Rachel has a great sense of space and what can be done with it, and Nancy has good ideas about everything," notes O'Neill. "Nancy was really the driver, but I was included in all details. I care a lot about space, and this one is geometric. Everything is integrated lines and very high tech. It's really a fun place to live."
To meet the tight deadline, Farley imported her crews from Pittsburgh ("there's a dialogue that's really quick — I didn't have to establish a relationship") and set about designing two very different spaces. Working with her daughter, Columbia Universitytrained architect Elizabeth Bennett Farley, she scouted simultaneously for traditional and modern, making choices that ranged from an Italian Agape tub in the master bath to Whistlers on the wall of the Treasury office.
"The Treasury was in such terrible shape we had to renovate and design the room," remembers Farley. "We had to be respectful of the details that were there. They were beautiful but nobody had taken care of them for years. Great attention to detail was paid, and Paul spared no expense. It wasn't personal pride. He wanted an office that would command respect."
O'Neill paid for the extensive Treasury work (which included a conference room and staff offices) out of his own pocket, which enabled Farley to choose exquisite Christopher Hyland period damasks and other rich materials. She collected antique money and framed the bills, which she mounted on walls painted an antique gold. Bronze-gold taffeta draperies and deep jewel tones lent a grandeur and authenticity to the historical rooms, as did a portrait of the first secretary of the Treasury, Alexander Hamilton. But Farley is known for her agile ability to mix periods. She scoured the storerooms of the Smithsonian, Corcoran and National galleries for borrowed art, including Jasper Johns and Mark Rothko, that energizes the offices with their unexpected presence.
"I would have 10 workmen in his office, and I would say 'Paul, are we disturbing you?' He would say, 'No, I'll just sit over here' — with a file that would say top secret! This is something I totally admire about Paul. He's a very self-contained kind of person."
The O'Neills wanted their Washington apartment to reflect a nice change from the formality of the Treasury and their "official" life. They also wanted a departure from their two other residences. "One of the things Nancy and I like about the three is they are very different," says O'Neill. "I'm comfortable in all three environments, but they have one thing in common — a sense of unity."
Farley envisioned "the outside coming in, a clean, minimal palette, a simple, Zen kind of atmosphere." But getting there wasn't so easy. Because of the curved construction of the Watergate, all the windows are on one side. The trick was to get the light through the apartment, and the solutions are brilliant.
Most of the walls are bleached maple with hidden panels for the state-of-the-art electronics. A large painting on the living room wall slides to the side to reveal a video screen. Temperature-controlled glass walls separate the kitchen from the dining room. They can become opaque for privacy during a dinner party or translucent when the couple is home alone, letting in views of the Potomac. Most impressive is a windowless guest room — a wall-mounted screen features a live video feed of the river!
"When you're in a space, ideally wherever you look should be interesting every time you look at it because you keep discovering layers. That's a really strong idea for me," O'Neill said.
Despite the apartment's sleek style, it's comfortable enough for the O'Neill's children (for whom Farley also designs) and grandchildren to camp out. "Nancy is a very family-oriented, very sophisticated woman without any pretense," Farley said. "I would prepare the schemes, do the legwork and show it to them. They might make a few changes, but they're not nitpickers. If you show them the right fabrics the first time, they'll go for it. They're decisive, mentally well people!"