Richardson, Hamlet, White, McNally, Patrick, George, Crudele, Walker
Professionals new to Pittsburgh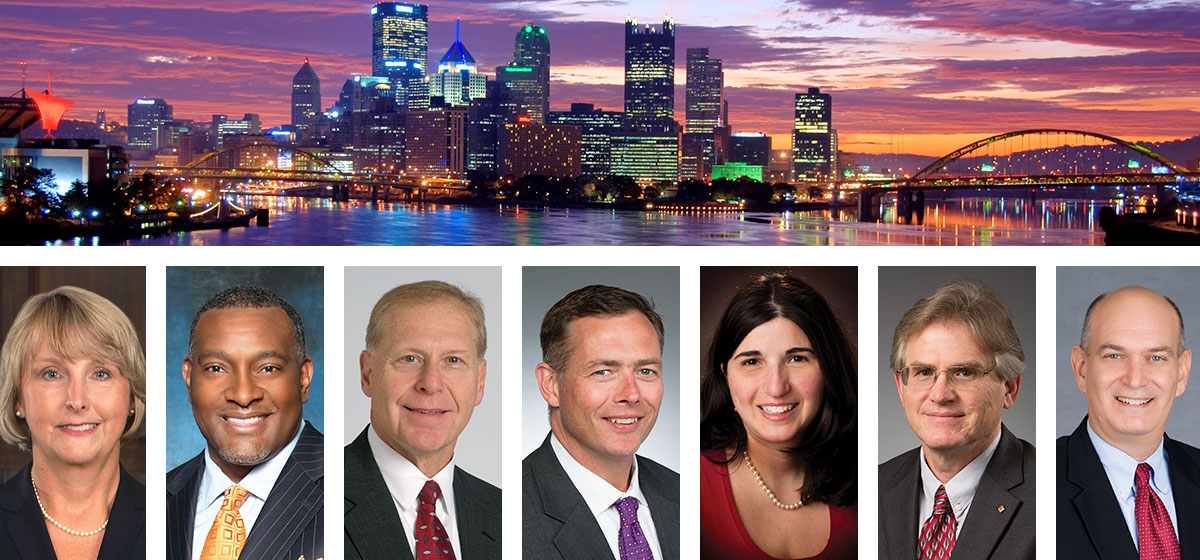 August 21, 2016
Kathy Brittain Richardson is the 15th president of Westminster College. She comes to western Pennsylvania from Mt. Berry, Ga., where she was provost and professor of communication at Berry College. A native of Douglasville, Ga., she earned a bachelor of arts in communication and religion/philosophy, summa cum laude, from Shorter College, a master's degree in journalism and a doctorate in mass communication from the Grady College of Journalism and Mass Communication at the University of Georgia. Richardson, who is married to Dr. Randy Richardson, will live in New Wilmington.

Anthony Hamlet is superintendent of the Pittsburgh Public Schools. He comes to Pittsburgh from Palm Beach, Fla., where he was director of accountability transformation in the School District of Palm Beach County, the country's 11th-largest with 181,000 students (Pittsburgh has 25,000 students). He is a former defensive end with the Seattle Seahawks and Indianapolis Colts. He has also worked as a principal, teacher, behavior specialist and family counselor. Hamlet has a bachelor's degree from the University of Miami and master's and doctorate of education degrees from Nova Southeastern University in Fort Lauderdale, Fla. He expects to live Downtown.
Dr. Robert White is the chief medical information officer at Allegheny Health Network, where he will lead the design and implementation of the network's clinical information technology strategy. He comes to Pittsburgh from Cleveland, where he has been associate chief medical information officer at the Cleveland Clinic since 2011. Previously, White was the chief medical information officer at OSF Healthcare System in Peoria, Ill., for six years. Born in Beloit, Wis., he was raised in Illinois. White received a bachelor's degree in biochemistry from Northern Illinois University, and studied medicine at the University of Health Sciences at the Chicago Medical School. He and his wife relocated to Pittsburgh this summer.
Rob McNally is senior vice president and chief financial officer of EQT Corporation. He comes to Pittsburgh from Calgary, Canada, where he was executive vice president and chief financial officer of Precision Drilling Corp. His background includes oversight of investments in energy technology startups at Kenda Capital LLC; an initial public offering with Warrior Energy Services Corp.; and investment banking and M&A advisory experience with Simmons & Company International. He has a bachelor's degree in mechanical engineering from the University of Illinois, a bachelor's degree in mathematics from Knox College, and an MBA from Tulane University. McNally will relocate to Pittsburgh with his wife and four children.
Michelle Patrick is the dean of the School of Business at Robert Morris University. She comes to Pittsburgh from West Chester, Pa., where she was dean of the College of Business and Public Management since 2013 and associate dean for six years. She also oversaw a recent redesign of West Chester's online MBA program, which resulted in it being ranked by U.S. News and World Report for the first time. Previously, she taught marketing at the University of North Carolina at Asheville and at Kent State University while earning her Ph.D. in marketing. Patrick also has a B.S. and MBA in marketing, both from Youngstown State University. She and her husband, Ron, are natives of Youngstown.
Alan George is the chair of the department of electrical and computer engineering at the University of Pittsburgh's Swanson School of Engineering. A native of Winter Park, Fla., he comes to Pittsburgh from Gainesville, Fla., where he has been a professor of electrical and computer engineering at the University of Florida since 1997. He also founded and leads one of the most successful research centers at the National Science Foundation, the Center for High- Performance Reconfigurable Computing. George earned his B.S. in computer science and M.S. in ECE from the University of Central Florida, and his Ph.D. in computer science from the Florida State University. George and his wife, Elizabeth, and their three children, are looking for a home in Pittsburgh.
Jeff Crudele is the chief financial officer of Allegheny Health Network. Before coming to Pittsburgh, Crudele spent much of his career in senior executive roles with HCA, the largest hospital operator in the U.S., and the Memorial Healthcare System in Hollywood, Fla. Crudele has also been a successful entrepreneur. He received a bachelor of science in business administration degree from Florida Atlantic University in Boca Raton. He and his wife, Kelly, have two adult sons. As empty nesters from Florida, he and his wife are now living in Downtown Pittsburgh.
Cindy Walker is dean of the Duquesne University School of Education. She comes to Pittsburgh from Milwaukee, Wis., where she was a professor of educational psychology in the School of Education at the University of Wisconsin- Milwaukee. Walker previously held positions at the University of Washington, Illinois State University and the University of Illinois at Champaign- Urbana. Walker earned a bachelor' degree in mathematics from Roosevelt University, a master's degree in mathematics with a minor in mathematics education from Illinois State University, and a Ph.D. in educational psychology from the University of Illinois. She expects to live in the city of Pittsburgh.