Photographs by Roy Engelbrecht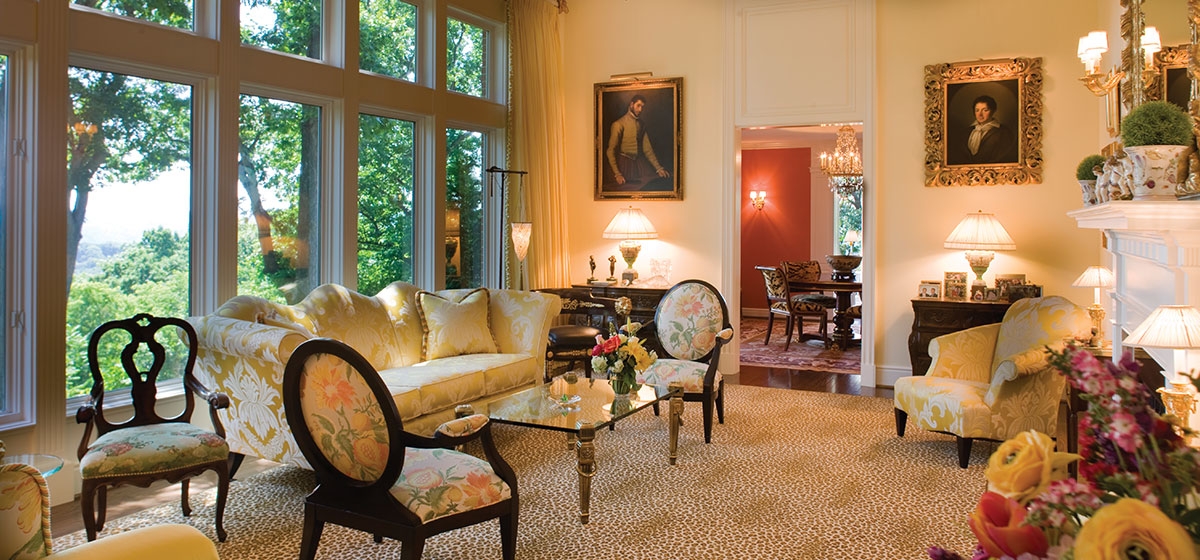 August 20, 2008
"I was desperate," explains interior designer Jeffrey Graciano as he stands, looking anything but, in his Louis Vuitton loafers, gray slacks and crisp, white shirt. The Churchill native was recalling how he ended up buying a nondescript, 1960s faux-colonial ranch on a cul-de-sac in Fox Chapel.

---
---
"I had been looking for a house for three years, and I was just so tired of looking. I gave up and decided to buy it," he says. Of course he didn't surrender his sense of style just to put a roof over his head. In fact, he tore the roof off, ripped down walls and completely gutted the place.
"During the process, I came home one night to find my house being held up by four sticks," he remembers, laughing. "I was concerned about the house collapsing!" That was 10 years ago. Today, barely a hint of the former footprint remains. Gone are the tiny, dark rooms, low ceilings and pitiful flooring. In its place are 12-foot ceilings and walls of windows that frame a landscape so thick and green it resembles a broccoli forest. "It was the location and the view and knowing I could gut the place without losing anything of architectural value that sold me," Graciano admits. The house, which sits on top of a hill, now has access to a remarkable vista through floor-to-ceiling windows. "I wanted to take advantage of the view in as many rooms as possible." He also redesigned the floor plan so that it would afford more open views inside as well, from one room to the next.
As you step into the house, your eyes go straight through the marble entrance hall to the stone statue of a flute player outside in the garden. It's framed by the silk Brunschwig and Fils draperies on the double glass doors at the far end of the hall. And then you notice Enzo, the little Brussels Griffon barking at your feet, before he is swept up into his owner's arms. To the left of the front door is a stunning French Empire consol from M.E. Dupont in France, a company known for its excellent reproduction and restoration work. Hanging over that is an American Renaissance mirror by Richard Tobey.
"What I like about the Empire style is that it's elegant, clean and masculine," says Graciano. His bedroom is more of the same, with a beautiful, mirrored French Empire armoire from Taillardat in Paris reflecting the ormolu on the bed, nightstands and bench, which are Italian Empire from Colombo in Lake Como, Italy. The side table in his room is French 18th century Dore bronze mahogany. The leopard fabric on the bench and chair are Luigi Bevilacqua, hand woven of silk velvet in Venice, Italy. "I watched them doing it, and it's quite something," says Graciano. A 17th-century painting of an Italian boy hangs along with a 20th-century painting titled "Desert Storm."
"Not everything in the house necessarily goes together, but it all works because it all has meaning to me," Graciano says. "A house should reflect the interests and personalities of the people living in it." And his certainly does. The narrative of the house is decidedly first person. The design is not about pretense or expense, but what pleases his eye. An avid world traveler, Graciano's home is a subtle homage to the places he loves and the traditional style he embraces. At 19, he went to school in Lugano, Switzerland and, as he puts it, "from that point on I was hooked." He modestly describes the house as traditional, but not formal or stuffy. "It's comfortable. I like to do a house for daily living rather than for the exceptions." It's the kind of vision upon which his clients from Palm Beach to Pittsburgh have come to rely.
The sunroom/family room, which is the newest addition completed in 2006, was inspired by a trip to St. Petersburg, Russia. "The architecture in St. Petersburg has a Neo-classical influence, which is one of my favorite styles. Typically the room that a family spends the most time in is more casual and not as decorative, but I wanted mine to be as beautiful and decorative as it could be, since I spend most of my time in this room." Two walls of windows framed by classic column moldings are balanced by hand-painted, silk wallcovering by de Gournay and a mirror, designed by Graciano, over a black granite fireplace that reflects it all. Anchoring the room is an area rug by Patterson Flynn Martin and custom sofas in an Ultrasuede fabric. The finishing touches are Russian-style crystal sconces and a chandelier. All the woodwork and ceiling moldings in the house were custom made.
The focal point of the house is the living room. "This is where the roof was raised to create the 12-foot ceilings," says Graciano. The scale of the room easily accommodates a huge 16th-century painting of Christ in the original 24-karat gold gilded frame from Sotheby's. On the other side of the room is one of Graciano's favorite paintings, a 17th-century image of an Italian tailor. "I love his ruby ring and the way you see him holding the scissors." There are so many museum-quality paintings and objets d'art that it is hard to know where to look. Among the furnishings on the Saxony leopard carpet are an antique Italian Regency chair, a Louis Mittman coffee table and Donghia sofa and chairs covered in Grey Watkins silk. The Regency acanthus and shell mirror above the fireplace is directly opposite the wall of windows, which are draped in Scalamandre silk. "The windows in here make it feel like you are sitting in the middle of a park," he notes with a smile.
One thing this park has is a lot of animal prints. Almost every room in the house has a touch of the wild. "Like most designers, I have a thing for animal patterns." But only the best can weave together the feral and the formal to create such a natural habitat. "The house has an overall surprise element, which I like. From the curb it looks like a well-kept typical colonial, but inside I think it's anything but typical."