On a Sophisticated Note
Photography by Roy Engelbrecht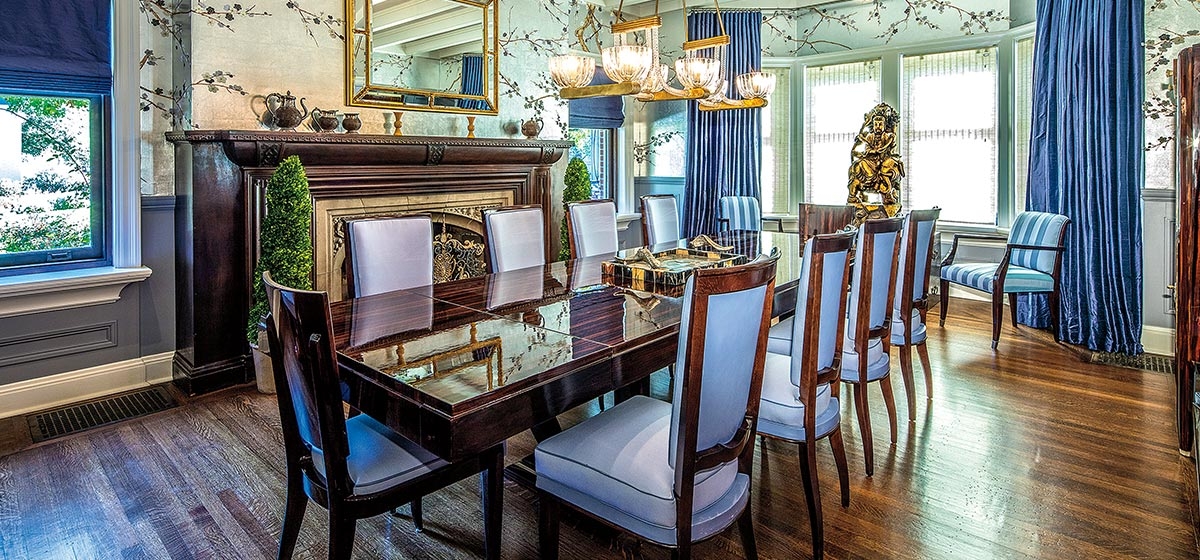 December 4, 2017
When Jim Spencer decided to move the headquarters of his renewable energy business from New York to his native Pittsburgh, finding the right house became a priority. His partner, attorney Michael Lin, remained in Manhattan so their daughter could finish school there. On weekends the couple commuted between the Duquesne Club, where Spencer was staying, and a penthouse apartment in New York. But over the course of four or five weekends, they looked at more than 30 houses. Most were in Shadyside, a neighborhood Spencer knew well and admired for its architecture and history.
---
---
"Jim was here one weekend and I was not able to join him," remembers Lin. "Our real estate agent took him to see some houses, and he saw this one. He called and said, 'I found the perfect house; it's on a double lot, it's on the right street and it's a good value. I said, 'fine, go ahead.'"
Lin did take a look at photos online and saw the home's beauty as well as the fact that it needed some major work. And so six years ago, the couple began an extended project that brought the stately Tudor up to snuff. With the help of architect Jeff Wetzel of AE 7, they ended up doing a gut renovation.
"We didn't rip out all of the walls but we did rip out a lot," says Lin. "We're not slaves to tradition but we believe in preserving those elements that give the house character. We wanted a house with modern functionality but that also retained its history at the same time."
Built in 1903 most likely by F.A. Keating, the house underwent a first renovation of sorts when architect Benno Jansen added a second-floor sleeping porch and butler's pantry below it in 1925. He also designed formal gardens, though it's not clear whether his plans were ever executed. The pantry remains, along with a second pantry, but the three rooms that once separated them have been turned into one giant kitchen. Glass doors span one wall and open onto a back patio, complete with seating and dining areas and a new koi pond installed by landscape designer Susie Lobdell of Flower Pots Nursery. Samuel Hawkins of Whitetail Landscaping added flower beds, trees and other plantings to the large property.
Aside from updating the wiring and plumbing, the couple relocated a powder room, built another along with a wine cellar in the basement and created large new baths on the second floor. The sleeping porch is now Lin's office, with new windows and a tile floor. A den next to the master bedroom was turned into a handsome dressing room that boasts ribbon-grained sapele doors adorned with lapis lazuli handles. But perhaps the most welcome change is the most recent—enclosing a screened porch next to the living room.
"Right now our favorite area is the sun porch. Since we enclosed it at the end of August, every time we entertain we sit in there and have drinks and dinner, or play cards. It has become a very functional room. Before it was just dark and sometimes too humid during the summer. There were very few days when the weather was just right. Now if we want to we can open the windows and get a breeze, but if it's too hot, we can turn on the air conditioner. We also can't wait to use it during the winter."
When it was time to decorate, the couple chose New Yorkbased interior designer Sabrina Balsky, with whom they collaborated on their Manhattan apartment, a former townhouse and their beach house on Fire Island. She worked closely with the couple on the color palettes and design throughout the house.
"I always think of three adjectives to crystallize what you want," says Lin. "Probably I said something like timeless, elegant but accessible."
Some of the furnishings the couple bought on their own, including a magnificent French Art Deco dining room table, bar and buffet. Balsky had other transitional pieces custom made, especially for the living room and bedroom. And other pieces arrived with Lin when he moved permanently to Pittsburgh in September. The home flows with a sophisticated color scheme dominated by a range of blues, lavenders and grays. Dashes of color pop throughout the home, with accent pieces and eclectic artworks set off by the neutral backgrounds and intricate original woodwork.
One of the most striking and unusual elements in the home is a series of windows along the second floor hall that overlook the stairs and landing. "It's an exterior look in an interior. We love them. It opens up the hallway that goes to the back, and we end up leaning out of them to try to find each other," Lin says with a laugh.
Because Spencer is active in the community, sitting on boards at the Carnegie, The Andy Warhol Museum, Pittsburgh Parks Conservancy and The Pittsburgh Promise, the couple entertains frequently and the house lends itself easily to crowds. But it also has intimate spaces where they can curl up with a good book or gather with just a few friends.
"We love the neighborhood, and our neighbors are very welcoming and friendly," says Lin. "It just feels like a little oasis in the city. It's a very central location, close to Downtown and East Liberty. We love this house," he adds. "It's like waking up in a picturesque English village every day."