A Passion for Baking
A not-to-miss bakery in Penn Hills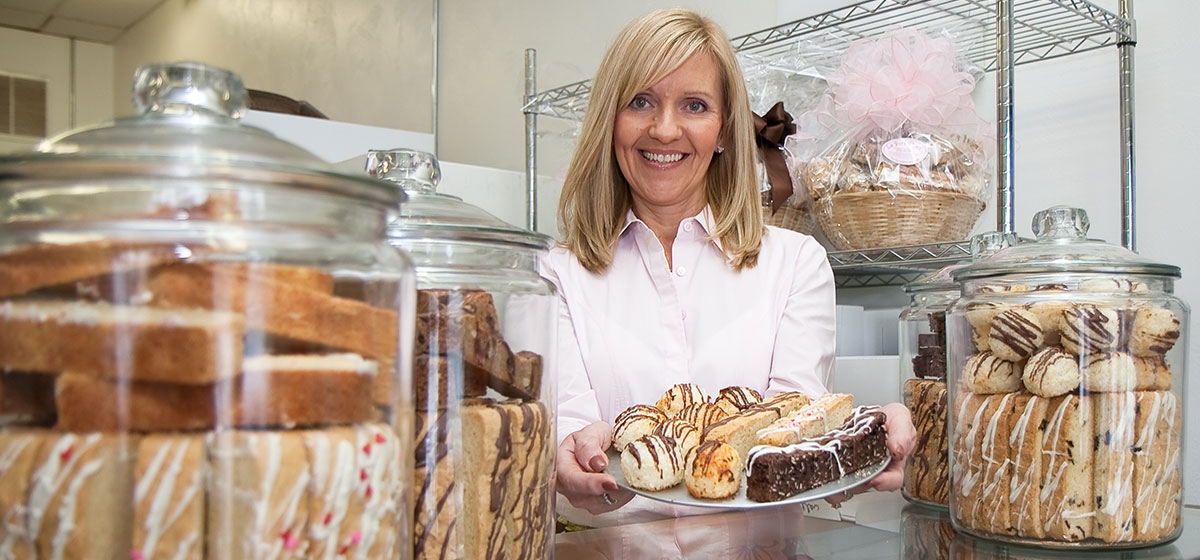 February 21, 2010
Mary-kay Fiore's life turned out a little differently than she expected. But it sure has a sweet ending. In 2001, the single mother of three found herself downsized out of a corporate job and facing a crossroads.
She had baked for years, as a way to pass the nervous hours until 11 p.m., when her teenagers returned home with the car. Later, she filled small orders for co-workers who had become hooked on the treats she took in to the office after those long nights of baking.
She remarried, and in 2002, with a lot of moxie and the encouragement of her husband, whose family has been in the food industry for three generations, she opened her tiny bakery in an unassuming Penn Hills strip mall. La Peri Dolci (Italian for "the sweet tooth") was born.
She started baking and delivering cakes for some of Pittsburgh's better restaurants, but soon her biscotti business eclipsed her restaurant clients. The artisanal cookies are handmade using the finest ingredients, such as European butter and sulfate-free dried fruits, and no trans fats. She added coconut macaroons to her repertoire and recently started making macarellas—macaroon wafers that sandwich a filling of Nutella, raspberry jam, or butter cream. The petite blond with the buoyant personality has an obvious passion for her work. She intentionally keeps the business small to ensure the quality and consistency of her biscotti and macaroons.
With a staff of three and a driver, she makes and delivers thousands of biscotti and macaroons each week. The sublime La Peri Dolci biscotti are available in some 20 different rotating flavors, including Key lime in summer and gingerbread or peppermint in winter. From the traditional anise almond to the more creative apricot cheesecake or snickerdoodle, it is easy to understand why La Peri Dolci has so many devotees. The delicious coconut macaroons are golf-ball-sized and baked so that they are lightly toasted on the outside yet creamy on the inside. They are available in almond, to-die-for chocolate, orange and raspberry varieties, all drizzled with chocolate.
There is a good chance that you may have tasted La Peri Dolci's biscotti and macaroons but didn't know it. Most of the business is wholesale, and the treats can be found everywhere from coffee shops—Crazy Mocha, Gloria Jean's Coffee (area malls), Kiva Han and Mayorga Coffee (Pittsburgh and Washington, DC area airports)—to Prestogeorge and McGinnis Sisters, to both local Lexus dealers. You can also go right to the source and, on a good day, meet the effervescent Mary-Kay. The Penn Hills store isn't glamorous—it's more production bakery than storefront—but you can buy the fantastic baked goods as the smell of warm cookies lulls you into submission. La Peri Dolci also makes everything from gift baskets to wedding and shower favors, and most items may be ordered from the Web site.
While you might not know La Peri Dolci by name, the bakery is the three-year running champion of McGinnis Sisters' annual Crunch-Off contest and has been featured on Martha Stewart's radio show.
If you want artisanal biscotti and macaroons made with the best ingredients and attention to detail, then La Peri Dolci is the sweet spot for you! La Peri Dolci, 6233 Saltsburg Road, Pittsburgh, PA 15235, (412) 798-2289, la-peri-dolci.business.site.