Helen Hanna Casey, Real Estate Maven
A life's recounting in the subject's own words
Photography by Renee Rosensteel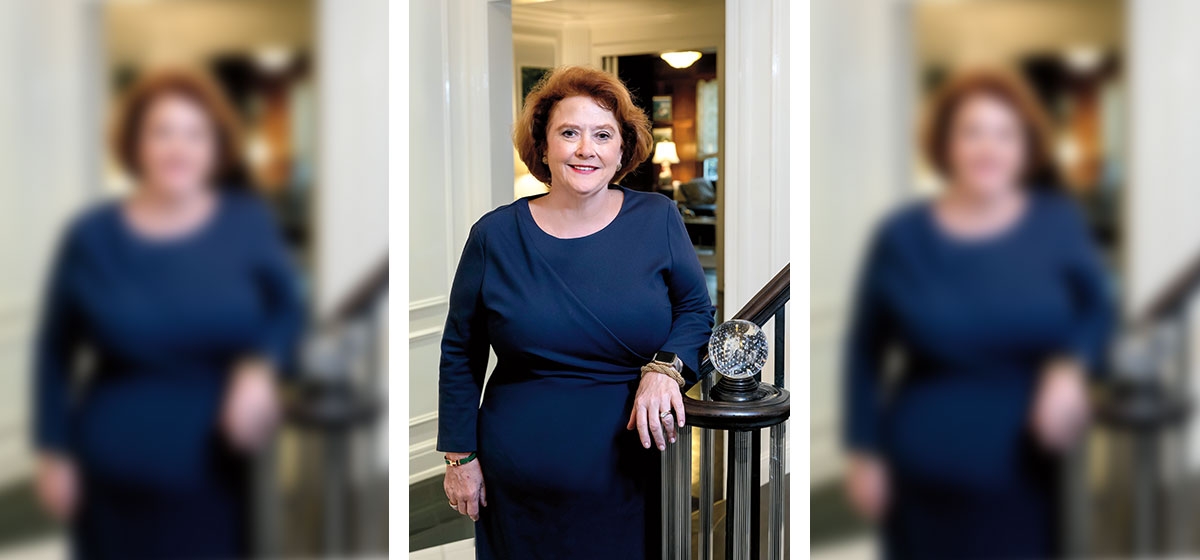 January 9, 2018
I grew up in Shadyside, the daughter of Howard W. Hanna Jr., and Anne Freyvogel Hanna, with an older brother and younger sister. Eventually, all three of us went to small Catholic colleges.

My brother, Howard W. "Hoddy" Hanna III, to which he has added Howard W. Hanna IV and V, attended John Carroll in Cleveland. My sister, now Annie Hanna Cestra, and I (for the past six generations, all the women in my family have been named Helen or Anne) went to Georgian Court University in New Jersey. But even though my father and mother wanted my brother to go to law school, he loved our family's business and was drawn back to it very naturally. My sister got a master's degree in special education, and I studied for a master's in history at Seton Hall, though I never finished. (I do, however, have two honorary doctorates.) I got married and had a baby and, for a while, my husband, baby and I lived in New Jersey. But then we came home and, after teaching at a private school in Pittsburgh for a while, in 1975, I joined the business, too.
For the past 60 years, our family's business has been managed by three generations of Hannas. Today, nine of us are direct descendants, and we've been fortunate enough to have built a business that has allowed family members (and many other relatives) to come in, find their niche, and grow their part of it.
My father's father worked for Jones & Laughlin Steel Company, but his father had a shoe business on the North Side. My mother's family's business, John A. Freyvogel Sons, Inc., a funeral home, is 110 years old. So the entrepreneurial spirit runs on both sides of our family and, I think, maybe we are a little less fearful of risk because of that.
My father was in the first MBA class at Pitt, and then worked for the Chamber of Commerce in Uniontown. From there, he was hired by the National Association of Home Builders and was transferred to Cleveland, so he sort of got into real estate that way. But our story really began in August of 1957, when my parents returned to Pittsburgh and started a brokerage company.
As the years passed, my siblings began to take on leadership roles in the business, and we slowly began to expand. By the time I joined the company, we had two additional offices, and had dedicated ourselves to providing buyers and sellers what they needed and, our associates, the tools necessary to achieve both their goals and those of their clients. This led to additional client service opportunities that I don't think anybody thought would become parts of our business.
In the early 1980s, we started a title company because our clients didn't want to close downtown at 2 in the afternoon. It wasn't convenient for them. We also launched a mortgage company. Back then, mortgage rates were around 18 percent, so we got together with a savings-and-loan and devised a way for us to offer lower rates to our clients. A lot of this was born of necessity. We're creative business people. Today, the word "innovative" is tossed around a lot, but that's just another way of saying we must come up with creative ways to overcome obstacles.
One of the keys to our success as a business has been the fact that my parents were incredibly supportive. My mother has passed away, but my father is still around, going on 98. My brother talks to him all the time, still, about business, and he often gives us notes saying things like, "If it was my business, I would be doing this." We were very lucky to have had parents who said "yes" to us a lot.
They'd say, "We'll support what you're going to do," and then, of course, throw in what they thought was important, too. I don't think any of us were raised to take over the family's business, but we all got our broker's licenses when we turned 18 years old, to protect, theoretically, the business so that, if something happened to my father, one of us could step in.
Being a woman CEO can be great, but it's not always fun. I've been fortunate that, because I run a family business, albeit a large one, I've encountered no "glass ceiling" in my workplace. "Out there," however, it's not the case. And I don't think glass ceilings exist just within one's own job hierarchy. They also affect, society-wide, how women are perceived by others, in and outside of their fields. When a company hires a woman to fill an important position, how often have you heard, "I think it's just wonderful that they reached out and brought in a woman for this job." What about simply celebrating the fact that we brought in the most qualified person, period?
Years ago, I served as the only woman on a for-profit board. At one of our meetings, I asked a question about the financial structure of the company, and suggested that the accountants attend the next meeting to give us a better understanding of the company's finances. Well, one male board member turned to me and said, "Don't worry your pretty little head about that, Helen. That's not your job." In that case, I just let it roll off my shoulders and didn't say anything. (He did that to everyone.) But the next time he said something similar, at a Downtown club of which I was the only member and sponsor of the event, I put my foot down and left the room.
So, as a business, what is the biggest challenge we face today? I don't remember any time when there weren't challenges, and I don't think that the challenges have changed all that much over time. Everybody asks about the housing crash of 2008, but somehow they forget about the one in 1988, with the collapse of the savings-and-loans. Back then, we owned a building that was built in partnership with a savings-and-loan which, one day, vanished. In fact, many of the savings-and-loans we did business with disappeared as well. In some cases, we were able to take over the buildings. In others, we had to buy them back from whomever took control of them. People also forget about the high mortgage rates. They forget about the period when gasoline got so expensive that you had to wait in line to get it. It was tough to show houses during such times. But we lived through it all and have managed to thrive. When times got tough, we thought of our people first. We didn't just lay them off. We tightened our belts just like our parents had done.
"Everybody asks about the housing crash of 2008, but somehow they forget about the one in 1988, with the collapse of the savings-and-loans."
—Helen Hanna Casey
Today, Howard Hanna Real Estate Services is a much bigger business than we ever anticipated. We're the third largest real estate company in the nation, and the largest independent. And we've grown to this point without any private investors. My parents never did this, even though it might have lightened their load, and they advised us not to do it, either. In the beginning, my mother and father borrowed against their house, and took out bank loans. And we continue to do business with banks today—but only with those that believe in us and what we're doing.
Through the years, we've been successful at growing our business through acquisitions, and have been blessed when it comes to the people who have chosen to hand off the next generation of their businesses and merge into us. My father acquired an appraisal company around 1969, but we didn't acquire any sales companies until the '80s. When someone asks what was our best acquisition, it's either the biggest or the most recent. But in truth, it was probably the first one, which was in our own market in Squirrel Hill. That started everything. Over time, we've acquired many companies and, last year, we acquired the ninth largest real estate company in the country.
So, we continue to grow through acquisition. But it isn't the size of the company under consideration that matters most. The companies that we choose to merge into Howard Hanna must mix well with our business as a whole. A similarity of culture must be present, which leads to synergy in the marketplace. And we like companies that have been involved in their communities. In all of our markets, we serve not only buyers and sellers, but the children who live in them, too. We raise funds for children's hospitals across the board—roughly $17 million to date. In fact, at Children's Hospital of Pittsburgh, the garden is named the "Hanna Healing Garden" in honor of all the efforts of our staff and sales associates. We believe that it's important for everybody in our company to make a commitment to giving back. We think that it's important to know who you are, to believe in the value of what you do, and to contribute where you live.
My husband, Stephen Casey, is an architect, but is not from Pittsburgh. He came here to attend Carnegie Mellon University so, as his mother used to say, he's lived here longer than he lived with her. Sadly, we had a son who died eight years ago, but our daughter, Annie, who is a practicing attorney, is married and has three children. She and her husband, Gus Engel, lived in Pittsburgh until Gus was transferred to Connecticut, after which Annie enrolled at the University of Connecticut and got an LL.M. in insurance law. But like many people who have grown up in the Pittsburgh area, in time, she came back here with her family, and is working with us now. Sure, family ties are important, but I think the fact that many of us seem to gravitate back "home" has a lot to do with Pittsburgh itself. I was talking with a friend recently about how many of our children have either remained here or moved back. And a similar phenomenon seems to occur in most of our markets. People return to these places where they were born and raised, because of the lifestyle. Is this a business strategy? Yes. We have chosen to expand into markets that are much like the one in which we were born.
"In the Pittsburgh region, I believe that we are going to see continued growth, with two waves of people especially: 25-year-olds and 65-year-olds."
—Helen Hanna Casey
In the Pittsburgh region, I believe that we are going to see continued growth, with two waves of people especially: 25-year-olds and 65-year-olds. The 65-year-olds present a great opportunity for builders and developers. They don't want retirement housing, or "empty-nest" product. They're "right-sizing." It's about what they want for themselves—today. But then there's also a huge wave of 25-year-olds. As we develop better job opportunities, we must attract and keep young people who possess the skills necessary to succeed in the future. For our part, we must provide the housing that they want. Young people today like urban, walking neighborhoods. But will they stay in those? Or when they get to be 32 and have families, will they choose to live in the suburbs? And then, what about the group in between, those who are beginning to take over; people in their 40s and 50s, who are defining what we're going to be 10 or 20 years from now? All three groups are important to what happens here going forward. To attract and keep good people, we'll have to provide not only housing, but the rest of the lifestyle and amenities that they want, too.
Today, we are the No. 1 real estate broker in Pennsylvania, Ohio and New York state. Last year, in all of our markets—the Midwest, including Michigan; the Southeast, which includes Virginia and North Carolina; and throughout New York, 36 percent of our buyers were first-timers. That's a strong market statement. People want to be here. But make no mistake: We want you to leave—not the region, just your house. It's good for people to move. If they stay in their own homes for a lifetime like they used to do, and never cross any bridges, it isn't good for the economy. And this doesn't just go for housing. It goes for everything. So, try new neighborhoods. Try new restaurants. Vitality creates excitement, and excitement is great for growth.