Pittsburgh Real Estate
Downtown reels and suburbs rise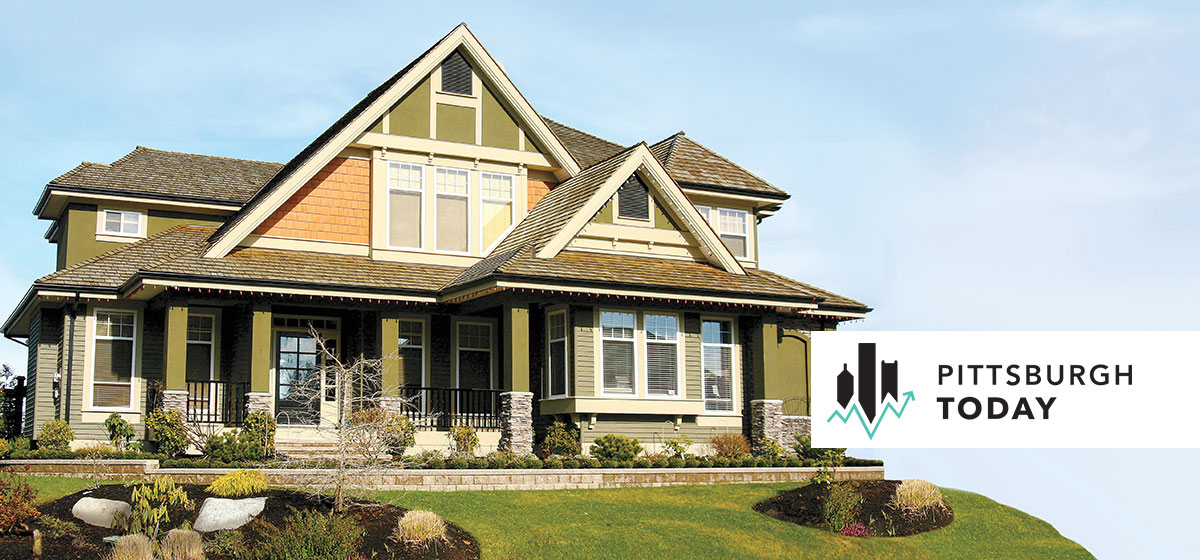 May 19, 2021
The Terminal, stretching five blocks along Smallman Street, had just been given a stunning makeover when COVID-19 arrived, threatening the eateries and shops it courted as tenants. Months later, the 95-year-old former hub of Pittsburgh's wholesale produce industry remains a hot real estate property that has attracted tenants throughout the pandemic, including District Brew Yards, a collective of small breweries and a pour-your-own-drafts beer hall.

It is the latest star to be added to the city's transformed Strip District neighborhood, where rows of warehouses peppered with small retailers, such as the iconic Pennsylvania Macaroni Company, have been joined by tech companies, such as Facebook and Uber, and high-end apartments and townhouses, some priced at more than $2 million.
"The Strip District, of all places, has been one of the most resilient in terms of interest and investment," said Brandon Mendoza, executive director of the NAIOP Commercial Real Estate Development Association Pittsburgh. "While the pandemic may have slowed down their leasing a little, it hasn't really stopped development. The premium location and iconic spot offset all the other things going on."
But the pandemic dealt the region's real estate sectors vastly different hands.
Emptied-out skyscrapers rise a few blocks from The Terminal. Only 13 percent of the office space in Downtown Pittsburgh was occupied in December 2020, according to data from the Pittsburgh Downtown Partnership. Without the bustle of workers, parking garages, restaurants and other commercial properties are under-used as well.
At the same time, home sales in the city's near suburbs have soared since summer.
Hot houses
Residential real estate hit a speed bump early in the pandemic when the state banned in-person transactions for a couple of months as part of the public health measures taken to slow the spread of the virus. But with mortgage rates near historic lows, the market took off once the restrictions were lifted.
"It was a banner year for residential sales in southwestern Pennsylvania, despite not doing business for two months," said John Petrack, executive vice president of the Realtors Association of Metropolitan Pittsburgh. "The only thing the pandemic did was put a temporary hold on demand."
One indicator of housing market trends is how many people are locking in interest rates on a mortgage, which signals they are serious buyers. From last June to August, Pittsburgh had one of the highest year-over-year percentage increases in mortgage interest rate locks among the 40 largest U.S. metropolitan areas, according to an American Enterprise Institute's market analysis.
But location and price are strongly influencing where home sales are the hottest.
Lawrenceville, in the city of Pittsburgh, has been a real estate hot spot for years. Row houses sold quickly and developers crowded Butler Street with high-end apartments and condos. But there has been no shortage of houses for sale in Lawrenceville during the pandemic.
"The true change is there is a slight movement from the city to the near suburbs," Petrack said. "Any affordable suburb is where we see the strongest marketplaces: Ross Township, McCandless, Dormont, parts of Mt. Lebanon, Bethel Park—suburbs that are close to the city where people are able to find affordable value and pricing."
Real estate agents have noticed an increased demand for homes offering more outdoor spaces and room for a home office. But inventory remains low and the competition around popular price points is stiff. "Anything under $300,000 is extremely strong," Petrack said. "If the property is priced right, you'll have multiple offers in a month."
And he doesn't expect the market to cool. "How can you not consider buying when your mortgage rate is going to be roughly 3 percent, maybe even lower?"
"Anything under $300,000 is extremely strong. If the property is priced right, you'll have multiple offers in a month." —John Petrack, executive vice president of the Realtors Association of Metropolitan Pittsburgh
Winners and losers
The region's commercial real estate market isn't known for dramatic swings, even during national economic downturns, such as the one it is mired in today.
"Pittsburgh is a slow and steady kind of market," said Dan Adamski, senior managing director at Jones Lang LaSalle, a commercial real estate company. "In times like these, it's helpful. We didn't have this massive amount of speculative building that you see in a lot of markets that leaves it vulnerable to market corrections. During the downturns, being a slow and steady market is beneficial."
Some sectors within commercial real estate have weathered the pandemic better than others.
With people more homebound than ever before, demand for everything from medical supplies to ketchup delivered to their door skyrocketed. And industrial real estate benefitted. Last year, for example, Amazon completed a 1-million-square-foot distribution facility in Imperial.
"We've seen a surge in industrial development driven by companies such as Amazon and other supply chain warehouse distribution, and some specialty manufacturing and data centers during the pandemic," said Jeffrey Ackerman, managing director for the Pittsburgh office of CBRE, a commercial real estate services firm. "One thing is for sure, commercial real estate is going to emerge from the pandemic looking a lot different than it did before the pandemic."
Life science research and development, which includes lab spaces for vaccine development, expanded alongside Oakland's research universities and hospitals. Pittsburgh was named the top emerging life sciences cluster in the United States in 2020, according to a recent CBRE report.
"There's a lot of optimism around the life sciences industry," Adamski said. "We believe that that sector is going to come out of the pandemic even stronger than it was before."
'A sad thing'
Optimism is harder to come by among the region's retail stores and restaurants—two sectors badly damaged by the pandemic.
The virus shifted the nation's shopping habits farther away from brick-and-mortar stores. When 2020 began, e-commerce accounted for 11.3 percent of U.S. retail sales. By the fall, 14 percent of retail spending was done online—up 37 percent from online sales in 2019, according to U.S. Census data.
"Retail is a sad thing," Mendoza said. "Right now, large online retailers have fared OK—Amazon, Walmart and so on. Grocers have done well. But mom-and-pop main street retail has been decimated. I don't want to throw that all on the restrictions. A lot of that is a complete drop in demand. That's going to be a worry on the other side of this."
The region's malls had responded to the pre-pandemic retail downturn by adding gyms, theaters, restaurants and other entertainment—businesses that have struggled to stay open during the outbreak. Over the summer, Simon Properties Group, the nation's largest mall owner and owner of Ross Park Mall, bought Brooks Brothers, Aeropostale and Forever 21 out of bankruptcy with plans to restructure the brands, which are staples at its malls.
National brands with online stores have fared better than small, brick-and-mortar boutiques. Fast-casual restaurant chains, such as Jersey Mike's sub shops and Dunkin' Donuts, opened new stores throughout the region in 2020, while the independent restaurant scene in the city darkened.
Pandemic restrictions on social gatherings limited many restaurants to takeout. And the pall fell on the industry just as it was rising and garnering national acclaim. "Within our city, we were in a renaissance in terms of the amount of investment that was related to the quality of our restaurants," Mendoza said. "It was the best we've ever had. Then the pandemic came."
More than 110,000 restaurants have closed permanently in the United States since April, according to a recent survey from the National Restaurant Association. Among them were the iconic Original Hot Dog Shop in Oakland; Pittsburgh's oldest tavern, the Park House, on the North Side; and Spoon, a fine-dining restaurant in East Liberty.
Office space
Before COVID, companies were clamoring for space in the region's urban core. "Pre-pandemic, our [office] market was doing very well," Adamski said. "We were seeing a continuation of the urbanization trend, in which companies were moving in from the suburbs into our urban core. The pandemic put brakes on that immediately."
Stay-at-home orders and other social restrictions last spring moved thousands of workers out of the office and into their homes, where they work remotely. About half the U.S. labor force worked from home at the beginning of the pandemic, according to a working paper from the National Bureau of Economic Research.
The shift in work is reflected in the plummeting number of public transit users, particularly those who took the bus or rail to work. For the week of Dec. 8, 2020, only 101,514 people rode Pittsburgh buses compared to 535,633 who rode the bus that week in 2019, according to Port Authority of Allegheny County data.
And there were plenty of parking spots available in Downtown garages. Only 43 percent of downtown Pittsburgh's parking garage spots were full in December compared to a consistent 90 to 95 percent occupancy throughout 2019, according to Pittsburgh Parking Authority data.
"By most indications, it's looking like Downtown is taking the brunt of it from a commercial activity standpoint," Mendoza said. "It's where people meet. It's the hub of our region. In an environment where we're telling people not to gather, it's going to be the one most affected."
Many companies subleased their unused space. From January to March, subleased additions in the Pittsburgh region averaged 37,441 square feet per month. The monthly average more than doubled from April to December to 104,357 square feet of space per month, according to a recent report from Jones Lang LaSalle.
"I think the question that's on everybody's mind is what will the work-from-home trend will be like post-pandemic?" Ackerman said. "Will the people working from home right now return to the office?"
One possible scenario is the rise of a hybrid work schedule that has employees splitting time between the office and working from home. A recent McKinsey survey of 800 corporate executives around the world found that 38 percent of respondents expect their remote workers to work at least two days a week away from the office post-pandemic. About 19 percent expected employees to work three or more days remotely each week.
And the office may look a little different when they return. "I think that one of the big shifts that we're going to see is to less dense office space," Ackerman said. "People are going to want wellness brought into the workplace. They're going to want to spread out more."
"Tech-flex" office space, popular with tech companies such as Aurora and Argo AI, is a broad real estate category that includes stripped-down office space with room for research and even light manufacturing on-site.
But forecasts of an exodus of offices away from Downtown Pittsburgh might be premature. While the pandemic halted the urbanization trend in the office market, experts haven't seen a shift yet. "We are hearing a lot of noise about the shift to the suburbs, but we haven't seen anyone actually do it yet," Adamski said.
Downtown Pittsburgh's future may rest on the Cultural District, where the pandemic has dimmed its restaurants and theaters. "The Cultural District is a driver of a lot of investment Downtown—the driver of a lot of demand for restaurants, hospitality and other amenities and parking," Mendoza said. "We really need to think about the things that we can do to help the Cultural District, restaurants and our retailers bounce back on the other side of this."