Heights of Glamour
Relaxed elegance in Sewickley Heights
Photographs by Roy Englebrecht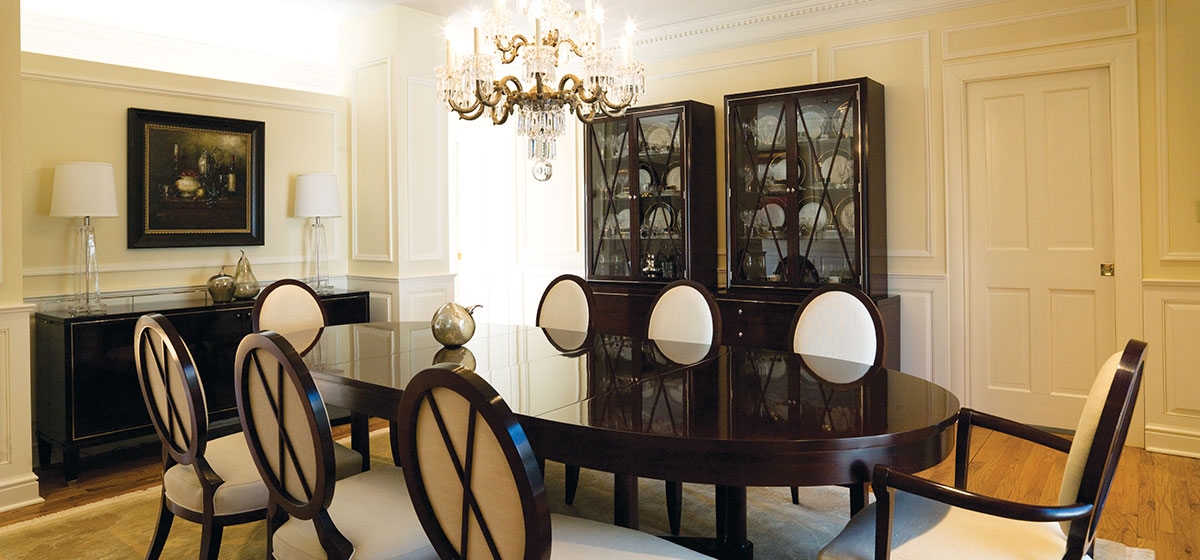 May 20, 2009
Dean Martin slept here. OK, not really, but he was very much the inspiration for the approach interior designer Neill Stouffer took with a historic Sewickley Heights residence. Formerly two carriage houses joined by a nine-car garage, the home has a charming English country exterior.

---
---
A classic cobblestone courtyard, rolling hills, and white buck fencing complete the idyll. But step inside the main house, which was substantially enlarged with an addition years ago, and another world awaits.
"I had done my client's first house, which was two houses away from the present house, when she called me and said, 'I'm moving,'" Stouffer remembers. "I said, 'You can't, it's just done!' I couldn't believe it. There was a lot of custom work in the old house. But she had found this house and absolutely loved it."
When he saw the home, Stouffer fell for it just as hard as Re Torres, his client. "I thought it was a wonderful home for entertaining, with so many possibilities."
Stouffer, who is director of design for Today's Home, met Torres when she was divorcing and needed to create a new residence for herself. She turned to Today's Home owner Jeff Lenchner, a friend she met through their children, and he recommended Stouffer. "I said, 'I need your help. Blitz it and furnish it,' " Torres recalls with a laugh. "Neill said, 'I can do this, but I'm not going to live here—you are, and I want your input.' "
Because time was of the essence, Stouffer and Torres decided to concentrate on furnishings that were readily available through Today's Home. With 500 lines and a custom workshop Stouffer describes as "couture" in its excellence, everything for the project was purchased in or through the store.
"The old house had a look—a clean-lined, Dean Martin, martini-drinking kind of look, and Re wanted that same look for the new house. I call it swanky cocktail. We had this absolutely stunning Barbara Barry, Thomas Pheasant, Bill Sofield furniture."
Because the old house had been so recently redone, Stouffer was able to use most of the furnishings in the new house, which was circa 1915. Some things, such as the exquisite aqua silk draperies in the living room, were altered by adding cream velvet panels to extend their height. With a solid infrastructure and more than 50 percent of the furnishings already in hand, Stouffer was able to complete the new home quickly.
In the meantime, Re married Tony Torres, which brought another viewpoint into the design process. His office is a cozy enclave of masculinity, and his stamp is on the artwork seen throughout the house. But the wife's sensibilities defined the direction of the project, especially when it came to fabric selection.
"I love my relationship with Neill," says Torres. "We were on the same wavelength the whole way through this. We knew exactly what we wanted to do. He's very easy and talented and you have trust in him. I wanted this house to be light, but still elegant. He made the house come alive."
Concentrating on the main rooms (the kitchen and baths had been recently remodeled), Stouffer infused the home with quiet glamour. A palette of soft colors—beige, pale yellow, taupe, blush and watery blues—provides the perfect backdrop for the darker woods that pop like silhouettes. Stouffer chose furnishings that are chic, modern and sophisticated, done in fabrics that will withstand wear. Luxurious seating "is definitely part of the comfort story," and upholstered pieces abound in the home. The oversized living room boasts two spacious "conversation areas," yet on a scale that works as well for two or four people.
"One of my favorite things to do with a house like this is what I call snooty casual," Stouffer says. "People today need a home they can live in but also entertain in. The velvet rope we grew up with is no longer. We don't live that life anymore, but the rooms do have to function for both."
The finished house is filled with livable spaces. A hot tub next to the master bath opens onto the pool terrace. A small inner courtyard is perfect for a cup of coffee and a book. A keeping room with a stone fireplace abuts the kitchen and also leads to the garage. Even the garage has rooms, including one where the original owner is said to have had her cars painted to match her outfits.
The Torreses and her two children are delighted with the home Stouffer has created for them. Stylish, but not stuffy, it has a relaxed elegance that invites easy living. "There's not one thing about this house I dislike or wish I had done differently, not one piece of it," Torres says. And that's high praise indeed.