Finley, McClendon, Castillo, Hill, Shiller, Newton, McKone
Professionals new to Pittsburgh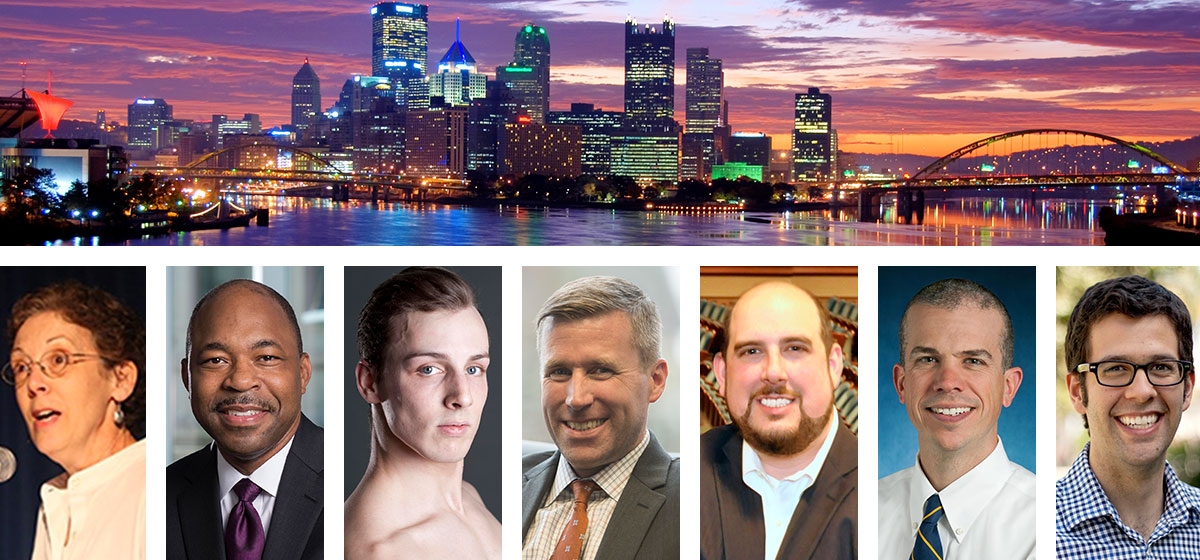 February 20, 2017
On July 1, Macon Paine Finley will become head of the Ellis School. She comes to Pittsburgh from St. Louis, where she has been assistant head of school at the John Burroughs School since 2012. Her appointment comes on the heels of celebrating The Ellis School's 100th anniversary. Before joining Burroughs in 2000, Finley served in product management at Ralston Purina, as a market research analyst at Pacific Gas and Electric Company and as a researcher in biostatistics at both Washington University in St. Louis and Stanford University. A native of St. Louis, she earned her bachelor's degree in statistics from Princeton University, where she also played basketball. She earned her master's in business administration at Stanford.

Rodney McClendon is vice president for operations at Carnegie Mellon University. He is responsible for human resources, facilities management, enterprise risk management, computing services, campus services, environmental health and safety, real estate services, campus design and facilities development and university police. McClendon was a strategic partner for consulting firm Forward Motion, and previously was vice president for administration at Texas A&M University, where he led a division with more than 1,500 employees. A native of Blackshear, Georgia, he has an undergraduate degree in banking and finance from Morehouse College, a law degree from Emory University and a Ph.D. in agricultural leadership, education and communications from Texas A&M University.
Dancer Alexander Castillo has joined the Pittsburgh Ballet Theatre, having made his debut recently in "The Nutcracker." A native of Bayside, Queens, Castillo comes to Pittsburgh from Los Angeles where he danced for six years with the Los Angeles Ballet, advancing to a soloist position. With the October retirement of Principal Dancer Christopher Budzynski, Castillo will bring the PBT's roster to 30 full-time, professional dancers. Castillo received his training with Ballet Academy East, The School of American Ballet and in summer intensives at Boston Ballet School, Central Pennsylvania Youth Ballet and The School of American Ballet.
Michael Hill is the 18th president of the Chautauqua Institution. He comes to Chautauqua from Washington, D.C., where he was CEO of Youth for Understanding USA, one of the world's oldest, largest and most respected intercultural exchange programs. Previously, he held leadership positions at Washington National Cathedral, The Washington Ballet and United Cerebral Palsy. A native of Norfolk, New York, Hill earned a bachelor's degree in journalism at St. Bonaventure University, where he is a member of their board of trustees, and a master's degree in arts and cultural management from Saint Mary's University of Minnesota.
Scott Shiller is vice president of artistic planning for the Pittsburgh Cultural Trust. In this newly created position, he will provide strategic leadership and serve as provost for the Trust's artistic activities, including 4,000 performances. He comes to Pittsburgh from Denver, where he led the Denver Center for the Performing Arts. He and his team are credited with exceeding Broadway show revenue by $4 million and increasing fundraising by $2 million in a little over a year. A native of O'Fallon, Missouri, Shiller has a bachelor's degree from Emerson College. He is living in the Strip District.
Scott M. Newton is vice president of care model solutions at TeleTracking Technologies. A native of Sewickley, he returns to Pittsburgh from Maryland, where he was director of nursing for the emergency department and Lifeline Critical Care Transport Program at Johns Hopkins Hospital. He has also worked as a field paramedic, helicopter flight nurse, and emergency department nurse in urban, suburban, and rural areas as well as internationally in Europe. He is a graduate of the University of Pittsburgh Nursing School and has a master of science in health care administration from the University of Maryland and a DNP from the Johns Hopkins School of Nursing.
James R. McKone is an assistant professor in the department of chemical and petroleum engineering at the University of Pittsburgh's Swanson School of Engineering. McKone comes to Pittsburgh from Ithaca, New York, where he held a research position at Cornell University. At Pitt, he will work in the field of energy technology, building on his past work in renewable and sustainable energy. McKone has a bachelor's degree in chemistry (summa cum laude) and music from Saint Olaf College, and a Ph.D. in chemistry from the California Institute of Technology.