Farnam Jahanian, President of Carnegie Mellon University
A life's recounting in the subject's own words

Photo courtesy of Carnegie Mellon University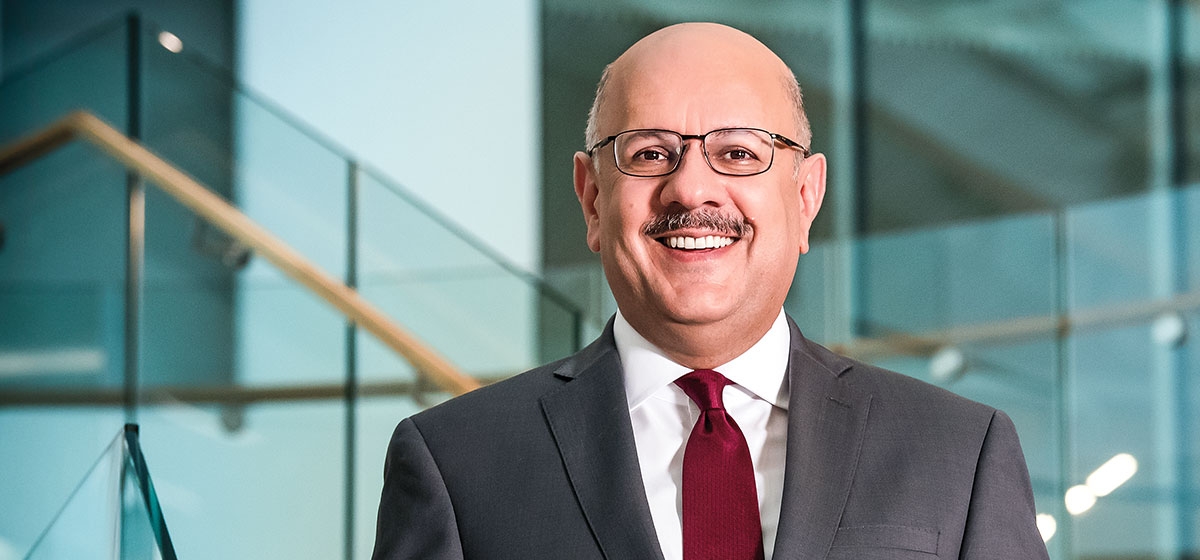 April 29, 2019
I am an immigrant. I left my family's home in Iran, as so many immigrants have, to pursue an education.

My family hails from Tehran, and all of my siblings—five in total, all older—went to college in either Europe or the U.S. But I decided to begin my journey at age 16, and traveled from Iran to Texas to attend high school. As I was preparing to go, I asked my mother to help me pack, and she said, "Pack light, because whatever you need, you will find there." So, I left home with little more than a sense of optimism and a desire to make the most of the opportunities that I believed would come.
That was in 1977, two years before "the revolution," when Iran still had a secular government and a very progressive economy. My father was a businessman with interests in banking and farming so, by the time I was a kid, we were pretty well off. My mother and father since have passed on, but for the last 20 years of their lives, they lived in the United States.
Early on in my life, I became a strong believer in the power of education. I have witnessed firsthand the opportunities that education offers people. As a researcher, faculty member, advisor, and entrepreneur, I have seen how a single idea can not only transform a career, but disrupt an entire industry, too. I also have come to learn that amazing ideas emerge from our academic institutions that have the potential to improve lives and enhance societal well-being.
When I consider the prosperity that we have enjoyed in America since World War II, I know that much of it was the result of the investments we made in education and research. Today, our recipe for success is being used by the rest of the world. Both friends and adversaries have become economic competitors, so now is not the time for us to take our foot off the gas. It is time to double down and invest in the future, and our kids.
My life has included stints in higher education, the private sector, and public service. Ultimately, my journey brought me to the city of Pittsburgh and Carnegie Mellon University. To be a part of this great community, and to sit at the helm of one of the finest educational institutions in the world, is an honor and a tremendous opportunity as well.
It is well known that Pittsburgh's economy all but collapsed in the late 1970s and early 1980s due to the contraction of the steel industry. The "renaissance" that the city has been experiencing since then has been the result of partnerships established between the public and private sectors, involving civic organizations, companies, foundations and academic institutions. People often ask me, "What is Pittsburgh's secret?" In some ways, the city is a metaphor for life. We are the "City of Bridges," after all. We maintain 446 of them. And this community has managed to improve the human condition by building other "bridges" that connect us all. We do not create silos and barriers here that divide us and accentuate our differences.
I began my journey in the U.S. with two years at an all-boys Catholic high school and then moved on to college at the University of Texas at San Antonio. After that, I did my advanced studies at UT at Austin. Among my siblings, I was the only one who decided to pursue science and engineering. The rest studied business and medicine. In that way, I was the black sheep of the family. But I firmly believe that all of those family dinner-table conversations about business and finance weren't completely wasted on me. In fact, I started my undergraduate studies as a business major and planned to enter the world of international politics.
As part of my undergraduate coursework, I studied computer science and math. I was taking a computer class in Fortran and just fell in love with the concepts of algorithms and programming. I continued to take computer courses, and by my junior year, when I realized that I had to declare a major, I decided on computer science and math. Later, I went on to receive a Ph.D. in computer science in 1989.
From the time I entered college in 1978 through the time I finished my Ph.D., I had a few internships and also worked part-time for a host of technology companies at the beginning of the digital revolution. Call it destiny or simply serendipity, but I was remarkably lucky. Microsoft was coming into its own. It was the early days of Apple. It was such an exciting time—the dawn of a new age. No one could have imagined then just how transformative computers and networks would be.
I met my wife Tris (short for Teresa), who is also a computer scientist, when I was starting graduate school in Austin. She was an undergraduate and we worked for the same professor. I remember that on our first real date, we talked about operating systems like a couple of nerds, and she ended up falling asleep halfway through the movie we were watching. Just before I received my Ph.D., we got married.
Naturally, as I was finishing my doctorate, I began thinking about job prospects. At the time, the job market was good and I was being pursued by several academic institutions. Stubbornly, however, I decided that I did not want an academic position (which, 30 years later as a university president, is quite ironic). So, I went to my thesis advisor and a few faculty members and told them, "I have spent most of my life in school and prefer to get a private-sector job at a research lab." Some thought it was sacrilegious. Nevertheless, I ended up interviewing at several companies—IBM Research, Xerox PARC, Bell Labs, Bellcore, and TI Labs—and received job offers from most of them. I ended up accepting a position at IBM's T.J. Watson Research Center in New York in 1989, one of the flagship U.S. computer science research labs. This turned out to be a very good decision. What I learned at IBM Research would serve to make me a better teacher, researcher and entrepreneur. Tris was working at the Research Division of Electronic Data Systems (EDS) in Dallas, but was able to relocate to EDS's e-commerce division in New Jersey. This turned out to be a game-changing career move for Tris, as she was soon at the forefront of the ATM revolution that was sweeping through the financial industry.
At IBM Research, I pursued my interests in the areas of fault tolerance and networking. My research during that period allowed me to expand my horizons and try new things. But after roughly four years, I decided that, if I didn't try academia soon, I might not be able to try it at all. The reason I decided to make a career move was simple. I was climbing the research-leadership ladder at IBM. I was heading a department and an opportunity for me to lead a group was on the horizon. I looked at my prospects and decided that I just did not want to get trapped in management. By that time, Tris and I had two young sons. (Eventually, we added a daughter, who is now 21, and a student at CMU.) Long story short, I ended up at the University of Michigan in the software systems area, and spent the next 20 years there, doing what faculty members do. I taught and conducted research in networking and cyber security, my major areas of interest. Life was good. We loved raising our kids in Ann Arbor, a college town.
Around 2000, I took a sabbatical year. At the time, the internet was experiencing a spate of "denial-of-service attacks" on whitehouse.gov, financial institutions and e-commerce websites. Fortuitously, my research had been focused on enhancing the overall stability, security and resiliency of computer networks in the early days of the internet. I was working with grad students at the University of Michigan and, together, we launched a cyber security start-up called Arbor Networks. In fact, my co-founder, G. Robert Malan, was a former CMU undergraduate who had come to Michigan for his graduate studies. Together, Rob and I developed a network security solution, one that would come to define how cyber security is addressed by today's internet service providers.
In the first round of fundraising, we raised $11 million from a major venture capital firm, and strategic investors that included CISCO. But shortly after we launched, the tragic events of September 11 occurred, and the economy took a nosedive. In fact, if you look back, the internet service provider business took a nosedive as well. The dot-com economy, of course, imploded around that time, too. But we had a real technology, based on the research we had done, that solved a vexing problem. So, we hoarded our cash and continued to build the company. On our second round of fundraising, we raised another $14 million—truly remarkable, given the prevailing business climate.
To continue my work at Arbor Networks, I took a leave of absence for a couple of years beyond my sabbatical. From 2000 to 2004, I ran the company, did the fundraising, and served as president and chief scientist. I also chaired the company's board from 2004 to 2010, during which time I also returned to the University of Michigan. At the time, our primary customers were internet service providers and large network enterprises. When we sold the company in 2010, 90 percent of the "tier one" internet service providers were deploying our technology to protect their backbone networks against security attacks. What I was most proud of was seeing the company succeed in terms of the work we did in research, the technology we developed, and the transfer of that technology to the commercial sector.
Once the company was acquired, I became fully engrossed in academic life again at Michigan, serving as the head of its computer science department. I continued my teaching and research until, one day, I got a call from a search committee that was in search of a new head for the directorate for Computer Information Science and Engineering at the National Science Foundation, and I was recruited to head CISE, which had a budget of $950 million. Seventy percent of all federally funded computer science and computer engineering research in the U.S. was being funded through that directorate at NSF. As a computer scientist, it was an amazing opportunity at a time when computation and data were transforming every field of inquiry.
NSF positions have a four-year time limit, and officeholders still maintain their respective university positions. Essentially, you go on leave to serve in the government, and then return to your university post afterwards. Despite the challenges with the federal budget, it was a glorious time to be embedded in a science agency in the nation's capital. I served as the head of CISE from 2011 through 2014, during which time we launched several presidential initiatives, including the National Robotics Initiative, and the National Big Data Research and Development Initiative. As an immigrant, serving my country was such an honor. I am very proud of my academic record and the research I have done. And I am proud of the students I have mentored, and the impact I have had through entrepreneurship. But, besides my children, what I am most proud of is my service in the public sector.
When I think about my life, career and education, I can cite two themes that have shaped it: one was the embracing of change and uncertainty; the second was a deep conviction about the power of education. As the great equalizer, education can cross social, racial and economic divides like no other force. That is why I continued to return to academia: to teach, and to help young people reach their potential.
"My work ethic came from my father. But looking back, I have realized that my vision came from my mother. And I have carried her words with me. 'Pack light, because whatever you need, you will find there.' "
—Farnam Jahanian
To me, the big question facing America going forward is, "Are we willing to make sustained investments in education and research—our future?" Research that leads to innovation and societal impact often takes decades before it comes to fruition. Policymakers understand this. But the portion of the nation's budget that goes toward such investments is still discretionary—and that is where lawmakers go to make cuts. The reality is that U.S. investment in research and development as a percentage of our GDP has been steadily shrinking since the 1970s.
It goes without saying that Carnegie Mellon is a remarkable institution, with a deep tradition of promoting excellence in research and education, and the transfer of knowledge from lab to practice. And we have a well-deserved reputation for our positive impact on society. But what makes this university so distinct and unique is the way in which we intertwine science, technology and business with social science, policy and the arts. Cross-disciplinary exploration is part of the institution's DNA. I firmly believe that, as we continue to face technological disruption, our willingness to break down silos and innovate in curriculum, pedagogy and organization will ensure CMU's leadership in the next wave of innovation in education.
This is truly an extraordinary time for CMU. We are at the center of a social and economic transformation catalyzed by the digitization of information, automation, robotics, artificial intelligence and the unprecedented access to data. We are transforming society and culture. As the digital revolution rapidly accelerates, Carnegie Mellon is uniquely well positioned to manage the space where society and technology intersect with all the opportunities and challenges that come with the advances that we see. If we are able to do this, I believe we will write the story of the 21st century.
My work ethic came from my father. But looking back, I have realized that my vision came from my mother. And I have carried her words with me. "Pack light, because whatever you need, you will find there." I believe she was hinting at the knowledge I was destined to acquire during my amazing journey.