Enrico's Café
Authentic, delicious and hidden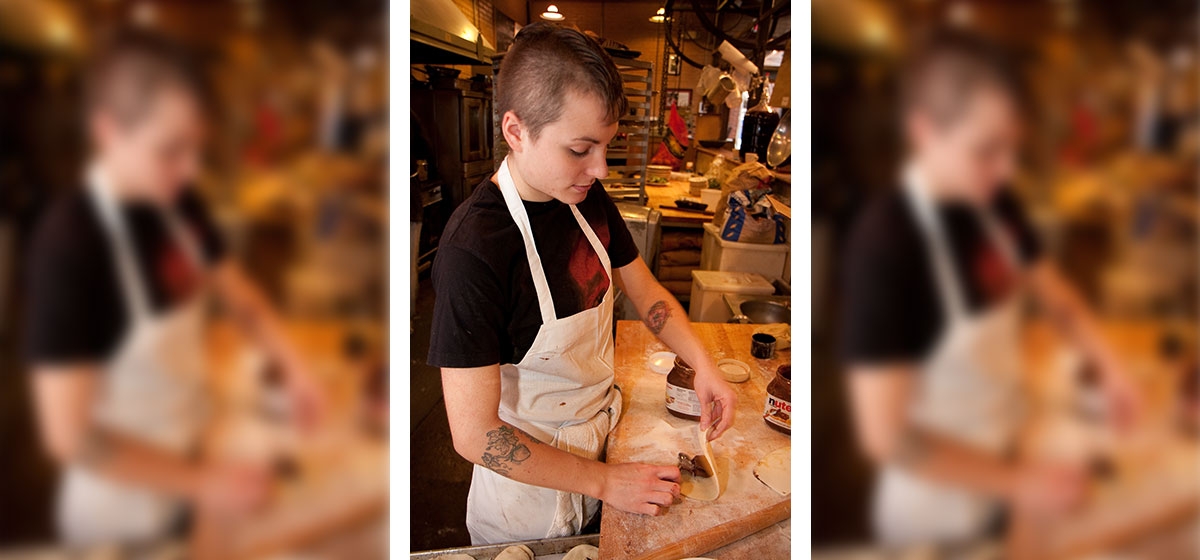 November 20, 2009
Chuck DiNardo, legendary food and drink impresario, operated the Hollywood Social Club in Shadyside into the 1970s. The haunt of politicians, every old mustache in the region and visiting celebrities, the "Sosh" was accessed through an unmarked narrow walkway, easily missed, between what is now The Pottery Barn and Kards Unlimited on Walnut Street.

That walkway led to a door that led to stairs that led to a door at the top with a little square cut-out through which you would be scrutinized before being granted entry. Much of the allure was just knowing how to get into the place, but regulars loved the camaraderie behind that final door.
Enrico's Cafe in the Strip District, without the speakeasy tactics or late-night schedule of the long-shuttered Shadyside after-hours club, is a joint like that. In the narrow space between a bank and Enrico's Biscotti, the flagship of Larry Lagatutta's culinary empire, there is an opening adorned with the trademark iron sculpture of a flying biscotti.
You would be forgiven for walking past it and heading into the biscotti shop, which thousands have done, unaware of the discrete entrance to the cafe, but it would be a great loss. An authentic "Pittsburgh Italian" experience awaits in what was once Carlo's auto repair garage.
The red sauce has a Pittsburgh provenance. Before coming to Larry, this recipe passed from Franco to John Tambellini to Rico to Luigi "The Barber" Caruso. The "beans & greens" is made with kale, just the way Larry's nonna made it, and a daily frittata is composed of local seasonal vegetables.
Pizza is truly Neapolitan, with the right flour, Old World technique and a wood-fired oven, which is surrounded by the work of Bloomfield's iron sculptor John Walter, who created the largest pot rack in Pittsburgh especially for Enrico's.
"We only serve simple, authentic Italian food here," Larry says. "You will never find a hamburger and fries here, and we will never serve a Caprese salad in January, when the local tomatoes are not ripe."
Wine is made, as always, in the basement, only now it is a licensed winery, called Carlo's Garage. For dessert, you will be urged to visit the glass cases at Enrico's Biscotti Shop and bring back to your table whatever dolce you please.
Enrico's Cafe is a gathering place, also available for private parties and catering. The monthly "First Friday Dinner" is a five-course nuovo Italian dinner for $45/person B.Y.O.B. On the last Friday of every month, there is five-course family-style "Big Italian Throw-Down" for 50 bucks, B.Y.O.B.
And for the best $20 deal in the 'Burgh, you can meet the Enrico's farmers, hear them talk about their products and savor the special dishes that include them. Then chase it all with a local East End Brewery beer.
Larry teaches classes on Italian bread, pizza and Italian cookies several times throughout the year. Trust him with one of your old family recipes, and you might keep it from becoming one of those dishes that too often disappear with the grandmothers who lovingly prepared them.
Food, drink and tradition inhabit the soul of Larry, who says, "I am so honored to be present—through my cookies—at my customers' weddings, birthday parties, family celebrations (I've been to Iraq and Afghanistan)—at all the events that mark time in people's lives."
Enrico's Cafe, 2022 Penn Avenue., in The Strip.