That's How the Cookie Crumbles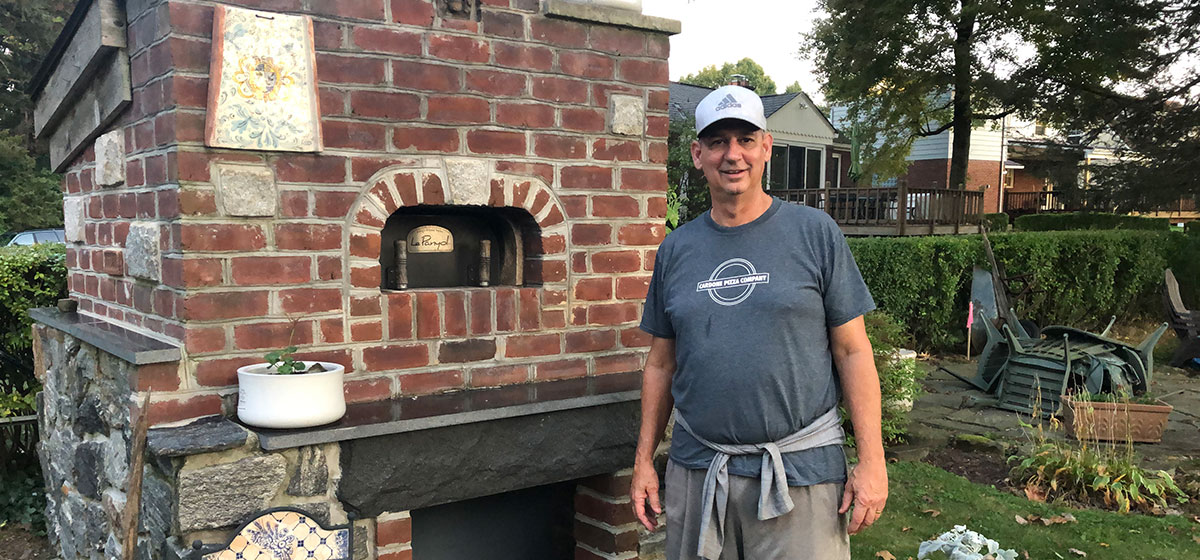 March 23, 2020
The wood fired oven sits in Dan Cardone's perfectly manicured back yard in a residential development in the North Hills. A stately, towering thing made of brick, mortar, stone, and some marble that was going to be a headstone for a grave.

"They spelled someone's name wrong and couldn't use it," he says.
He spent a year designing it and then building it. The oven is French. Le Panyol. Heats up to 900 degrees Fahrenheit and takes about nine seconds to crisp a pizza to perfection.
"Hey, Cardone!" his neighbor will yell from across the hedges. "When you gonna have me over for pizza?"
Dan had been the athletic director at North Hills High School. Then he retired. But he always loved pizza. So he started working at just about every wood fired oven pizza joint in Pittsburgh; Mercurio's, Il Pizzaiolo, Mambo Italia, Pizza Taglio. He also traveled. He went to Italy, spending time in Naples so that he could become a certified pizza maker. The training was rigorous. Over 60 hours of instruction. A lot of screaming from the no-nonsense pizzaiolos of the AVPN, the Associazione Verace Pizza Napoletana, the True Neapolitan Pizza Association. Are you stupid? I told you a hundred times to do it that way. You're doing it wrong!
"I kind of just laughed it off," he says. "Some people got really upset, though."
Dan was kicking around the same port that his great-grandfather, Francesco Antonucci, sailed out of in 1912, headed for America, eventually making his way to Pittsburgh. Francesco made a living by mastering the art of knife and scissor sharpening. He owned one suit, had 10 kids, and would ring a bell as he walked through East Liberty, Homewood, Brushton and Friendship, offering to sharpen things. "He always wore a hat, a suit, and a bowtie," Dan says. "That's why the bowtie is the symbol of the Cardone Pizza Company."
Napoletana Pizza is Dan's specialty. He trains people on how to make a good pizza; one-on-one or in a group. Friends. Family. Co-workers. Whatever.
"You know how to make a great pizza dough? Four ingredients. Flour. Salt. Water. Yeast," he says. "Know what the fifth ingredient is? Passion. Maybe even patience. I'm not a snob, though. Good pizza is good pizza. I like Sir Pizza. I like Fiore's. I just like good pizza."
It's a tradition thing, the pizza he makes. Which is also behind the biscotti he bakes. "It's what kept Francesco alive when he was crossing the ocean to get to Ellis Island," he says. "Biscotti comes from the Latin words 'bis cotus,' meaning twice baked. But I didn't want my biscotti to be hard and break your teeth. So, mine is softer than traditional biscotti."
His instruction came from The Enrico Biscotti Company. The recipe came from his great grandmother, Stella Barbato Antonucci. Now, 17 different flavors of biscotti come rolling out of the kitchen Dan has set up in the lower level of his home, where antique pizza paddles hang on the walls and a massive red Ankarsrum mixer commands half of the counter space. "It's from Sweden," Dan says. "I could not do this without it. Worth every penny."
To get a softer biscotti, he reduces the baking time, dividing the batter in half, weighing it, forming two logs, and then into the oven for 30 minutes at 325 degrees. Remove it. Cool it. Cut it. Twelve pieces of soft, won't-break-your-teeth biscotti. Mandarin Chocolate Chip, Nutella Walnut, Chocolate Mint, Peanut Butter, Brownie Walnut, Cranberry Pistachio, Pumpkin…
He'll cut the logs into 12 even pieces, package them up in bags he designed himself, and distribute them to 12 coffee shops downtown, north, and west of the city; East Liberty, Homewood, Brushton, Friendship… The same neighborhoods that his great grandfather walked through over 100 years ago, ringing his bell, sharpening scissors and knives.
Dan also sells the biscotti on his website, where people can email, call, or text him with their order. Dan is constantly getting orders for his biscotti. Ring. Ding. Ping. Text. Call. Email. And right now, it's good. The pace of it. The customers he has. The coffee shops he distributes to. It's still… enjoyable. It's not overwhelming or annoying. It's fun. And it feels nothing like a job.
"You have to follow your passion," he says. "If your vocation is your avocation and the stars line up, you're pretty fortunate."