Will Pittsburgh's Dining Scene Survive the Pandemic?
Photo via Wikimedia Commons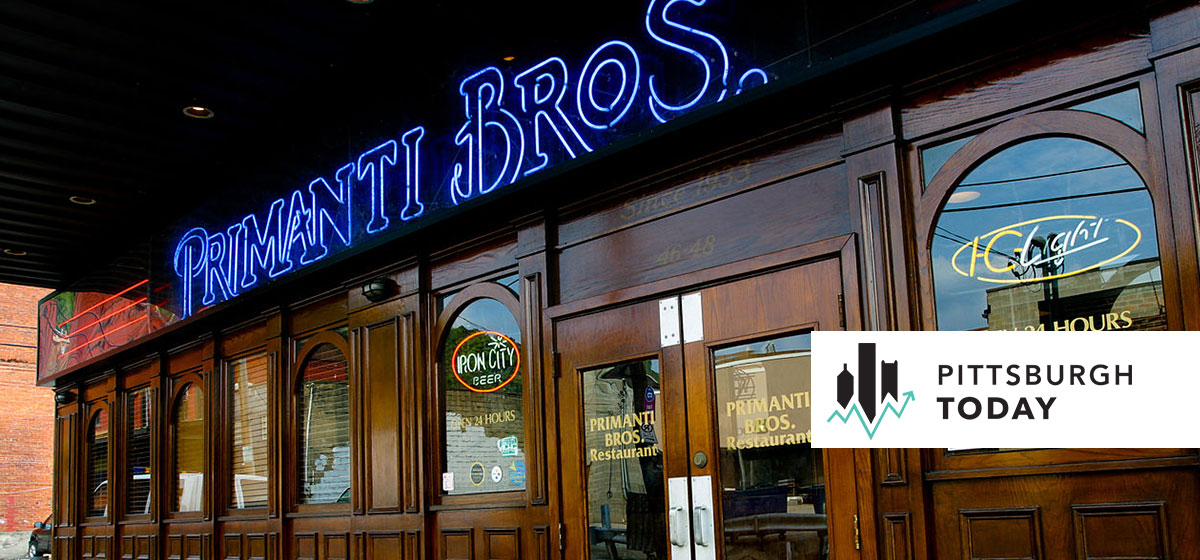 April 15, 2020
Pittsburgh, where sandwiches held together with French fries and coleslaw once defined its cuisine, had become a mecca for chefs and bold, award-winning restaurants. The city topped Zagat's list of top food cities. The BBC last year anointed it the seventh-best destination for foodies in the world. And the New York Times proclaimed: "If there are scholars who hope to study how a vibrant food culture can help radically transform an American city, the time to do that is right now, in real time, in the place that gave us Heinz ketchup."

Now, however, the fear of COVID-19 is crippling the vibrant restaurant scene that's been more than a decade in the making.
Restaurant dining rooms have been closed since March 15 as part of social distancing orders to slow the virus's spread, leaving them with little more than takeout business, which, for many, had accounted for only a small slice of their income. A month later, labor costs, bills to vendors, rent and debt amount to a life and death struggle for many Pittsburgh restaurants, which operated on razor-thin margins in good times.
"Nobody has been through anything like this," said John Longstreet, president and CEO of the Pennsylvania Restaurant and Lodging Association. "Since I've been in the business, we've had two epidemics, two recessions and 9/11, and none of them compare to anything to this where all restaurants have been ordered to close."
Some relief is expected from federal stimulus packages passed to limit the pandemic's economic damage. But at press time, it's uncertain when restaurants will reopen, what recovery will look like and whether federal stimulus can prevent widespread bankruptcy.
What is clear is just how valuable a robust restaurant industry is to the city and region.
Engine of job growth and regional reputation
There are about 95,000 food services jobs in the 10-county region—about eight percent of total jobs, according to data reported by EMSI, a labor market analytics firm. And those jobs are important, especially in a region with relatively little job growth. Jobs in the seven-county Pittsburgh Metropolitan Statistical Area grew 3.8 percent from February 2015 to February 2020 , compared with 9.1 percent across 15 Pittsburgh Today benchmark regions.
In recent years, restaurants have been one of the region's few job-growth bright spots. "The majority of the growth was due to a few sectors, including leisure and hospitality," said Vera Krekanova, chief strategy and research officer of the Allegheny Conference on Community Development.
Last year, 1,400 of the region's 8,900 new jobs were in leisure and hospitality. "These industries are very significant in terms of the amenities they create," Krekanova said. "We, as a region, are capitalizing on this. From a direct economic standpoint, people come in and spend, and people living here go out and spend. But it also puts us on the map in terms of public relations and marketing, which translates to attracting people and businesses."
In the eye of a hurricane
"Right now, in early April, our food truck business would really be taking off," said Tim Tobitsch, founder and operator of Franktuary, a Lawrenceville restaurant and food truck known for its creative hot dogs. "All of our events in April have been canceled. Over these past two weeks, sales have been down about 65 percent from what we'd expect them to be this time of year. We're trying to keep as many people busy with hours, but, obviously, we've had to cut back."
A significant loss of revenue, even over a few months, can be devastating. Restaurants in Pennsylvania typically operate on a typical 5–7 percent profit margin, Longstreet said.
Being able to offer takeout service has helped. But for most restaurants, takeout represents only about 10 percent of their typical business, Longstreet said. And it hasn't prevented restaurants from laying off staff as they try to stay afloat not knowing when they'll be able to resume full operation.
"The hardest part is when we had to lay off the bulk of our staff," said Leslie Donovan, co-owner of the Harris Grill. "That's a hard conversation. I have two women who are pregnant and many people who have families to support. To sit down and tell 40 people that we have no choice but to let you go, it's really, really tough. A lot of them have worked for us for a long time."
Meanwhile, restaurants have vendors, banks and landlords to pay. Their situations vary, but some restaurants report their creditors have been flexible about payments, at least for now. Both Donovan and Tobitsch said that their landlords have been understanding and flexible about rent. Tobitsch said PNC offered a three-month deferment on his largest loan payment.
But more loans won't solve the industry's financial woes. "All these loans offers are nice and they're a band aid, for now," Tobitsch said. "I think my restaurant is not alone in that we already have a significant amount of debt. It's kind of delaying the inevitable if we just take on more debt and have to pay it back or defer payments and have to catch back up to the timetable."
Longstreet said a recent industry survey suggests that only 50 percent of restaurants in the state are operating some sort of takeout or delivery service. That would mean than some 13,000 restaurants across the state are closed entirely.
Franktuary and Harris Grill's Mt. Washington location offer takeout and delivery and use app-based ordering platforms, such as Grubhub and Uber Eats. Neither restaurant relied much on takeout business before the pandemic.
Donovan said Harris Grill's Friday and Saturday takeout orders have increased, but orders on other nights remain at pre-closure levels. Tobitsch said Franktuary is "getting a good number of orders everyday, but it's not close to what we'd be doing if we were open normally."
"We're not designed to be a delivery establishment," Tobitsch said. "We're better off having it. But Uber Eats and Grubhub charge between 25 and 30 percent on every transaction. It's not sustainable."
In the meantime, he looks for other ways to use Franktuary's food truck to deliver hot food to neighborhoods. Walnut Capital, for example, recently paid to have the food truck feed tenants in its Bakery Square apartment complex. The restaurant accepted online orders, assigned time slots for pick up and spaced them to maintain social distancing instructions. Tobitsch started a GoFundMe crowdsourcing campaign hoping to do the same in other communities. For a $500 donation, Franktuary offers to serve up to 50 people in a 20-mile radius from the restaurant.
Relief with reservations
Restaurants, like most small businesses, are scrambling for a piece of the Paycheck Protection Program (PPP), a $349 billion fund that is part of a recent federal economic stimulus package. It offers loan guarantees for small businesses through the Small Business Administration (SBA) and its partner banks.
They can borrow up to 250 percent of their 2019 average monthly payroll. What makes them attractive is that the loans will be forgiven if a business spends at least 75 percent of the money to pay their employees. But concerns abound.
"Congress has already figured out that there is not enough money allotted for it, because there are so many people whose businesses are closed and whose employees are facing furlough," said Longstreet.
The program also requires businesses have their workforce back to February levels by June 30 in order to have the loan forgiven, even if the crisis hasn't passed and they don't have the business to support them. "It's not going to be possible to get everyone back to work by June 30 and if they do, they will have to look into laying people off after that," Longstreet said.
Another concern is whether the SBA is up to the task of quickly dealing with the scale of the crisis. The New York Times this month reported that the agency, "lightly staffed and working with aging technology, has been caught unprepared for the onrush of demand from desperate small-business owners who urgently need these loans as the coronavirus stalls the economy. In a boom year, the agency backs $30 billion of small-business loans—about the same amount that banks are now seeking on behalf of their customers in a day."
A confident recovery
For now, it's impossible to sketch a timetable for recovery. "It's hard to understand where we go from here," said Longstreet. "It took 18 to 24 months for hotels to recover after 9/11, but we never had to close hotels."
When social distancing eases, will people feel safe and comfortable going out to eat? Will they have money to spend? The answers to such questions will be critical to survival of the region's restaurant industry.
"Consumer spending and consumer confidence has been the major drive of economic growth before this happened," Krekanova said. "But people had money. They weren't worried. They didn't have to save or pay off a lot of debt." The COVID-19 pandemic changed that for restaurants and the leisure and hospitality industry, in general. "These sectors are in for rough times."
One glimmer of hope is that the customers whose dollars fueled the local restaurant scene that has helped put Pittsburgh on the map have some degree of control over its post-pandemic fate. "They're very local-demand driven," Krekanova said. "If people here are interested and have the money then it's going to happen. It's not a complicated supply chain that will be affected by how things unfold in China or in Europe."