Dot's
Soup for all seasons
Photo by Jennifer McNulty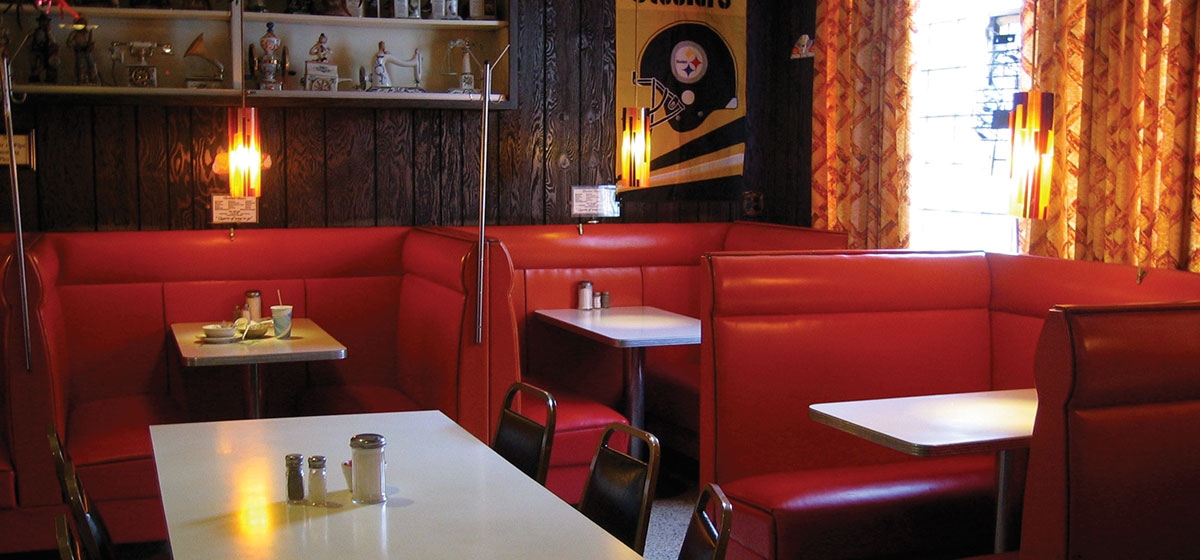 November 24, 2008
Dot's in McKeesport is just that—a dot on the side of the road that is easily missed if it is not your intended destination. There was a time when this stretch of Fifth Avenue on the fringe of the city was more neighborhood street than highway.

The mills were booming back then, and McKeesport was called Tube City, after the National Tube Works.
It is hard to envision this neighborhood teeming with workers in hardhats and steel-clad metatarsal shoes, packing the local joints during the shift change and on their breaks. Places like Dot's were a public service that sustained the workforce and provided a little something to cut the dust and grime in the throats of the mill workers.
In 1961, Dot's was founded by Dorothy and Paul Ploskina. Today, it is owned and operated by Terri Ploskina, Dot's friend and daughter-in-law. Nothing much inside the place has changed from the days when freight trains cut McKeesport in half and stopped traffic in both directions several times a day.
The '60s décor is now kitsch, but the food is still honest and true—meant to nourish and warm the spirit. There is a Christmas tree just inside the front door that is re-decorated as the holidays change—a greeting sign of the family atmosphere at Dot's. "The kids love it," Terri says.
Sara, waitress-in-chief, has been serving the locals at Dot's for 20 years. She has a mostly "no funny business" demeanor, but with the right approach you can crack that. "Just don't cross her," Terri says respectfully, with her easy laugh, "cause she'll give it right back to you."
During the summer, four to six homemade soups are featured at Dot's. In the cold months, diners can choose from six to eight. Patrons often order two different soups from a list that includes beef barley, ham & bean, potato, broccoli cheese, wedding, chicken rice, chicken noodle, onion and stuffed green pepper soup—a killer.
Some folks still request that old stick-to-your-ribs Depression-era meal stretcher—a scoop of real mashed potatoes in the bowl before the chicken noodle soup is ladled in. As Terri says, "You tell us how you want to eat. We don't tell you."
Or, if you're having a tough day, you can get a world-class serving of comfort food—meat loaf, mashed potatoes and gravy—or any number of other solid meals that you used to get at home. On Fridays, Dot's has halushki—noodles, cabbage and butter—and everything is served with baked-on- the-premises bread.
But the queen of this place is the cabbage roll. Terri makes 150 of these little grenades each week. The cabbage is thin and translucent, and the filling is spiced perfectly. When done like this, cabbage rolls are the filet mignon of eastern European cooking.
Make sure to pick the right entrance, since the kitchen physically separates the restaurant from the bar —a concession to efficiency back when the blue-collar profits finally allowed a little expansion. A couple of parking areas have been added, too, but you may have to be creative on Saturday nights when the line sometimes goes out the door.
James Beard, the legendary guru of American cuisine, once said, "I don't like gourmet cooking or 'this' cooking or 'that' cooking. I like good cooking." If you feel the way Beard felt about food, you better stop by Dot's.