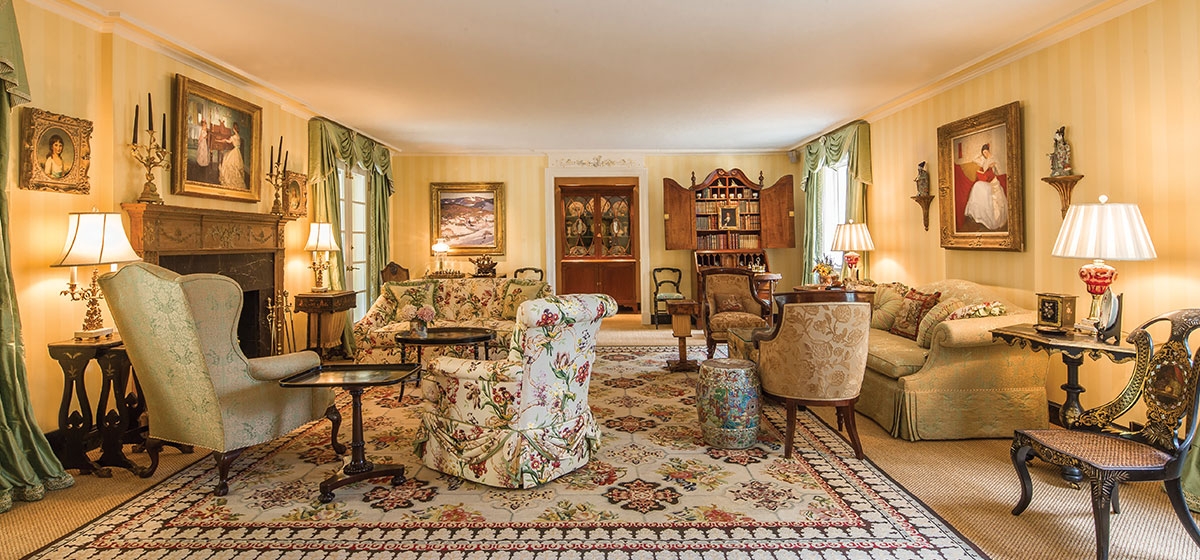 August 21, 2016
Tradition winds through the leafy streets of Sewickley like a summer breeze, ruffling the flags on stately old homes and the flowers that adorn each perfect lawn. In a neighborhood filled with beautiful houses, the 1950s French-inspired stucco stands out, as it did when Anne and David Genter bought it 10 years ago.
---
---
"This had always been a house we admired, and it came on the market at the same time someone was interested in our house," says Anne. "The timing was perfect, and it was a practical choice. We were downsizing, and we liked the idea of two bedrooms and bathrooms on the first floor."
Having raised their family and lived on a larger property in Sewickley Heights, the couple had quite an inventory to edit. But that was a delight for Anne, an interior designer who founded Friday and Genter Interior Design with her daughter, Suzanne, in 1996. Without the need to compromise or accommodate someone else's taste, Anne was free to create a new residence that would showcase the couple's many significant collections. Still, there are challenges in designing for oneself, especially when factoring in the placement of numerous antiques, paintings, porcelains and the other accoutrements of a well-travelled life.
"I think designing for oneself is different mainly because one has so many choices and I don't think a client realizes all the possibilities. It works best when the interior design is associated with the period antiques. You don't want your home to look like a museum; you want it to be complementary."
Yet many things in the house are of museum quality, amassed over decades of collecting with a discerning eye. Such is Anne's reputation in the world of antiques and interior design that she was asked by several administrations to decorate the governor's mansion in Harrisburg, and has also lent her expertise to Woodville Plantation and the Kerr House in Oakmont. Her affinity for 18th-century and Federal period furniture is evident in her projects as well as her own house.
"I've always been interested in museums and antiques. That's what my adult life has been about. On holidays we make a beeline for museums and museum houses," Anne says. "I'm the primary enthusiast, but certainly my husband is involved. He loves art, he really does, and all periods. Most everything has been with us for a fairly long time. I've never thought in terms of getting something for a particular spot. We started out with American naïve paintings and have expanded our collection to include some Boston impressionists and New Hope school."
Following trends is clearly of no interest to the couple. Anne freely admits that their spacious living room "was influenced by the excesses of the '80s, which I actually admire."
"I've always loved chintz, which I know is out of style, but I love it. It is certainly not a period room, it is more of a period, which is the 1980s."
Along with excess comes comfort, which is paramount. Every room is both comfortable and refined, with reading chairs, lamps and tables at hand for a cup of tea or cocktail. Pillows abound to soften and support while intricate window treatments contribute a cozy warmth. Rugs, sometimes layered on other rugs, give definition to the rooms, and Anne's skillful use of color provides the punch that brings them to life.
Underlying everything are the home's good bones and the renovations the couple undertook shortly after moving in. The bathrooms and kitchen were updated, and a breakfast nook was added next to it. A former storage area near the kitchen was gutted and turned into a comfortable library with pine paneling, a wall of bookcases and a fireplace that welcomes them in the winter. "It's where we spend a great deal of time."
In the summer the garden beckons. A terraced topiary garden rises from the patio and climbs the hill behind the house. Where it ends, a woodland garden designed by E.K. Smith begins, with walkways that meander through mature rhododendron and other shade plants. Anne, who is active in the Garden Club of Allegheny County, designed the topiaries, which remain the focal point and are maintained by gardener Michele Vaccaro.
"The stone walls were existing. They were built by the first owners in 1955, and those ladies were gardeners. Like the people we bought the house from, they did perennials and small shrubs. I wanted something a bit more formal and less difficult to take care of. The topiaries do the same thing all year long. They're consistent, which I like, and only have to be shorn twice a year. It's not as well done as it could have been if I had some professional advice. It's not centered but if you don't scrutinize it, it's acceptable," she says with a smile. Indeed, the garden is listed in the Smithsonian Institution's Archives of American Gardens.
Though both the garden and house appear to be pristine and completed, a current of change continually runs through them.
"I don't take anything for granted. I sort of reminisce about where things came from. And I'm always tweaking things. The house is not static. While there are things that come and go, additions and rearranging continue to enhance."