A Touch of Tuscany
A Tuscan-style villa
Photographs by Beth Singer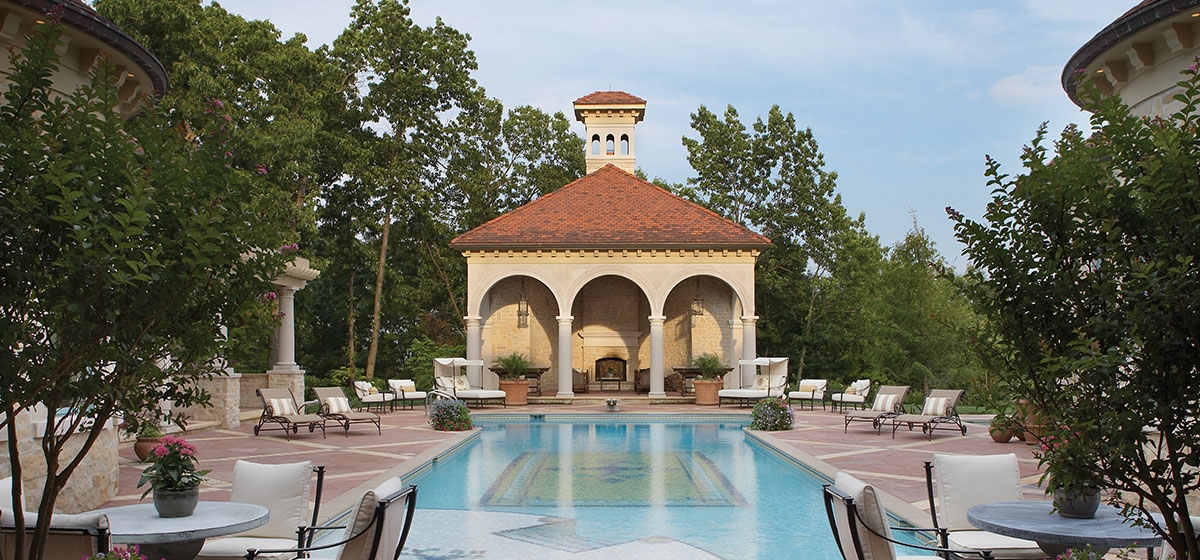 November 20, 2008
The house sits majestically on the crest of a hill, with sweeping vistas of other hills and the wooded valleys that connect them. There is little evidence of civilization even beyond the 33-acre site, which makes the home seem private and remote.

---
---
That it's on the outskirts of Pittsburgh and not in the Tuscan countryside is the first surprise. That such a house was created today is the second.
"Pittsburgh has a great inventory of classic residences built mostly at the turn of the 20th century," says the owner. "The craftsmanship on display in this house proves that the era of great home building is not over."
The couple who commissioned the home knew what they wanted: an Italianate villa situated to take in breath-taking views from large windows. They had sketched a rough floor plan and exterior, at which point it was time to find an architect. After interviewing several, they chose Joe St. Jean of Scholz Design in Toledo.
"The key thing that sold us on Joe was his ability to get 'inside our heads' to determine what we wanted to create," the owner says. "Some architects build houses for themselves, as 'resume builders' for them. But Joe took our basic vision and made it better."
A third-generation architect, St. Jean echoes those thoughts: "I'm not in this to create something for me. I'm in this to bring to life my client's dreams."
"I'm a very quiet person and a good listener, which I think is key. In order to exceed the expectations of your clients, you have to get into their brains and somehow be able to translate what they're dreaming into some method of communication. Typically I like to use drawings and photographs of what I've done in the past, and details of historic structures. That's usually the best way to come up with some way to communicate."
Scholz Design, which is licensed in 17 states, specializes in high-end homes from 1,500 to 50,000 square feet and designs close to 300 a year. Clients may purchase plans for pre-designed homes that can be built as is or modified, or commission completely custom work, such as the Pittsburgh residence. Years of experience in upscale residences translates into a relatively smooth process for the homeowners, especially because St. Jean works with Scholz interior designer Gena Barber from the beginning. Floor plans are sketched with furniture and finishes are selected at every stage, ensuring that an outlet will be waiting for that reading lamp, the French doors won't hit the sofa when they open and the painting will fit perfectly in an alcove. The Pittsburgh house took 12 months to design and 2 ½ years for local contractor Ed Cress to erect.
Built of rusticated stone with a clay tile roof, the completed home does indeed resemble a Tuscan hillside villa. The owners wanted their guests to walk in and be enticed down the massive hallway, a long colonnade interrupted by groin vaults. "We tried to create something that looked like it had not been built all at one time," says St. Jean. "Consequently, you'll get different views of the home, asymmetrical views, formal and less formal, and varied roof lines."
The 12,000 square foot residence contains six bedrooms, including a guest suite, five full baths, and an extensive wine cellar with two temperature-controlled rooms in the lower level. Nearby is a family space with a workout area and billiards room—a favorite gathering spot for the family's four children.
But it is the first level with its 15-foot ceilings and long colonnade that is most captivating. The living room opens onto it, with a view through the French doors to the pool. A master suite with a study, large dressing room and generous bath anchors one end of the hall. A formal dining room, along with an expansive kitchen and family room anchors the other. The high ceilings and oversized scale of the rooms give the residence its grandeur, but Barber, working with the couple, chose muted jewel tones, textured surfaces, aged woods and rich textiles to make it inviting and warm.
"The overall feeling is an Italian Mediterranean villa," Barber says. "The style and flavor of the house, the Venetian plaster and the raw walnut hardwood floors, that was determined at the early stages. Like a lot of the other natural finishes, it takes on its own patina. We wanted to get a feeling of age, and make sure there was continuity and flow through the house. The couple wanted color, so together we incorporated unique tones throughout. Color is so emotional, and we wanted the home to reflect their personality. They were wonderful clients, very gracious, and they enjoyed everything we proposed to them."
For the owners, the new home is a dream that has been fully realized. From the stables and paddock below the house, to the assorted terraces and porches that invite one to linger, the home has been integrated into a magnificent setting. It is a testament to St. Jean's skill that the residence, despite its splendor, still takes a back seat to the nature that surrounds it.
"I can honestly say that when I get up every morning I am inspired by the beauty of western Pennsylvania," says the owner. "But inside, this house was designed to be pretty much like any other house from the standpoint that it provides a great place for family gathering."