A Simple Summer Treat
Roasted Tomato Crostini with Ricotta and Calabrian Chili Oil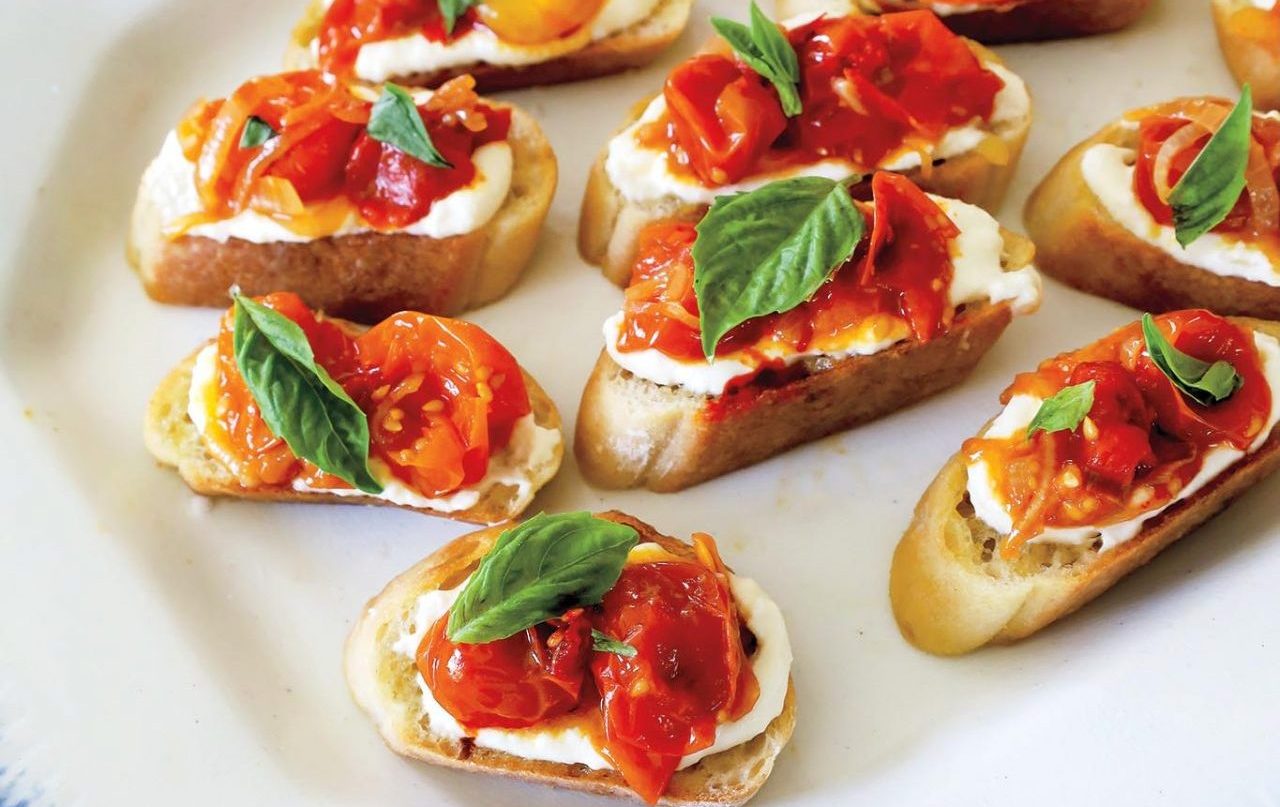 June 21, 2023
Farm fresh cherry tomatoes are one of summer's most special and fleeting treats. It's tough to beat eating them straight from the vine, but when I want to dress them up for company, I make these roasted tomato crostini, with creamy fresh ricotta cheese and a hint of heat from calabrian chili oil.

While these toasts may look simple, each layer packs a serious flavor punch. First, the baguette slices — brushed with roasted garlic and olive oil and baked until lightly brown and crisp. Second, a smear of creamy ricotta. Then, the roasted tomato and shallot mixture, sweet and tangy thanks to red wine vinegar.

And finally, a few drops of the calabrian chili oil and a scattering of fresh herbs on top. Summer tomatoes are so wonderfully sweet that they actually benefit from being paired with spicy or vinegary ingredients, which provide savory contrast and amplify their sweetness.

The combination of different textures and flavors makes these, as the Brits say, "moreish" (as in, they make you want to eat more!). Like any good party appetizer, these are ideal to make in advance and are best served at room temperature. And the spice-averse may feel free to omit the calabrian chili; the crostini will still be delicious without the heat.
Roasted Tomato Crostini with Ricotta and Calabrian Chili Oil
Makes about 24 crostini
2 pints cherry tomatoes
1 cup thinly sliced shallots (about 3 medium shallots)
8 small to medium garlic cloves, unpeeled
6 tablespoons olive oil, divided
Kosher salt and freshly ground black pepper
1 teaspoon red wine vinegar
½ pound fresh ricotta cheese
Calabrian chili oil, for serving 
Torn fresh basil or mint leaves, for serving
STEP 1
Preheat the oven to 325 degrees and line a sheet pan with parchment paper. 
STEP 2
Place the tomatoes on the prepared sheet pan, along with the shallots and garlic cloves. Drizzle with 2 tablespoons of the olive oil and sprinkle generously with salt and pepper. Roast for 1 hour, tossing once halfway through, until the tomatoes are beginning to fall apart. Remove the garlic cloves and set aside.
STEP 3
Pierce any tomatoes that haven't burst with the tines of a fork, then add the vinegar and toss well. Spoon the tomato mixture, along with any juices from the pan, into a bowl.
STEP 4
Discard the parchment paper and arrange the baguette slices on the sheet pan. Squeeze the garlic cloves into a small bowl, discarding the skins, and mash them with a fork. Add the remaining 4 tablespoons of olive oil and a pinch of salt, and mix until combined. Spread the roasted garlic oil over the baguette slices and bake for 15 to 20 minutes, until lightly browned.
STEP 5
Spread a small spoonful of ricotta onto each crostini, then top with the tomato mixture. Drizzle with a few drops of chili oil and sprinkle with salt. Top with basil or mint and serve.