Here's to a Summer Night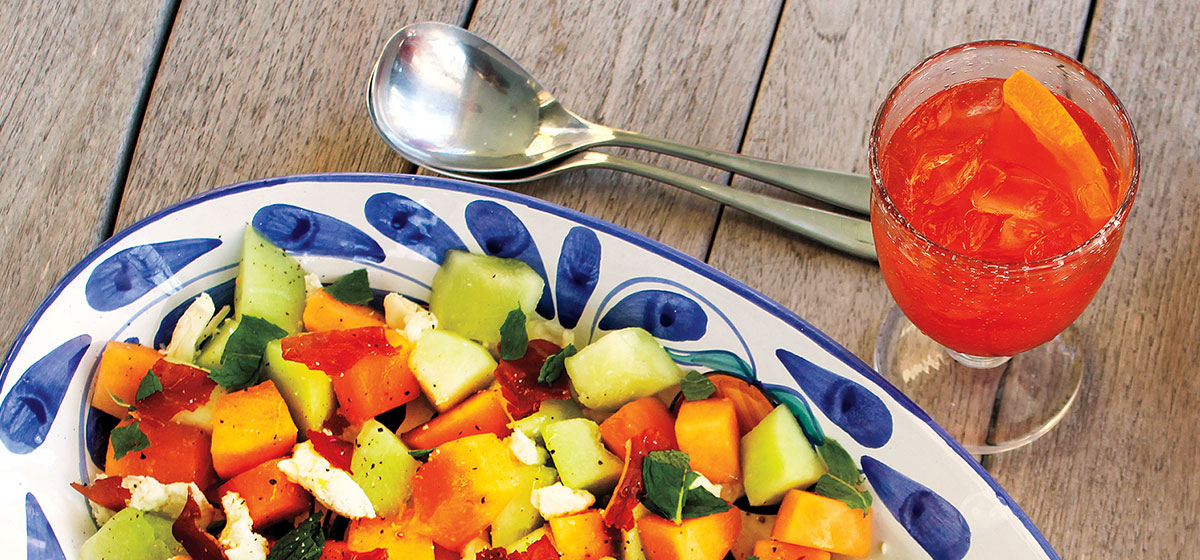 June 29, 2020
The long, rainy spring is finally gone, the sun is shining and summer's here. It's still unclear how much we'll be able to socialize this summer, but rather than dwell on all the things we may not be able to do in the coming months, I'm reminding myself of the summer traditions we can still enjoy.
As someone who loves to cook and entertain, one of my favorite things about summer is eating outside. After a long winter of meals at the same table, there's something magical about dusting off the outdoor furniture, carrying out a stack of plates with grass underfoot, passing platters of summery food around a table filled with family or friends, and sitting in the candlelight as night sets in. It's as if we are instantly on vacation in our own backyards.
This summer, the ability to be transported without pulling out of the driveway is more important than ever. Even if we can't have dinner parties for 12, we can still be outside, still clink our glasses and dig into delicious food that reminds us of the simple joys of being alive.
In the spirit of transporting ourselves through food, I have two recipes inspired by summer in Italy.
This Negroni Spritz is my spin on the classic Italian cocktail of gin, sweet vermouth and Campari. I add freshly squeezed orange juice and sparkling water for a cocktail that's balanced, refreshing and highly drinkable.
To continue with the Italian theme, I make this fresh spin on a Caprese salad with melon and prosciutto. Crushing cubed pieces of melon releases their juices, which mingle with a splash of white wine vinegar and olive oil to form a simple dressing whose sum is much greater than its parts. Just make sure to use very ripe melon for best results. The salad is finished with torn mozzarella, shards of crispy prosciutto, fresh mint and a sprinkle of sea salt.
It's a dish that reminds me that seasonal ingredients at their best require little fussing. Serve it as part of a dinner spread or, as I did in what feels like another lifetime, with toothpicks as an hors d'oeuvre to share.
Whether we're allowed to have friends over this summer or not, we can sit outside and savor a good cocktail, a delicious summer salad, and the knowledge that longing for our favorite rituals—whether they involve traveling, gathering with friends, or the once simple act of dining in a restaurant—will make their return even sweeter.
Negroni Spritzes
Makes 4 drinks
1/2 cup gin or vodka
1/2 cup Campari
1/2 cup sweet vermouth
1 cup freshly squeezed orange or blood orange juice
1 1/2 cups club soda or sparkling water
Orange slices, for serving
Pour the gin, Campari, vermouth, orange juice and club soda into a pitcher or large glass measuring cup. Fill four glass tumblers with ice and divide the drink mixture among them. Garnish with a slice of orange and serve.
Smashed Melon and Prosciutto Salad
Serves 6
2 ounces thinly sliced prosciutto
3 cups (1-inch) cubed cantaloupe
3 cups (1-inch) cubed honeydew melon
1 (8-ounce) ball fresh mozzarella, torn into pieces
White wine or champagne vinegar, for drizzling
Olive oil, for drizzling
Coarse sea salt and freshly ground black pepper
1/3 cup fresh mint leaves
Preheat the oven to 400 degrees and line a sheet pan with parchment paper. Lay the slices of prosciutto in a single layer on the pan and roast for 8 to 10 minutes, until browned. Set aside to cool, then break into small pieces.
Meanwhile, arrange the cantaloupe and honeydew on a large, flat platter. Using the side of a chef's knife, gently and carefully smash about half of the pieces of melon to release their juices.
Scatter the torn mozzarella over the melon, toss gently, then drizzle lightly with vinegar and olive oil and sprinkle generously with salt and pepper.
Tear or roughly chop the mint, then scatter the mint and pieces of prosciutto over the salad. Serve at room temperature.