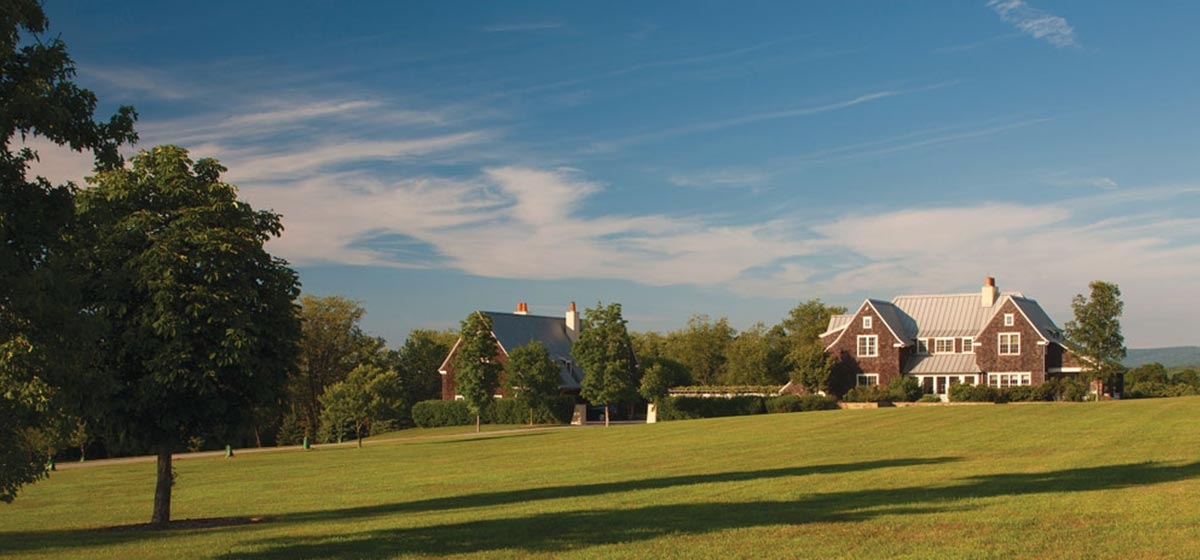 August 21, 2012
A flock of picturesque suffolk sheep graze in the verdant pastures, and a bit farther down the long, empty road, a herd of Red Angus cattle stands lazily in the hot sun. Miles of split-rail fencing continues once you turn onto a drive that meanders uphill. Here there are horses, as if placed by a set designer to complete the perfect country idyll. The fields are mown and very green, as are the trees in the orchard a bit nearer to the house, which finally emerges ahead.

---
---
Not overwhelming or flashy, it nestles into its setting at the crest of the hill, two structures connected by a courtyard and surrounded by gardens. They are dwarfed by incomparable views as far as the eye can see, by space and sky so open and vast it's hard to believe this much land in the Laurel Highlands remains unspoiled.
The 500 acres overlook a state forest and Powdermill Nature Preserve, ensuring that the sweeping vistas will remain that way for many years to come. Finding such choice property near Ligonier was the final piece of a long-held dream.
"Even before we were married we both loved coming up here," says the wife. "We like being in the country and have spent our weekends here for 35 years.
"We rented another farm before we bought this one and decided we were becoming too attached to it. At the same time we found out that it wasn't available to buy, this farm become available. It was perfect for us, particularly because it had always been our dream to build a house."
And so, 14 years ago, the couple began to interview architects, settling eventually on Oliver Cope. They loved the other houses the New York-based architect had done, but the clincher was that his family had a farm in New England and the couple knew he would be sensitive to a rural farming community.
"We wanted to build a house, which meant it would be new, but we wanted it to feel like it had grown from the land and had been part of this vernacular for a long time," she says. "We approached designing a house very differently than most people do. They say 'I want a Moravian farmhouse or a colonial.' That was not our approach.
"We sat down and wrote a four-page essay about how we wanted to live in the house with our family for the next 40 years. It didn't talk about how it should look. It talked about a general feeling and what our needs would be. When we started, our children were small. We knew they would become young adults, and we wanted to live here into our old age. The house had to span all the different decades that we would be living here."
The couple called a summit meeting with Cope, Devore Associates landscape designers from Connecticut, the builders and interior designer Pat Navarro from Pittsburgh. They spent a long weekend looking at the property and gave the team a budget for the whole project.
"We had breakfast, lunch and dinner with these people for two days and we got to know each other, and we had a greater sense of confidence that we had picked who we wanted," the wife says. After only two meetings with the owners, Cope was so sure of his design that he presented them with the architectural model. "He absolutely created exactly what was going to be perfect for us. It was a wonderful way to work."
The wife had trained as a painter and understood the importance of giving Cope the ability to be creative. Although they had a few requirements—they loved the durability and sound of the rain on the metal roof they requested—Cope's solutions for family living were quietly brilliant. For example, a two-story, two-bedroom guest house can be used now by the children and their friends and later by their young families when they come to visit. A billiards/hangout room downstairs and a great room upstairs with its own kitchen makes the guest quarters both self-sufficient and fun. But it also retains the couple's privacy and ability to live on a smaller scale in the main house when they are alone.
A sense of modesty informs the primary residence; it's entered through a well-used mudroom, and the rooms are connected by a central hall. A large kitchen turns into the family room at one end, with casual seating and a breakfast area. The formal dining room is small—this is not a house that stands on ceremony—and like the sprawling living room has French doors that lead to a generous covered porch "where we live all summer long."
Comfort prevails in the furnishings, which don't compete with the views or the couple's extensive and eclectic art collection. They prefer emerging artists and have found many of their works at Pulse and other fringe events at Art Basel Miami and at the Freize Fair in London. Two large works by Walton Ford and a mesmerizing piece by Duke Riley are among the unexpected choices in a home that is largely traditional. The contrast energizes the space, as does the exuberant use of color. The owners have worked with Navarro before and are longtime friends, which perhaps explains the purple and coral color scheme in the guest house.
"I have a great love of color, and Pat understands that. Unlike some other decorators who have their style—you can walk in and say 'I know who did this house'—I don't feel that way about Pat. He works very well with how we see things and makes it a creative process."
The same is true of landscape architect Diane Devore, who designed a master plan for the property that included the fields, the orchard, a locust grove and various focal points created by mowing and plantings. Vegetable and flower gardens are near the home, and in the distance is the newest addition, a pool area that takes full advantage of the privacy of its natural setting.
"It's a nice thing to have, privacy," the wife says. "To be able to walk outside and see the beauty of the area where you live…" When it's as breathtaking as the mountains, the pastures, the livestock and the sky that makes it seem as if the residence is floating on top of the word—yes, it is a nice thing indeed.