A Fresh Take on a French Classic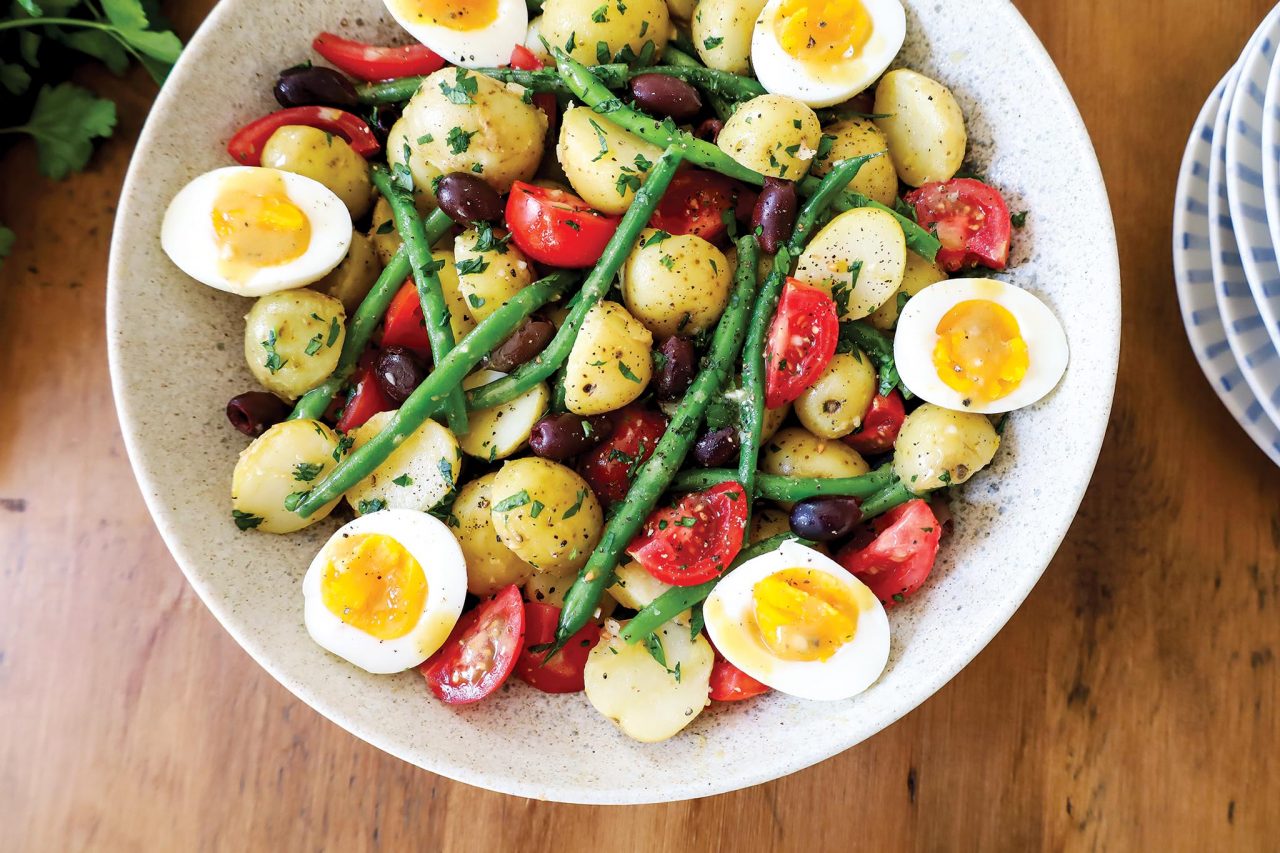 July 20, 2022
Salade Niçoise, that most famous of French salads, has become ubiquitous far beyond the reaches of the French Riviera. It is both a humble and elegant dish: a collection of everyday ingredients — tomatoes, olives, hard-boiled eggs, and often anchovy fillets or canned tuna — arranged beautifully and simply.  

Variations abound, and for good reason. Few vegetables are not delicious when tossed with a garlicky, anchovy-slicked vinaigrette. This particular interpretation is a picnic-inspired riff on the Niçoise.  Steamed baby potatoes are drizzled with the vinaigrette while still warm, then gently tossed with haricot verts, tomatoes, and olives, and topped with "jammy," medium-boiled eggs.

 A sophisticated take on American potato salad, this dish would be equally at home at a summer picnic or potluck as it would be at a dinner party. Serve it alongside a spread of other summery salads, as a side to grilled fish, steak or chicken, or on its own for a wonderful lunch.

You can make this salad year-round but it's especially delicious in the height of summer, when tomatoes and green beans are in season.  And like many warm-weather dishes, it is best enjoyed eaten outdoors, or with a view of the outdoors, washed down with a glass of chilled white wine. 

A few recipe notes:

There is a bit of preparation to get each ingredient ready for the salad, but you can do much of the work in advance. The dressing, eggs, and green beans can all be prepared ahead of time and stored separately.

Boil the eggs for 6½ minutes, which yields medium-boiled eggs with every-so-slightly runny yolks. If you prefer your eggs hard-boiled, increase the cooking time to 8 minutes. 


Niçoise Potato Salad
Serves 6
1½ pounds baby Yukon gold potatoes (1 to 2 inches in diameter)
3 large eggs
2 tablespoons red wine vinegar
2 teaspoons Dijon mustard
1 small garlic clove, minced or grated
2 anchovy fillets, minced
Kosher salt and freshly ground black pepper
4 tablespoons olive oil
½ pound haricots verts (French green beans), trimmed
½ pound small red tomatoes, cored and cut into wedges
½ cup pitted Niçoise or Kalamata olives
Chopped fresh parsley, for serving
STEP 1
In a small glass bowl, whisk together the vinegar, mustard, anchovies, garlic, ½ teaspoon salt and a few grinds of black pepper. Whisking constantly, gradually add the olive oil in a slow, steady stream. Set aside.
STEP 2
Place the potatoes in a large saucepan and cover generously with water. Add 1 tablespoon salt, cover, and bring to a boil over medium-high heat.
STEP 3
Remove the lid and carefully add the eggs to the pot with the potatoes. Cook for 6½ minutes over medium heat, uncovered, then remove the eggs and set them aside to cool. Continue cooking the potatoes until they're fork-tender, 8 to 12 more minutes, then drain and set aside until just cool enough to handle.

STEP 4
Cut the potatoes in half or quarters, depending on their size, and place them in a large bowl. Pour about half the dressing over the potatoes and toss gently. Set aside, tossing occasionally, until cooled.
STEP 5
Rinse the pot and fill about halfway. Bring to a boil over medium-high heat, then add the haricots verts. Cook for 3 minutes, then drain and immediately place in a bowl of ice water to stop the cooking.
STEP 6
Drain the haricots vert and add them to the bowl, along with the tomatoes and olives. Pour the rest of the dressing over the salad, and toss gently. Peel the eggs, cut them in half, and arrange them on top. Season with salt and pepper, garnish with parsley, and serve at room temperature.