A Festive Sidekick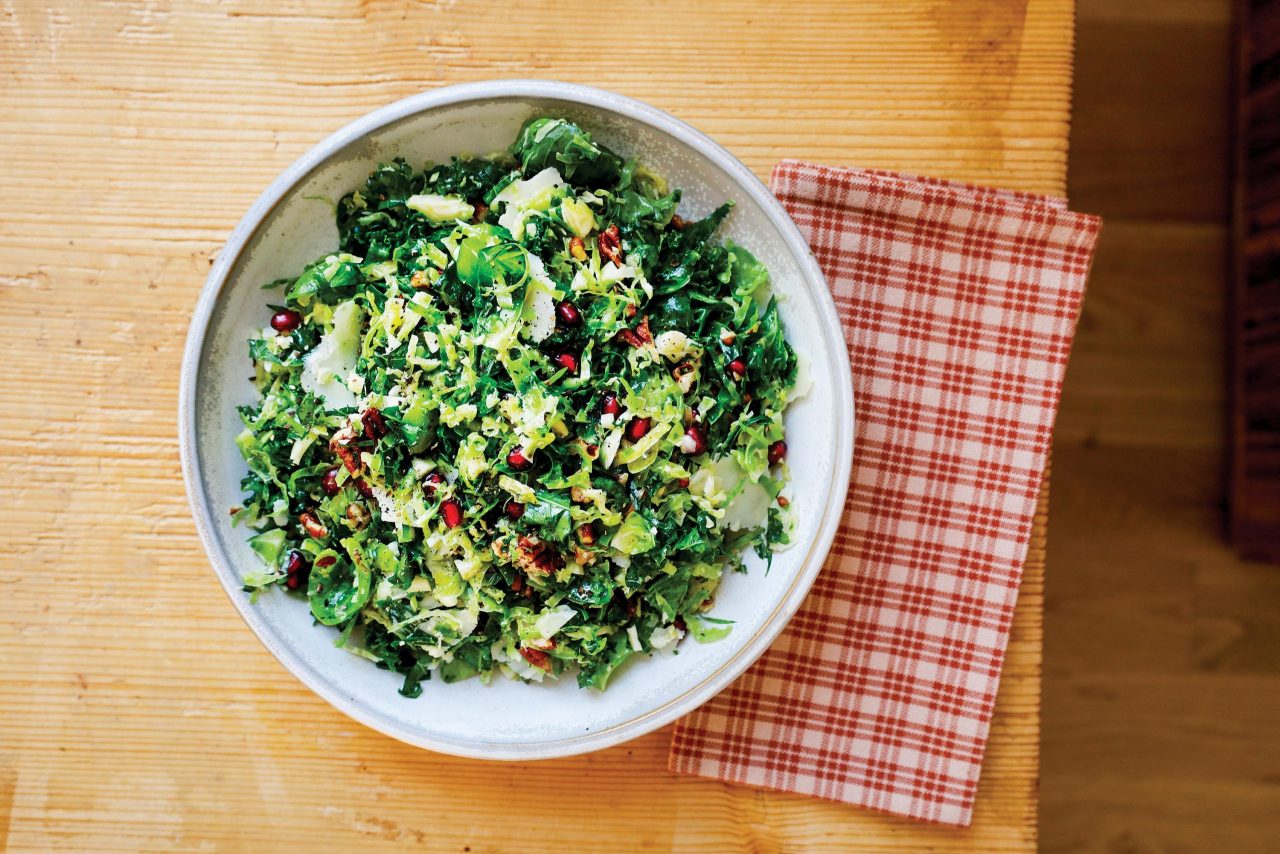 December 6, 2021
Hearty, comforting dishes might be the backbone of winter home cooking, but every stew or roast needs a trusty sidekick to balance and complete the menu. This salad fits the bill perfectly. Full of color, crunch and zing, it's a breath of fresh air and flavor on even the coldest winter night.

Brussels sprouts make a wonderful base for a winter salad when cored and shredded thinly. I like to add kale, too, for a nice variation in color and texture. When working with bitter greens, the trick is to dress the salad at least 15 minutes in advance, as the leaves become increasingly tender as they marinate.  This recipe calls for a tart lemon and olive oil vinaigrette, sweetened with a touch of maple syrup.

But the real magic in this salad comes from its "finishing touches"­— bright red pomegranate seeds that sparkle like gems among the shades of green, crunchy toasted pecans, and shaved Parmesan for a bit of richness. It would be equally fitting as part of a holiday spread or on a weeknight, served alongside a simple roast chicken.

It's worth noting that this recipe takes particularly well to substitutions. Use whatever nuts you have on hand ­— almonds, walnuts, even hazelnuts. And if you can't find a pomegranate, or don't have the patience to extract the seeds, try dried cranberries, golden raisins, or chopped dates instead. Finally, Pecorino cheese, Parmesan's sharper and saltier cousin, works beautifully in this salad.
Serves 6
1 pound Brussels sprouts, trimmed
2 cups chopped curly kale leaves, center stems removed (about 2 ounces)
2 tablespoons freshly squeezed lemon juice (1 lemon)
1 tablespoon apple cider vinegar
1 teaspoon maple syrup
¾ teaspoon kosher salt
½ teaspoon freshly ground black pepper
1/3 cup extra-virgin olive oil
½ cup fresh pomegranate seeds
1 cup raw pecans
1/2 cup shaved Parmesan cheese (about 2 ounces)
STEP 1
Preheat the oven to 350 degrees. Place the pecans on a sheet pan and bake for 10 minutes, until toasted. Cool, then coarsely chop and set aside.
STEP 2
Meanwhile, trim the Brussels sprouts, cut them in half through the stem, and carefully remove the core. Slice the Brussels sprouts thinly crosswise and place them in a large bowl. (You can also use the shredding blade on a food processor).
STEP 3
In a glass measuring cup or small bowl, whisk together the lemon juice, vinegar, maple syrup, salt, and pepper. Slowly whisk in the olive oil.
STEP 4
Add the kale to the bowl with the shredded Brussels sprouts, along with the dressing, and toss well to combine. Set aside for at least 15 minutes (or up to an hour). Just before serving, add the pecans, pomegranate seeds and Parmesan and toss gently to combine. Serve at room temperature.