A Comfortable Classic
Comfy formality in Squirrel Hill
Photographs by Roy Englebrecht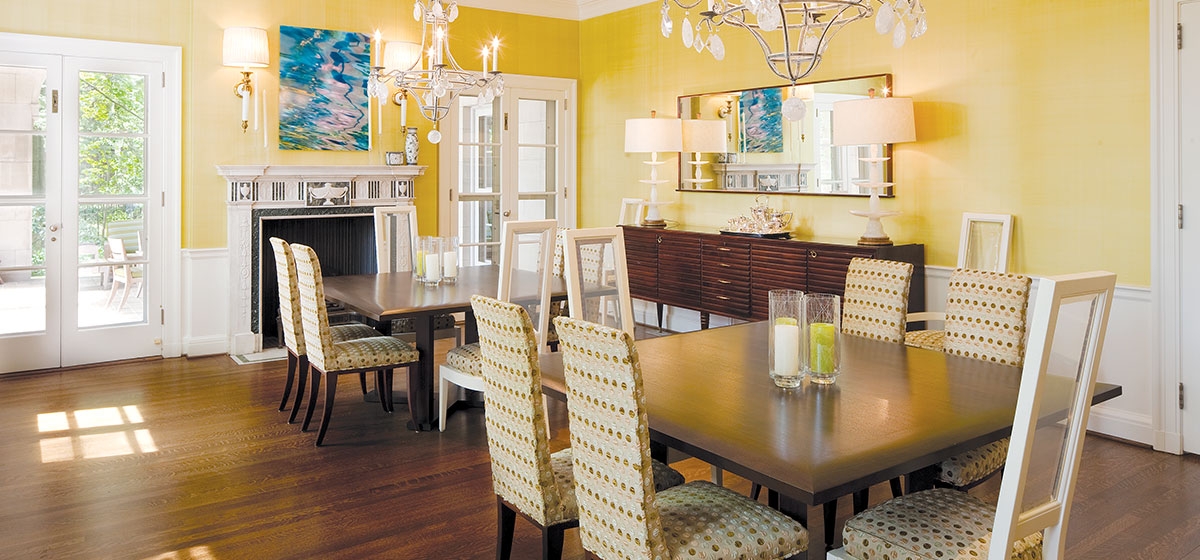 May 20, 2010
This is my dream house" says the owner of a classic limestone mansion in Squirrel Hill. "I used to drive by with my agent and say that's the house I want to buy."

---
---
But it wasn't on the market, until one day the call came. "We're listing it tomorrow, but if they want to come and see it tonight they're welcome." The wife hurried over, knew immediately it was the house for them and called her husband to join her. They bought it on a handshake. "There's a Yiddish word, b'sheret, which means 'meant to be.' We were really lucky," she says.
The couple had just moved from New York to Pittsburgh and the lease on the house they were renting was set to expire in six months. More important, their third child was on the way. The wife wanted to be settled before the birth and the husband was busy with a demanding new job. To top it all off, they had no furniture.
Given the size of their new home, this was a rather substantial problem. And so they called Joe Nahem of Fox-Nahem Design in New York, with whom they had worked on two previous projects. They met when they were building a vacation home in Southampton and realized, halfway through construction, they wouldn't be able to decorate it themselves. A friend who was an editor at Town & Country gave them the names of several designers, and Nahem and his late business partner, Tom Fox, were the first the husband interviewed. They clicked immediately and the couple used the duo again for their Manhattan apartment. Because they were keeping that apartment, the owners decided to leave everything but their personal belongings in New York and start from scratch.
Their request was simple: Get the house ready. Fast. That gave Nahem a free hand as well a daunting task. From concept to execution—right down to buying the sheets, towels and dishes—the designer had to rely on every trick of the trade to meet his deadline. But having worked with the clients before, Nahem knew where to begin. "It helped that the trust factor was already established," says Nahem. "It requires a client who is willing to make decisions, who trusts us and who is willing to write the checks. That may sound trite, but if somebody doesn't pay for something it doesn't get ordered."
The owners didn't want "a bunch of ready-made, recognizable stuff," so the other big factor in doing the job quickly was avoiding showroom furniture as much as possible, where the wait for orders can be 20 months. "We used furniture custom-designed by us and made in our own workrooms, so we had a little control over the turnaround time," Nahem says. "For curtains, shades and rugs, we used people we could count on. We also picked fabrics that were in stock, as opposed to ordering them. A big focus for us was the time factor." Fortunately, the house, which was designed in 1924 by Pittsburgh architects Ingham and Boyd, was in terrific shape.The previous owners had restored the light pine walls in the living room and many original details, including the fireplaces and hardware, remained intact. Aside from updating the electrical system and some bathrooms, Nahem was left with mostly cosmetic work. "Joe would present us with this option or that option and say everything here goes together," says the wife, who jokes that Nahem made it as easy for her as shopping for Garanimals. "He already knew what we like and what we don't like. He knew my husband and I wanted something warm and comfortable that kids can live in. I can't have a show house. Joe understood that our house had to feel like people actually live here." Given the formal architecture of the spacious interior, which boasts oversized windows, a dramatic entrance hall and miles of wood floor, it would have been easy to err on the side of creating a stuffy, traditional home. The first question was, "What are we going to do to counter-balance the formal feeling?" Surely the bicycle that leans against a wall in the foyer wasn't the answer, but it's indicative of the character of what is now a well-used, wellloved family home. "You can convince us that we have to spend a lot of money on something, but we had to furnish a whole house so we didn't want to buy a lot of expensive things," the wife says.
With three young children and a lot of growing up to do, the couple's first priority was comfort. Art projects strewn on the custom Christian Liaigre dining tables, kid stains on the upholstery, and scattered schoolbooks testify to the fact that no room is off-limits. So do the abundance of flat-screen TVs. "My husband likes comfort, and there's comfort in plopping down on the couch and watching TV. We're not afraid of bringing TVs into our home, and we don't worry about trying to hide them. We have movie night and the kids love it. We like having friends over to watch football. We embrace modern culture," she says with a laugh. Adds Nahem, "They wanted every room to be useful. They didn't want a room that just looked nice for company. Even though there are some areas that look a little bit more fragile, they aren't.
We have clients who say they don't want a TV and then never use the room. If people watch TV they should have it." The actual decorating was done simply, the wife says. She likes greens and blues, and a variety of unusual hues of those colors dominate. The couple prefers modern, but not edgy design, and a lot of mid-century furnishings and light fixtures Nahem found on the Internet or in New York abound. When it came to the art, the owners turned to Sam Berkovitz at Concept Art Gallery in Regent Square. "We're not very artistic, so we have never collected art, and Joe said you need to buy art, you need to put something on the walls," the wife says. "So I met Sam and they came over, they looked at our space and I went there and we picked some stuff." But a Lichtenstein in the dining room is as proudly displayed as the children's art in the kitchen—the hub of this busy household. The wife designed it herself with contractor Vince Fischetti, whose firm did all the work in the house. He found a local craftsman, Glenn Schworm, to build the oversized cabinets and the long mahogany island was modeled after the one the family has on Long Island. The kitchen was done after the family moved in—a little earlier than they hoped. But Nahem had nearly completed his Herculean task. "The thing that Joe does that we love is that everything arrives at your house in one day and when you come home, everything is done, right down to the toilet paper." Nahem laughs. "I was doing 'Extreme Makeover' before it was even a television show!"