Yeh, Taylor, Giovannitti, Chodos, Farmer, McQuaid, Zhao
Professionals new to Pittsburgh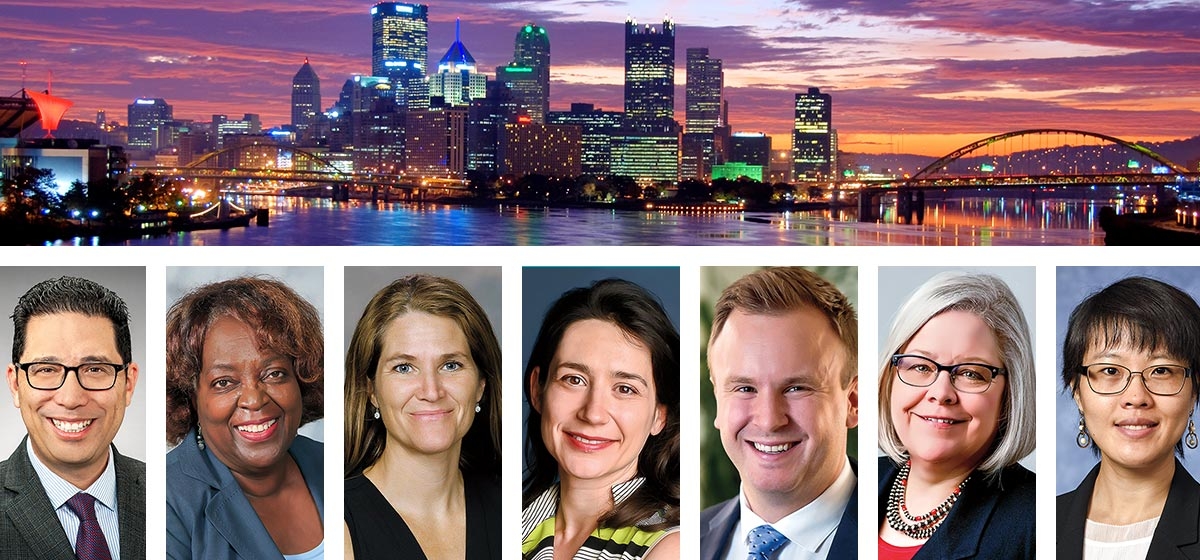 November 20, 2018
Justin Yeh, M.D. is chief of the Division of Pediatric Cardiac Intensive Care Medicine and co-director of the Heart Institute at UPMC Children's Hospital of Pittsburgh. He oversees the pediatric cardiac intensive care unit and holds an appointment as associate professor of pediatrics and critical care medicine at the University of Pittsburgh School of Medicine. Dr. Yeh, a native of Orange County, Calif., came to UPMC Children's from the University of California San Diego, where he was medical director of the acute cardiac unit at Rady Children's Hospital and a clinical associate professor in the Division of Pediatric Cardiology. He completed his residency in pediatrics at Children's Hospital of Orange County after graduating from Albany Medical College.

Sandra E. Taylor is the Falk Professor of Socially Responsible Business at Chatham University. Taylor, an expert in corporate responsibility, is a former senior vice president of corporate responsibility at Starbucks, and founder and president of the consulting firm, Sustainable Business International. At Starbucks, she led global corporate responsibility, environmental branding, supply chain codes of conduct, ethical procurement and the Starbucks Foundation. She also is a former vice president and director of public affairs at Eastman Kodak Company. A native of Birmingham, Ala., she holds a juris doctor degree from Boston University School of Law and a master's degree in business administration from Bordeaux School of Management in France.
Jennifer Giovannitti is president of the Claude Worthington Benedum Foundation. She is the first woman to be named to that position. She comes to the foundation from the Federal Reserve Bank of Richmond, where she was community development manager. She is a national expert on rural development strategies and led strategic programs and community-based initiatives for the bank's Fifth District, which includes West Virginia. Her initiatives include the West Virginia Loan Fund Collaborative formed to better understand the impact of small business lending in underserved communities. As chief executive of the Randolph County Economic Development Authority, she managed the redevelopment of the Elkins, W.Va. rail yard, which became a model for rural redevelopment. A native of Boiling Springs, Pa., she earned a master's degree in community and regional planning from the University of British Columbia, and a bachelor's degree in planning and urban studies from the University of Pittsburgh.
Elizabeth Chodos is director of Carnegie Mellon University's Regina Gouger Miller Gallery. A native of New Haven, Conn., she comes to CMU from Ox-Bow School of Art and Artists' Residency in Saugatuck, Mich., where she was executive and creative director. She brings a career-long focus on promoting contemporary artists through residencies, education, exhibitions and public programming. She started her career at Threewalls in Chicago, where she became executive director. Later, she co-founded Common Field, a national network of independent arts organizations and organizers. She has a bachelor's degree in art history and creative writing, and master's degrees in art history, theory and criticism, and arts administration from Sarah Lawrence College, Bronxville, N.Y.
Rick Farmer is a commercial lines account executive at Simpson & McCrady, LLC. Farmer, a native of Chicago, comes to Pittsburgh from Seattle, where he was the western region practice leader for human resources and benefits technology at Arthur J. Gallagher & Co. He specializes in strategic, long-term risk management and insurance consulting services to small and mid-sized businesses with specific expertise in craft beverage, technology and biotechnology. Farmer earned a bachelor's degree in business administration from the University of Washington and a master's in management of risk and insurance from St. John's University, New York City. He also taught high school biology outside of Atlanta, Ga.
Janet McQuaid is senior counsel in the environmental and energy and natural resources groups at Babst Calland. McQuaid, a native of McMurray, has experience representing clients in a number of environmental areas, particularly water, waste, remediation and chemical regulation. She has argued cases before the 5th, 7th and 9th U.S. Circuit Courts of Appeal on behalf of industry trade associations. Her experience also extends to the environmental aspects of mergers and acquisitions, having done the due diligence and environmental terms for hundreds of transactions involving industrial facilities and commercial properties. She is a 1992 graduate of the University of Texas.
Xiayun Zhao is an assistant professor in the Department of Mechanical Engineering and Materials Science at the University of Pittsburgh's Swanson School of Engineering. She brings expertise in the field of additive manufacturing. Her research focuses on real-time process monitoring, measurement science and control technology for additive manufacturing, as well as advanced manufacturing for multi-scale, multi-material and multi-functional structures and systems in novel applications. A native of Xingping, China, she earned a bachelor's degree in precision engineering from Tsinghua University in Beijing, China, and a master's degree and Ph.D. in mechanical engineering from Georgia Tech.