Pen to Paper
Stationery stores to complement any writer's life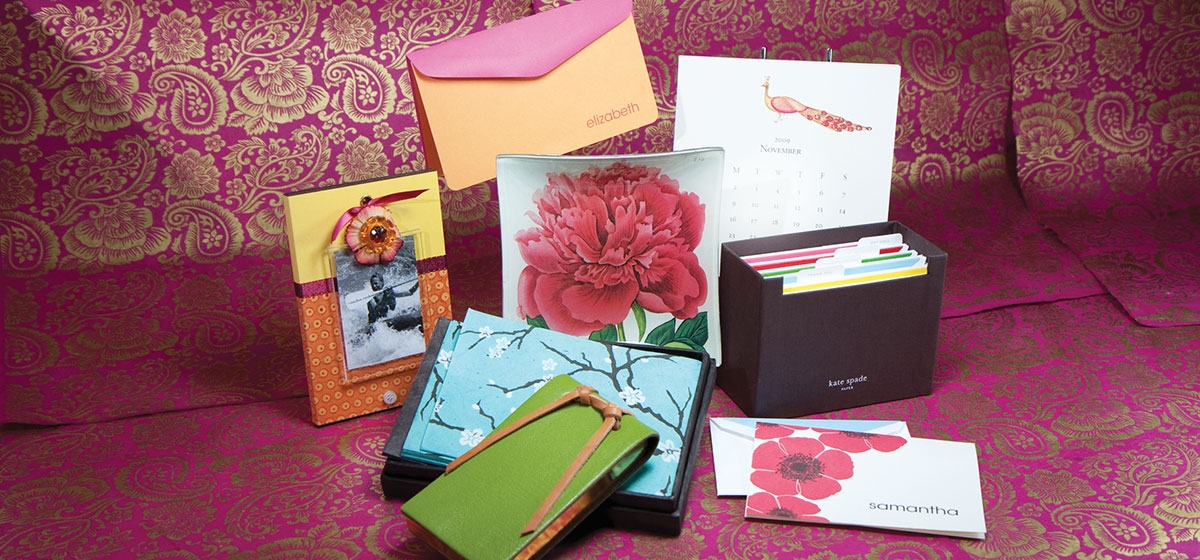 November 20, 2009
In this age of emailing, texting, and tweeting, the art of letter writing could be lost. Fortunately, many people still enjoy holding a real book or magazine in their hands—and putting pen to paper for correspondence. Anyone who has ever packed up the belongings of an elderly relative or friend has likely found a pile of treasured cards or a ribbon-tied stack of faded love letters. Their lasting quality simply can't be replicated on a computer or Blackberry screen.

Pittsburghers are lucky to have several specialty stationery stores, each with its own forte. All sell beautiful writing paper and custom stationery and offer in-house custom printing, invitations and personalized holiday cards. Each boasts a knowledgeable and helpful sales staff. These are people who love paper!
In just 18 months, Aspinwall's Nota Bene has quickly become a popular stop for both locals and those in the know. Owners Evvy Diamond and Amy Bass will jump through hoops to make you look good. Need a last-minute present for someone special? For $5 they will personalize any box of stationery, usually in less than 24 hours. Their "printing on demand" will make you look as if you planned that gift way in advance. They will also custom-design everything from invitations to kids' thank-you notes (popular with grandparents wanting to encourage social graces). With products ranging from Crane stationery to funky handmade papers, it's easy to find just the right look. If you're more of a hands-off person, they'll do everything for you, from designing your invitations to lining, addressing and mailing the envelopes. Their tiny store is filled with more than paper—they have a great children's section with unique items such as Calafant 3-D cardboard kits from Germany, gummy erasers from Japan, and an array of fun pens and pencils. Nota Bene, Brilliant Ave. 15215 / (412) 782-6300.
Downtown's J. R. Weldin Company is the granddaddy of stationers. In existence since 1852, it's been at the current location since the 1920s. With its original woodwork, large-paned picture windows, and resident cats and dog, Weldin's is right out of Harry Potter. Aside from all kinds of stationery, there are great gift items, from fanciful stickers to sealing wax to clever silk neckties. Weldin's has fine writing instruments, including the Cross pen favored by Presidents Barack Obama and George H. W. Bush. There are fountain, ballpoint and roller ball pens—all with refills or ink available. Weldin's also sells office supplies (with free delivery downtown), and there are items that are nearly impossible to find elsewhere, including carbon paper, typewriter ribbon and a big selection of map tacks. It also sells individual items—one envelope or a single green pen. No need to buy bulk here! Weldin's is renowned for its calendars and globes. Corporate gifts range from fine leather goods to engraved barware—and they will gift-wrap your purchases. The upstairs loft houses Ewe Can Knit, a department offering yarn, needles and knitting classes—a quiet refuge from the bustle of town. Their knowledgeable staff and in-house pen specialist help to set this shop apart. J. R. Weldin Company, 413 Wood St. 15222 / (412) 281-0123.
Mt. Lebanon is home to Barbara Johnson's More Than Words. For eight years, she's specialized in fine papers. Most impressive is the array of die-cut cards for printed invitations. From whimsical to glittery to elegant, there is something for every occasion. Here, too, you can have a start-to-finish invitation experience. They will even help with party or wedding favors. Another standout item is their collection of large sheets of paper. Used for everything from enhancing invitations to wrapping gifts, these papers come from around the world. Some cost in excess of $40 per sheet, but they're works of art. This store also has lovely gift items, such as fine writing instruments and desk sets. More Than Words, 660 Washington Rd. 15228 / (412) 343-9673.
Whether you are looking for a perfect gift, holiday cards, or a more lasting way to express yourself, these three stores are worth the drive.