Klavon's
As the summer heats up, cool off with a visit to this old-time ice cream shop in the Strip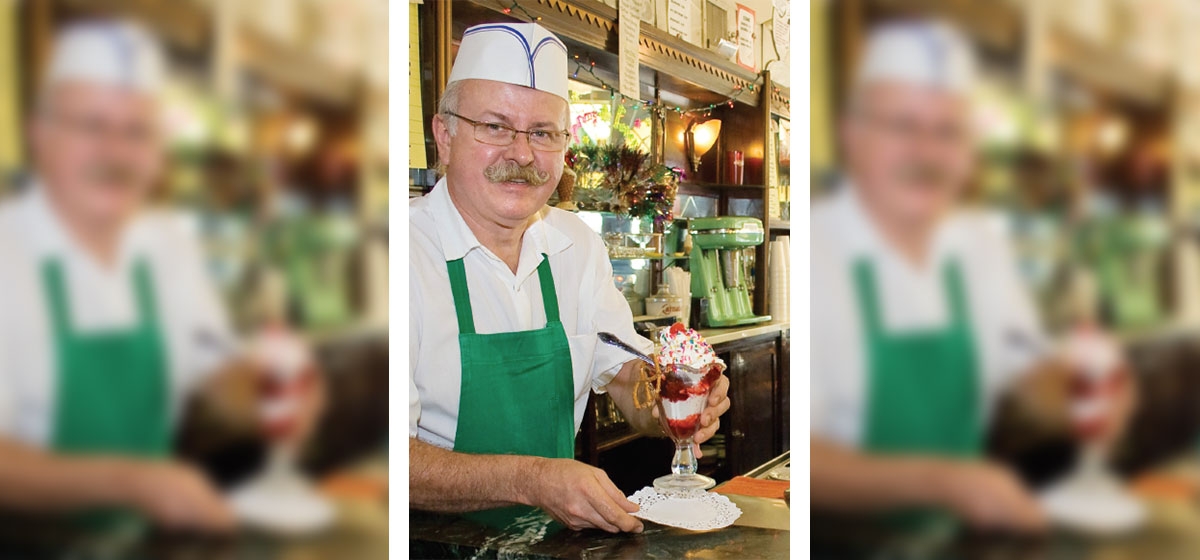 May 19, 2008
Nothing says summer like a classic banana split. For some of us, it recalls going to the neighborhood drug store/soda fountain with no thought of caloric intake or cholesterol levels.
For a step back in time to that more innocent — and way better — era, visit Klavon's Ice Cream Parlor in the Strip District. Founded in 1923 as a pharmacy and soda fountain by James and Mary Klavon, the business is still family owned and run. After James's death in 1979, the store was closed and boarded up until his grandchildren reopened it in 1995. By then, the Strip District had become a destination shopping area, and the business became a welcome respite for weary shoppers, senior citizens wanting to revisit their past and children eager to learn about the golden age of ice cream.
Now running Klavon's are Ray Klavon, a retired Pittsburgh Public Schools art teacher, his seven siblings and their cousin, Patty Graham. With such a big family, there is another generation ready to take over when this one tires of scooping!
Almost all of the fixtures in Klavon's are Art Deco originals. There is a black and gold inlaid terrazzo floor (who knew those colors would still be popular 85 years later?), a 16-foot marble bar with bottle cap-topped stools and beautiful vintage woodwork. When Ray was cleaning out the basement, he found some boxes labeled "lamp shades." Expecting to find his grandmother's old shades, he was thrilled to discover that the boxes contained the original glass shades for all of the light fixtures in the store. These fixtures are so impressive and rare that they have inspired field trips by glass enthusiasts. The freezer lids are new, but the actual freezers are the originals from 1923. In a generation when major appliances are built to last 10 to 12 years, 85 years of service is almost unfathomable.
While Klavon's boasts a huge nostalgia quotient, don't forget the real reason it's there — the ice cream! They serve the same brand their grandparents carried (Reinhold's), in an assortment of about 15 flavors, as well as sugar-free ice cream, sorbet and frozen yogurt. There are basic cones, ice cream sundaes, banana splits, tin roof sundaes and the Pittsburgh-born pecan ball. They also make cherry Cokes and phosphates, which have phosphoric acid added for tartness and fizz. These frozen concoctions are served in glass bowls and glasses — no Styrofoam here! The whipped cream is — no surprise— also real, and includes regular and four specialty-flavored whipped creams.
If your sweet tooth or desire for nostalgia still isn't satisfied, Klavon's has a penny candy counter. While some prices have gone up over the years, you can still buy old-time favorites such as Sen-Sen, candy cigarettes (the politically incorrect kind wrapped in paper and dusted with powdered sugar, so you can really blow out one puff of "smoke"), candy necklaces and bubble gum cigars.
Add antique apothecary bottles and a back room filled with old prescriptions and medicine bottles and you have a fun, fascinating and delicious trip back in time!