New & Noteworthy: Spirits & Tales
Photo courtesy of Spirits & Tales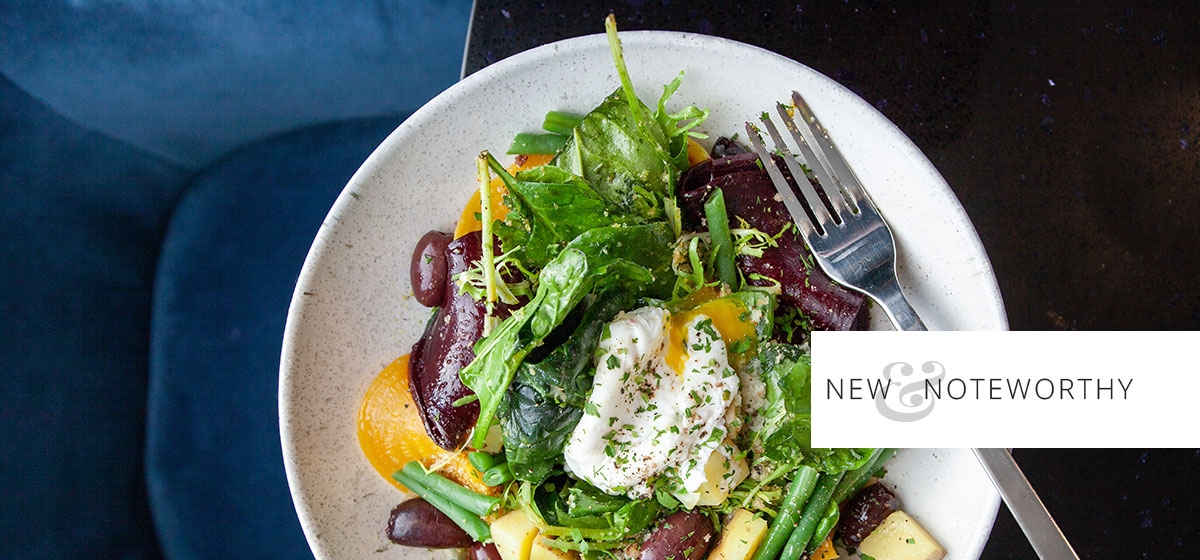 July 24, 2019
If you ascend to the tenth floor of the newly constructed Oaklander Hotel on Bigelow Boulevard near the University of Pittsburgh, you'll find Spirits & Tales. This French-influenced restaurant features floor-to-ceiling windows overlooking Oakland, with sweeping vistas that include the exquisite rooftop of Soldiers and Sailors Memorial and its manicured gardens.
---
---
To the east you can see across Schenley Park to Phipps Conservatory in the distance, and nearer, the Cathedral of Learning. The restaurant's blue and grey décor, accented with shades of bronze and amber, is simple and sleek, allowing the views to take center stage. A comfortable lounge area on the side of the bar and a communal work area with newspapers and charging stations create a living room feel. Anyone can enjoy the small deck outside—a treat during nice weather. Several private dining areas are also available.
Executive chef Jessica Lewis attended the University of Virginia, where she was an all-American swimmer. Lewis later went on to attend the Institute of Culinary Education in New York City. Combining her love of sports and food, she worked at the New York Met's Citifield Stadium and Pittsburgh's Heinz Field. Most recently, she was an opening chef at Smallman Galley, operating Carota Café, and has also cooked at both the Commoner Hotel and Or, the Whale. Her experience and background make her a likely success at operating an extraordinary hotel kitchen. Leveraging corporate resources and prioritizing local sourcing, she has created an exciting contemporary menu that reflects her reputation for being adept with seafood and vegetables.
The appetizers on the menu are diverse and interesting. Try the chicken liver mousse with sweet cherry shallot gateau or the grilled octopus with potato, olive and chimichurri. For an explosion of color and flavor, the apple potato fritter/pancake topped with cod cream, apricot sauce and dill demonstrates fun and fresh tastes. The cocktails are refined and nicely executed. Freshly shucked oysters from both the east and west coasts are available, and there are occasional happy hour oyster specials.
Memorable lunch offerings include beet root niçoise salad with anchovies, potatoes and egg (but no tuna) and a brilliant green kale salad with roasted cauliflower and chickpeas, each glistening with a light and flavorful dressing. A baguette sandwich of turkey pastrami, bacon and roasted tomato with crispy shoestring fries sprinkled with salt and pepper and Lewis' signature gnocchi with mushrooms and a smear of fresh ricotta make for unique and satisfying lunch options. A vibrant yellow beet soup deliciously spiced with turmeric and lime crème fraiche was an impressive soup du jour.
Dinner favorites area Jubilee Hilltop Ranch ribeye topped with a lemon shallot butter and the light and flavor-packed Marseillais fish, a composition of white fish and shrimp in a bourride-style saffron fennel broth. The roasted half chicken with truffle butter came as a perfectly cooked and tender breast with an unfortunately undercooked leg and thigh portion. The chicken was highly seasoned and a little too salty. With a cooking time adjustment and a lighter hand on the salt, the dish has potential with its robust truffle flavor and tasty jus and veggies.
For dessert, a moist almond cake was superb. The chocolate pot de crème topped with parsley cream, was nearly successful but the parsley cream proved to be a distraction. For breakfast, the salmon crepe with crème fraiche presents an impressive balance of salty, sweet and creamy. A curly endive salad complements the richness of the crepe. On weekends, homemade chocolate cinnamon babka bread comes fluffy and light with a soft middle. Try this special treat with a fresh squeezed glass of orange juice. The coffee is standard hotel variety and falls short of the rest of the offerings.
Street parking surrounding the hotel is usually available and the hotel offers valet service, which allows you to request your car and track its progress from your phone. The hotel lobby is also on the 10th floor so there is a little confusion about where to check in for this destination restaurant. Overall, the servers are well-trained, eager to correct mistakes, and quick to convey information. A palpable enthusiasm exists among the waitstaff about working for chef Lewis.
Spirits & Tales is a pleasant addition to the Oakland dining scene, and a lovely surprise if you find yourself staying in the hotel. The view makes the experience special, and the food is distinctive with its overarching French influence and local farm ingredients. Keep a visit here in mind when you are looking for cocktails, interesting small plates and impressive Pittsburgh panoramas.
Spirits & Tales: 10th Floor of the Oaklander Hotel, an Autograph Collection Marriott, 5130 Bigelow Boulevard. 412-297-4080. www.spiritsandtales.com. Breakfast, lunch and dinner served daily. Weekend brunch served 7 a.m.–2 p.m.