World-Class Sparkling Pinot Noir from Pennsylvania? You Bet!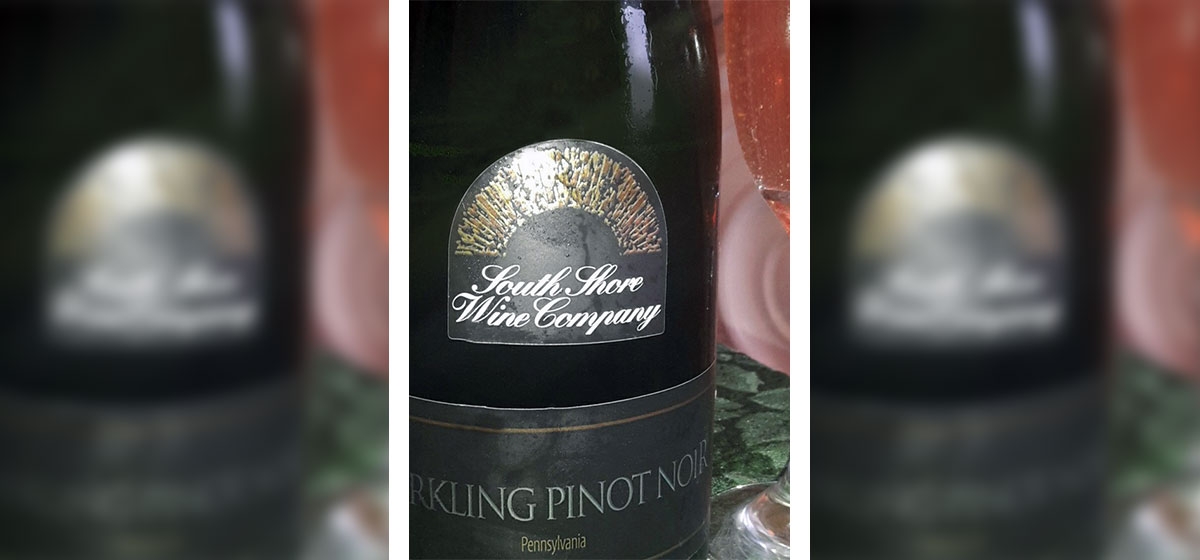 March 23, 2018
Discovering delicious surprises always provides a large part of the fun in drinking and sharing wines. Surprises keep you honest as a wine drinker while refreshing the senses and expanding the palate.
Such is the case with the N.V. South Shore Wine Company, Sparkling Pinot Noir, Pennsylvania ($19.95; available online and at the winery). from veteran Pennsylvania winegrower Robert Mazza. Made from 100% Pennsylvania-grown Pinot Noir fruit, the wine's eye-catching salmon pink color offers a persistent mousse of fine beads of bubbles. On the nose, delicate red fruit and floral aromas lead to fresh flavors of black cherries and plums. Crisp acidity and a touch of creaminess balance a dry, elegant finish.
To create the sparkle, Mazza's winemaking team uses the "traditional method" (a.k.a., as the "méthode champenoise" in France's Champagne region). Secondary fermentation takes place directly in the bottle to create more elegant, refined sparkle. This labor intensive process takes more time, but it clearly delivers superior results in the N.V. Shore Wine Company, Sparkling Pinot Noir which offers "world-class" quality at a terrific price.
For Mazza, growing grape and making wine in Northeast, Pennsylvania on the shores of Lake Erie is a family tradition. His love for the vine came from his father, Joseph, a native of Calabria, Italy, who emigrated to the United States in 1954. Mazza and his brother, Frank, founded Mazza Vineyards as a commercial enterprise in 1972. They built the winery themselves and opened to the public in 1973.
From the start, the brothers focused on learning the potential of the terroir of the Lake Erie Shore vineyards. As in the New York State Finger Lakes, vineyards planted close by the lake, itself, enjoy moderating effects in the spring and fall. This plays a critical role in combating frosts and properly ripening Vitis Vinifera grapes as well as French-American hybrids such as Chambourcin and Vidal Blanc.
The Mazzas also emphasized quality winemaking and hired a German-trained winemaker. Today, the winemaking team consists of Robert's son, Mario Mazza, along with Hungarian-born Peter Szerdahelyi and Carolina Damiano Cores from Uruguay.
In 2007 when Bob Mazza and his wife Kathie purchased the South Shore Wine Company, they revived an illustrious history. William Griffith and Smith S. Hammond founded the winery in 1864 and created a stone wine cavern fashioned after French wine cellars.
In 1867, the South Shore Wine Company sent their wines to the famous Exposition Universelle better known in English as the Paris World Fair of 1867. Also in 1867, the South Shore Wine Company hosted a lunch for more than 300 grape growers and guests in the big hall above the wine cellar. Unfortunately William Griffin passed away early, but the winery continued in various incarnations until 1920 when prohibition dealt a death blow.
After the purchase in 2007, the Mazza's restored the wine cellar and added a seasonal café and year-round banquet hall. In addition to the Sparkling Pinot Noir, South Shore offers a Pennsylvania Grüner Veltliner (a dry white that has consistently won national awards as well as a Double Gold at the Pennsylvania Farm Show) and a peppery, dry red blend made primarily from Pennsylvania grown Lemberger grapes.
As we roll into spring, surprise and refresh your taste buds with a sip of the delicious South Shore Wine Company Sparkling Pinot Noir along with the winery's other well made, terroir-focused table wines.