The Gentle Maven of Burgundy
Becky Wasserman-Hone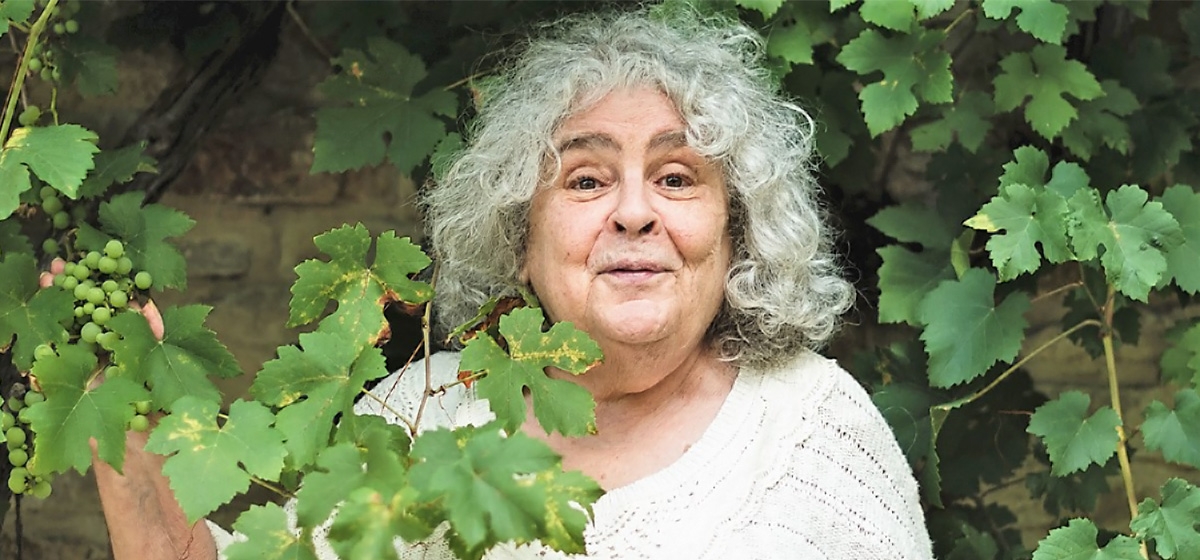 August 12, 2019
It's fashionable to stereotype Burgundy wines as overly complicated and too expensive. Becky Wasserman-Hone simply doesn't buy it. She has heard it all before over her forty-year career as an expatriate-American working as an export-wine broker in Burgundy, but she refuses to let it derail her dedicated promotion of the wines and growers of her adopted home.
---
---
"American wine drinkers want the best without spending a lot of money, but they don't necessarily know how to define 'best,'" says Wasserman-Hone, whose honors include being named a Chevalier de l'Ordre du Mérite Agricole for service to French agriculture and being inducted into the Decanter Magazine Hall of Fame.
For her, the best wines should be affordable enough for the mythical couple, Mr. and Mrs. Smith, to open without hesitation for enjoyment with a hearty—but not necessarily fancy—meal.
"When you look at the old Burgundy cook books, it was all about cooking when you didn't have a lot," she says. "When I moved here [in 1968] people didn't buy meat regularly. They had chickens and maybe they killed a pig each year. You cooked with wine to add flavor and tenderize tough cuts."
Becky works with winegrowers offering the full range from top-of-the-line Grand Crus and Premiers Crus to more modest, entry-level Village wines and Bourgogne regional wines. All are meant for drinking rather than collecting and investment. The growers recommend, however, drinking entry level wines first while patiently aging the other wines for twenty, or even thirty years, for eventual drinking with the grandchildren.
She fondly recalls in 1979 one of the first wines she sought to represent for export: winegrower Michel Lafarge's thoroughly gulpable Bourgogne Passetoutgrain, a juicy red blend of Pinot Noir and Gamay. While Domaine Lafarge's reputation and prices for his top-flight wines have soared, Wasserman-Hone still sells and drinks the Bourgogne Passetoutgrain.
"When done well, Passetoutgrain is a nice red wine to make you feel good and go well with food," she says. "When it comes from old vines, it can make one heck of a drink. And it meets our company motto: 'Non vendimus quod non bibimus—We don't sell what we don't drink.'"
Choosing which domaine wines to represent begins, according to Wasserman-Hone, with the essential Burgundy idea of terroir. It's an idea that Burgundy newcomers can find perplexing.
"If you're ever planted a vegetable garden, you'll get terroir right away," she notes with her trademark disarming tone of amusement. "Over time you know to plant your tomatoes here and to plant your potatoes there for obvious reasons."
In Burgundy, terroir pivots primarily on the region's distinctive geology of limestone topped with clay soils on rolling hillsides. The best sites with good sun exposure and drainage create superb opportunities for growing quality grapes especially from older vines. But for Wasserman-Hone, superior terroir alone guarantees nothing.
"Producing excellent wines takes talent and hard work," she says. "It's the whole story actually. If you're given a beautiful Steinway piano for your birthday but you have no talent, then you'll only play chopsticks."
Today, Wasserman-Hone's search for accomplished producers covers the full breadth of Burgundy's extensive and diverse appellations. The vines begin just a couple hours southeast from Paris with the towns of Joigny, Auxerre, Chablis and Tonnerre. They continue southward through the famed Côte d'Or where Becky lives with her husband, Russell Hone, in a renovated stone grange in the village of Bouilland (population: 200 +/-). Then the vineyards go further south through the Côte Chalonnaise and finally end in the Mâcon region.
Assisted in the business now by sons Peter Wasserman and Paul Wasserman, Becky still gets a satisfying thrill from discovering and promoting promising producers.
"The kinds of wines that excited me when I started still do, even forty years later," she says.
Notwithstanding the sharp rise in prices for Burgundy's top wines in recent years, she stresses that Burgundy growers still offer affordable, quality wines to fit every pocket and taste. It simply requires a little imagination, an open mind and an open heart to appreciate them.
Many long-standing producers working with the Wassermans have become famous with American importers, retailers and consumers. Frédéric Mugnier, Michel Lafarge, Bruno Clair, Pierre Morey, Nicolas Rossignol, Olivier Lamy, Dominique Lafon and Domaine Simon Bize come to mind. Other producers in her line-up may be less well-known, but their distinctive wines offer terrific value waiting for discovery by savvy Burgundy drinkers. Consider the following:
Domaine Christophe LePage
The history of the Bourgogne Côte Saint-Jacques appellation fascinated Wasserman-Hone and her son, Peter. The vines lie on a steep hillside above Joigny, a delightful northern Burgundy town founded in Roman times along a bend in the Yonne River. A forest above the vines provides protection from winds and frost, and the south facing slope enables good ripening.
"The area was planted with vines with great success prior to the phylloxera blight in the 19th century," she notes. "We were looking for a producer to represent and were really touched by our visit with visited Monsieur LePage and his son, Christophe. The wines are awesome and have a personality that cheers you up."
Third generation winegrower Christophe LePage personifies the dedicated, hardworking approach that Wasserman-Hone values. He holds a second job to help keep it all going.
Notable LePage wines include the Bourgogne Côte Saint-Jacques Pinot Noir, a juicy red with plenty of freshness (Mister Wright Fine Wines in Manhattan currently offers the 2016 vintage for $24.95), and the Bourgogne Côte Saint-Jacques Gris, a crisp and fruity salmon-colored wine made from Pinot Gris which is called Pinot Beurot in Burgundy.
The domaine also uses fruit from nearby vineyards to produce a Bourgogne Blanc Chardonnay, a Bourgogne Rouge Pinot Noir, and a Vin de France Rouge.
Domaine Dominique Gruhier
Just east of Chablis, near the town of Tonnerre, grower Dominique Gruhier practices organic viticulture with Pinot Noir, Pinot Gris and Chardonnay. His vines lie primarily in the commune of Épineuil. Since beginning his domaine in 1990, Gruhier's has overcome devastating frosts, vine maladies, a winery fire, financial pinches, and business missteps. His tenacity, hard work and belief in the quality of his terroir attracted the Wassermans' admiration and attention.
Winegrowing around Tonnerre and Épineuil dates to the Middle Ages when monks from the Citeaux Order systematically developed northern Burgundy's choice sites. Chief among them was the Côte de Grissey where today Gruhier cultivates 2.5 acres of Pinot Noir vines with organic methods.
Standing with Gruhier astride the Côte de Grissey hillside, the site's steep pitch becomes apparent. A primarily south/southeast exposure provides the vines with plenty of sun. The soils, as Gruhier notes, blend shallow Kimmeridgian clay and limestone, a mix strikingly similar to soils found in Chablis. Under Gruhier's attentive and talented hand, his Bourgogne-Épineuil "Côte de Grissey" offers a beautifully structured, refined and wonderfully refreshing red that Peter Wasserman refers to as Chablisien Pinot Noir. It also delivers terrific quality for the price of $24.25 from Saratoga Wine Exchange.
Gruhier's Bourgogne-Épineuil "Côte de Grissey–Cuvée Juliette" comes from grapes grown on the vineyard's steepest part. It ferments with fifty percent whole clusters and ages partially in new oak barrels. The wine has more structure and firmer tannins while retaining the essential juicy, fresh red fruit of the Chablisien Pinot Noir style. Gruhier named this Cuvée after his first born daughter.
Domaine Jérôme Galeyrand
Winegrower Jérôme Galeyrand is another one of those determined, astute personalities that Wasserman-Hone finds so appealing.
"You know he doesn't come from a well-established Burgundy winemaking family," she notes. Galeyrand is a Loire Valley native.
He spent eight years in the cheese industry but managed to work a couple of harvests with Alain Burguet in Gevrey-Chambertin. The winegrowing bug bit hard, and Galeyrand took a diploma at the wine school in Beaune. He then started from scratch buying small vineyard parcels, many with old vines. Through tenacity and hard work, his winemaking talents blossomed. Today he works out of Brochon and farms about thirteen acres. His top wines receive stellar reviews, especially in France.
Chef William Frachot and his sommelier, Maxime Brunet, at Frachot's outstanding Michelin-starred restaurant in Dijon, offer a prix-fixe menu featuring Galeyrand's Côte de Nuits Village "Les Retraits" Vieilles Vignes. This delicious, refined wine comes from 80- and 90-year-old Pinot Noir vines in the village of Comblanchien where Galeyrand works with organic and biodynamic practices.
In a move that warms Wasserman-Hone's heart, Galeyrand also lavishes meticulous attention on the vines for his delicious Bourgogne Pinot Noir "Cuvée Antonin" (available from Saratoga Fine Wines for $27.99). It comes from organically grown vines planted in prime spots below Chambolle and in Brochon and Gilly-lès-Citeaux. The wine delivers startlingly pure red fruit aromas and smoky notes; superb freshness, good concentration and soft, silky tannins emerge on the palate. It's an easy drinking, high-quality wine serving as an impressive calling card that introduces the talented Galeyrand's deft touch.
Domaine Berthaut-Gerbet
Despite her youth, Amélie Berthaut has the kind of audacity, ambition and talent that catches the Wassermans' interest. Berthaut grew up in an established winegrowing family in the village of Fixin, but initially she studied agronomy rather than winemaking. While completing her studies with an internship, she worked at Domaine de La Tour du Bon, a winery managed by Agnès Henry-Hocquard in Bandol. The experience planted the idea of returning to participate in and eventually oversee at her family's winery.
After additional internships in Bordeaux, California and New Zealand, she began working with her father, Denis, in Burgundy in 2012. In 2013 during a particularly difficult harvest, she suggested sorting the grapes more rigorously along with other changes. Her father threw the keys to her and said have at it. So much for succession planning!
Critics roundly praised the domaine's 2013 wines, but Berthaut has not looked back. Her father and mother remain in close support as Amélie now has responsibility for about 40 acres of vines spread across the Hautes-Côtes de Nuits and the villages of Fixin, Gevrey-Chambertin, Chambolle-Musigny, Vougeot, and Vosne-Romanée. By any measure, it's a sizeable holding with tremendous potential. Nicolas Faure, Amélie's husband and a talented winegrower in his own right, now manages the vineyards.
In the winery, Amélie's restrained style emphasizes purity, supple fruit and freshness over extraction. She ferments the grapes typically with portions of whole bunch clusters and uses neutral concrete tanks painted red. Aging occurs in barrique barrels of various years. The resulting wines entice the senses and are a real pleasure to drink.
Critics, sommeliers and retailers have discovered Amélie's efforts, so prices for her top end wines have mounted. But for an excellent introduction delivering quality and value, try the 2016 Domaine Berthaut-Gerbet, Bourgogne Rouge "Les Prielles" (available from Chambers Street Wines for $29.99). Despite coming from another difficult vintage with a short crop, the wine's pure, generous red fruit, fresh vitality and elegant, silky tannins exemplify Berthaut's emerging style.
Domaine Philippe Gavignet
As a big fan of the wines from Nuits-Saint-Georges, Wasserman-Hone finds it bemusing that consumers typically underappreciate them.
"The commune of Nuits-Saint-Georges has over forty premier cru vineyards," she notes. "Yet consumers generally ignore the wines except those from two or three producers. It's nutty."
Becky particularly likes Philippe Gavignet and his wines.
"His wines are not particularly fashionable, but they are authentic," she says. "He is a delightful producer whose cellar door always remains open. You can walk in and taste. Philippe's wines always ring a bell with connoisseurs and casual drinkers alike."
Leading the way to his cellar, the affable Gavignet points out a mini-basketball hoop, a favorite with his grandson. The entire family, he says, are "hoop" fans.
His daughter, Elodie, assists with the wine tasting. She, along with her brother Benoit, represent the 5th generation to work in this closely knit family domaine. The Gavignets farm over thirty acres without herbicides in fourteen appellations. They also limit chemical applications on the vines with the goal of producing grapes with personalities reflecting each terroir. Careful harvesting and sorting of the grapes occurs by hand.
Their delicious 2015 Bourgogne Pinot Noir ($35.99 at Super Buy Rite Wines in Jersey City) delivers outstanding quality and value. The grapes come from three sites: one north of the village towards Vosne-Romanée and other two south of the village—with vines averaging around 40 years. Fermentation in stainless steel tanks with indigenous yeasts preserves fruitiness and silky tannins. It's a classy wine with good depth. Drink it either upon release or with a few years of aging.
Domaine Nicolas Rossignol
As a fifth generation vigneron immersed in making up to thirty different wines each year, Nicolas Rossignol might well have the wines of Volnay, Pommard and Beaune coursing through his veins. When Carolyn Bennett-Joly, Becky's sales director, introduced me to Rossignol back in the early 2000s, Nicolas presented his wines out of a temporary shed set below his home village of Volnay. It was memorable tasting as every wine in the line-up offered marvelous purity and fine tannins, albeit with pronounced extraction.
Today, Rossignol, who is 45, has made impressive strides. The wines retain his trademark fruity intensity and purity of terroir, but they have become more refined and silky over the years.
Not being one to shy away from ambitious and audacious opportunities, he moved into a new modern headquarters just outside of Beaune in late 2017. The facility's bright, wide-open and spacious production area allows for efficient work during fermentation. By contrast, serene, quiet energy prevails in the high-ceiling, softly-lighted barrel room where élevage (i.e., finishing) of the wines takes place. Rossignol says the work spaces, taken together as a whole, create a positive, uplifting environment both for his team and the wines.
On the third floor, the view westward from the tasting room terrace offers a dazzling 180-degree perspective on Rossignol's vineyard slopes in the short distance. Volnay lies off to the left in the south, Pommard lies more or less straight across, and the slopes of Beaune lie just to the right. Rossignol readily communicates the geology, soils and other specifics of each climat which enhances the fun while simultaneously tasting the wines.
Clearly Rossignol's long association with Wasserman-Hone continues to bear fruit. His wines enjoy wide distribution globally and across the United States. Prices for his top wines climb steadily. But like many of Becky's other growers, Rossignol also lavishes hard work and detailed attention on his outstanding introductory level wines which represent excellent values.
His Bourgogne Rouge "Cuvée L'Héritière" comes from cherished old vines located in "Les Crenilles" lieu-dit in Pommard. Rossignol's great-grandfather planted the vineyard in 1922. The venerable vines deliver naturally low yields of small grapes with complex aromas and concentrated, intense flavors. The fruit creates the opportunity for producing an extraordinary wine despite the modest regional appellation.
Rossignol only makes the "Cuvée L'Héritière" in select vintages with adequate yields. (Otherwise the grapes fold into Rossignol's generic, yet consistently delicious and fine Bourgogne Rouge.) The 2015 Bourgogne Rouge "Cuvée L'Héritière" (available from The Wine Exchange for $54.98) delivers ripe black fruit aromas with earthy touches. Pure, dark fruit flavors with marvelous intensity balance with fresh acidity and rich, ripe tannins. It could be a wine that might improve with aging. Instead why not pull the cork and, as Becky advises, drink up and enjoy!