Crêpes Parisiennes Offers Delicious Flavors and Care-Free Moments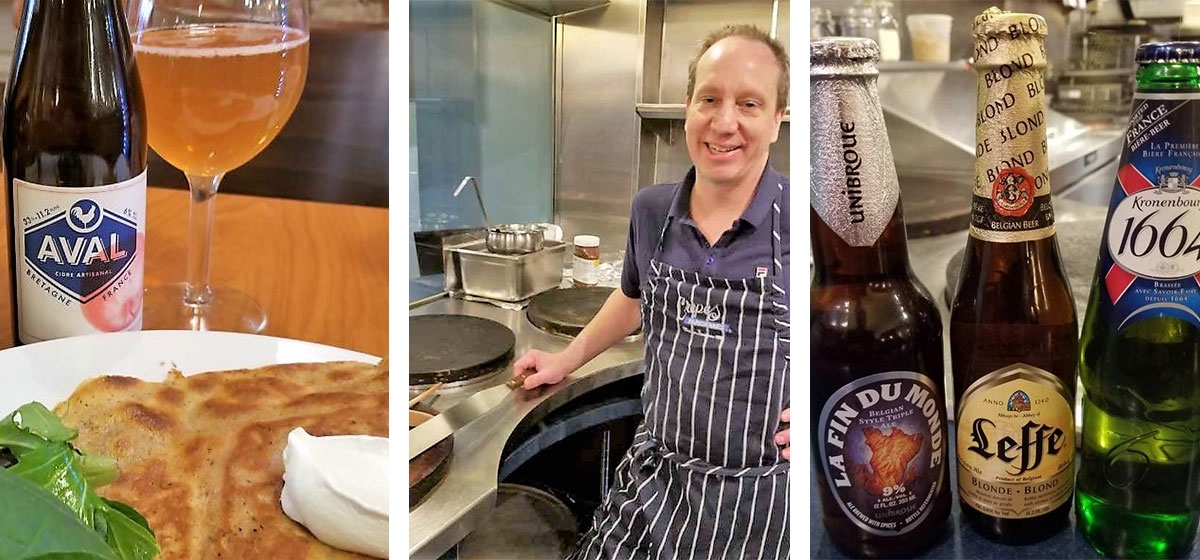 May 23, 2019
No food evokes the bohemian spirit of Parisian street life better than hot crêpes served with either savory or sweet fillings to order. Add a glass of crisp, fizzy cider, and your cares melt away in the pleasures of the moment.
Since 1998 in Pittsburgh, Pennsylvania, loyal customers of David Handler's Crêpes Parisiennes have savored many such moments. Handler offers delicious crêpes—think of a delicate, thin pancake folded over with a slightly crisp texture—paired with authentic ciders and French, Belgian and Quebecois beers to round out the experience. Currently the shop operates six days a week at 207 S. Craig Street near the Carnegie Museum of Art and Library, Carnegie Mellon University and the University of Pittsburgh. It is an improbable tale considering that Handler grew up in Pittsburgh experiencing pretty much everything in the restaurant and bar business except crêpes and ciders.
Handler's late father, Richard, owned legendary, fun restaurants such as the Gazebo in Pittsburgh's Shadyside neighborhood and The Real McCoy Sandwich Shop on the Southside. The family's popular pubs included Humphrey's Corner Saloon and the Razzberry Rhinoceros.
"I grew up washing dishes and doing everything else, " Handler recalls. "I always liked the feel of working in the restaurants."
But in early adulthood, Handler went in another direction. He pursued commercial and art photography while living in Spain, Sweden and Paris for ten years.
"I'm often asked whether I learned to make crêpes in Paris," he says. "Actually I learned to eat them there. I didn't have a lot of money for food, but I could afford crêpes and enjoyed them."
After burning out on photography, he returned to Pittsburgh. To satisfy his acquired taste for crêpes, he played around with a crêpe iron and experimental batters. Friends and family gave rave reviews while enjoying crêpes served casually in the Handlers' backyard.
Slowly the idea emerged of selling crêpes as a business. David's father balked. He didn't think it would fly in Pittsburgh and instead suggested selling pizza or hotdogs. David persisted, however, by taking small steps to start.
As a test, he operated a crêpe cart for two years on Walnut Street in Shadyside, not far from the locations of his father's old places. David also operated the cart on the Carnegie Mellon University campus. Using a special batter of pure, unbleached white flour, organic buckwheat flour, milk, and eggs cooked on a buttered flat iron, he perfected a process for efficiently turning out street style crêpes.
"It was fun. I liked the crêpes, and I found there could be a niche market for them," he recalls.
He also met his future wife, Shannon, who was finishing school. She became his partner in the business. Eventually they leased a fixed location on Filbert Street in Shadyside at the former Stonewall Books and Coffee Shop.
"We kind of took the crêpe cart inside at a fixed location although for a while we continued operating the actual cart at outside locations too," he says.
The business went well, and they later opened the second fixed location at 207 S. Craig Street. After fifteen successful years at the Filbert Street, they focused exclusively on the S. Craig Street location near the universities and museums. Adding ciders came as a natural progression.
"Ciders and beers are the traditional beverages in Parisienne crêperies, so we wanted to continue in that direction," Handler says. "The response has been great from customers that already know the drinks. We don't operate at night now so we don't have a big volume on the drinks. But I'm happy to offer them to be a more authentic French-style crêperie."
In selecting ciders and beers for sale, Handler took a deliberate approach.
"I got advice from my friend at Arsenal Cider here in Pittsburgh, and I also tasted a lot of ciders in Washington, D.C. and New York," he recalls. "I discovered that I like ciders that are a little funky and made from apples actually grown by the cider producers. Those ciders have more depth and character, and they reflect the terroir and soils of the places where they are produced."
Ciders balancing mild earthy flavors with fruitiness complement the crêpes perfectly, according to Handler. So stop by Crêpes Parisiennes to relax while enjoying a delicious, authentic crêpe with the bottle or two of the following:
Aval Cidre Artisinale from Brittany on France's northwest coast comes from a blend of hand-picked and carefully sorted apples. Only 100% apple juice goes into fermentation. It delivers straightforward, thirst quenching apple flavors and a fruity, but dry finish.
The Cidre Christian Drouin Pays d'Auge comes from France's Normandy region, an area also famous for cheeses such as Camembert, Livarot and Pont-l'Évêque and Calvados apple brandy. Drouin's delicious, well-balanced cider uses a classic blend of 70% bittersweet apples, 20% sweet apples, and 10% acidic apples. Only fully ripened apples go into the crusher to create a "pomace" that then goes into a hydraulic press for gentle pressing. Fermentation of the juice takes place naturally and slowly in traditional fashion over three months. Neither sugar nor yeast is added. Bottling occurs without prior filtering, so the cider's lovely golden color has a natural, slight haze and a light effervescence.
On the nose, the Cidre Christian Drouin Pays d'Auge has pleasant ripe crab apple aromas and funky earthy notes. The delicious apple flavors balance with refreshing tartness. The finish has a touch of mild bitterness and modest sweetness. It has only 4.5% alcohol by volume for easy drinking pleasure.
The 2017 Etienne Dupont, Cidre Bouché de Normandie comes from a blend of 70% bittersweet apples and 30% acidic apples, all harvested late in the season in October and November. Fermentation occurs in stainless steel tanks with indigenous yeasts to capture fruity freshness. Bottling occurs without either pasteurization or filtering to maximize natural, pure cider flavors. The cider's deep golden color offers full, funky ripe apple aromas. Juicy, ripe apple flavors with good concentration balance with lively, tart freshness and pleasant bitterness. A kiss of subtle sweetness carries the finish. 5.5% alcohol by volume. Don't miss this classic.
The Etienne Dupont, Cuvée Colette comes from 100% bitter apples grown on trees in clay and marl limestone soils. This gives the cider a very crisp, fresh style. After initial fermentation, a secondary fermentation occurs in the bottle itself with the "méthode traditionnelle," a process similar to the method used to create Champagnes. The final cider takes on elegant creaminess and complexity. It finishes fruity, but essentially completely dry.
For beers, Handler offers a delicious range of flavors and styles including:
Leffe Blonde, a rich, full flavored and malty "abbey style" ale from Belgium. Pleasant bitter hints carry the full finish and the 6.6% alcohol by volume. Still a very drinkable beer.
Kronenbourg "1664", France's best-selling premium beer. It offers a classic European pale lager with delicious crisp flavors and pronounced, thirst-quenching hop flavors. The beer originated in Alsace.
La Fin du Monde, a "Belgian tripel" style beer made in Quebec with a hefty 9% alcohol by volume. The beer has plenty of richness and depth to savor slowly.
Crêpes Parisiennes also offers a full range of coffees, espressos and teas.