Combat Cold Weather with Époisses Cheese and Crisp Wines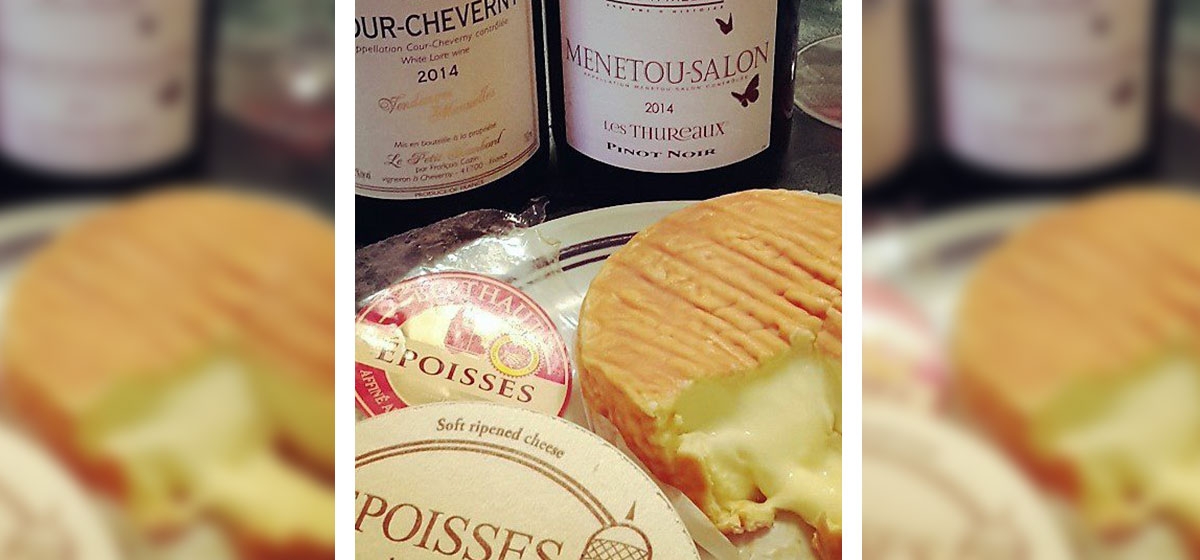 December 26, 2017
Enduring cold weather at the start of a new year calls for serious measures. Time to break out the Époisses de Bourgogne cheese and tasty wines.
Those already familiar with the glories of Époisses know what I mean. Once you've experienced Époisses, the intense sensory impressions cannot be forgotten. Passionate reactions are common.
Époisses cheese starts simply enough. The milk comes from Brune, Montbéliarde, and Simmental Française cows grazing in the area between Auxerre in the north of Burgundy and the famed Côte d'Or vineyards near the village of Gevrey-Chambertin in the south. For French domestic consumption, Époisses producers use unpasteurized milk, whereas Époisses exported to the United States comes from pasteurized milk.
After heating the milk, producers mold the curds into rounds which are rubbed with salt and placed on maturing racks in cool, damp cellars. Then the magic begins.
Workers rinse the young cheeses and then brush them with a "cocktail" of watery brine, Brevibacterium bacteria and marc de Bourgogne, a raw spirit distilled from the remains of newly pressed Burgundy wines. As the rubbing process repeats over the next four to six weeks, les ferments du rouge (i.e., red molds) naturally develop to nurture Époisses' distinctive personality.
That personality starts with the cheese's vivid reddish, orange color. Draw closer, and the cheese's powerful, unabashed aromas demand attention. The pungent, heady perfume exudes fruitiness, wild garlic and barnyard aromas.
Then cut into a properly aged Époisses, and the creamy, glistening texture oozes. The French call it, coulant, i.e., runny. On the palate, mild, deliciously fruity and savory mushroom flavors prevail.
In short, the cheese should be alive and sing with pleasure. Add it all up, and, as famed French gourmand, Brillat-Savarin, observed, Époisses is "the king of all cheeses."
Several Époisses producers export to the United States, but go with the reliable Berthaut Époisses, a family firm that resurrected commercial production in 1956. An 8.8 ounce round sells nationally around $20 to $25. Pair the cheese with aromatic wines with ample fruitiness and plenty of fresh acidity:
The 2014 François Cazin "Le Petit Chambord," Cour-Cheverny, France (Available nationally online around $20.00) comes from Romorantin vines. The ancient variety grows only in the eastern Loire Valley in clay, limestone and silica soils in Cour-Cheverny, a sub-appellation of Cheverny A.O.C. where dedicated winegrower François Cazin makes his home. His lovely white unfolds white flowers, citrus, quince and peach aromas. Ripe flavors of citrus and peach layer with rich, fresh acidity and light creamy notes carrying through the beautifully balanced, dry finish. Highly recommended.
The 2014 Joseph Mellot, Menetou-Salon, "Les Thureaux" Pinot Noir, France (Available nationally online around $25.00) comes from Pinot Noir vines growing in the eastern Loire, just south of Sancerre in the Menetou-Salon appellation. The area has clay and Kimmeridgian limestone soils rich in marine fossils. Mellot practices sustainable farming to enliven top soils. This forces the vines to sink roots deeply into the limestone subsoils. The resulting wines delivers terrific freshness. This wine's bright raspberry and light brambly aromas open to fresh red fruit flavors. Delicious acidity and soft tannins balance a fruity, dry finish. Highly recommended.
The 2014 Joseph Drouhin, Côte de Beaune-Villages, France (available nationally on-line for around $25.00) comes from the ever-reliable Drouhin family, winegrowers and négociants headquartered in a cluster of historic properties in Beaune. The cellars encompass ancient Cellars of the Dukes of Burgundy and the Cellars of the Kings of France in Beaune. This delicious wine relies on carefully selected Pinot Noir grapes grown in various villages in the Côte de Beaune. The four Drouhin siblings who direct the firm rely on long-term contracts with growers who share a farming approach focused on quality over quantity.
The prevalent terroir of clay and limestone creates distinctly fresh, well balanced fruit that winemaker Véronique Drouhin-Boss ferments with indigenous yeasts. Aging occurs in a combination of new and previously used French oak barrels to impart subtle spicy notes. As always, the Drouhin's highlight finesse, purity and balance to permit the terroir to shine brilliantly. The wine's dark ruby color unfolds fragrant dark red fruit and a touch of spiciness and smoky earthiness. Delicious, ripe dark red fruit flavors balance with fresh acidity and fine, elegant tannins. The fruity, refined finish lingers nicely. Highly recommended.