Wine 'Em Up
Some rules for drinking up the Pittsburgh Wine Festival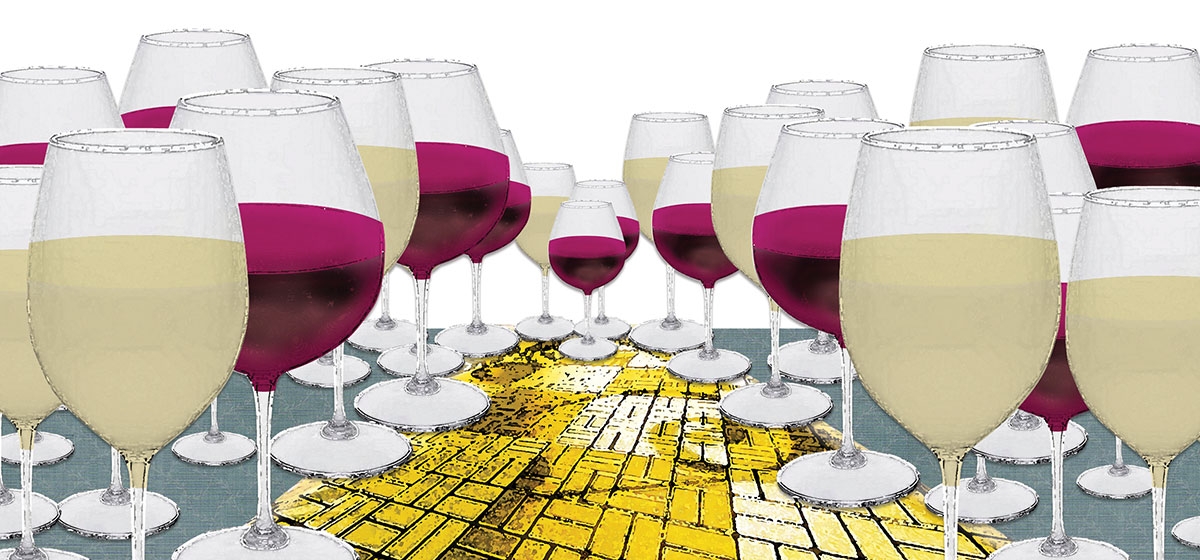 February 20, 2008
Plan ahead with a guide for comprehensive tasting. I used to say I hated tasting wine with the milling hordes. I am recanting. Decanting. Pouring myself right in and trying to tip you in with me.
Why? The Pittsburgh Wine Festival, May 3-8, sprawling over acres in Heinz Field House lounges, offers opportunities few ordinary mortals would otherwise have in savoring legendary wines. Not just a handful of greats. A lot.
You will taste centuries of accumulated craft and art — some of the Europeans have been making hallmark wine for popes and kings on the same plots since Dante and Charlemagne. You will also taste new marvels produced in only the few generations of the New World's wine history.
Hard to imagine that all of this unfolds in a delightfully civilized manner with 125 winemakers ministering to the stretched-out glasses of some 3,000 people, but it does.
Experiencing art like this can hurl you forward a lifetime in your patient or impatient quest to appreciate what wine can be. What will hit you as soon as you walk into the tasting space is that there is more temptation on every side than you can possibly drink, designated driver or no. You can correctly guess too, with 400 wines to choose from, that not all are legends. So to leverage your substantial investment, you must drink smart.
You need a plan
We've asked wine experts and veterans of mega-tastings how to do the fest best, sipping well and wisely — and not being swallowed up themselves.
"You can't waste your time," stresses Post-Gazette wine writer Elizabeth Downer. "You have two hours to taste. Don't stop and talk to your best friend, you can see them another time."
Consider the logistics.
The European wine is on the left as you enter with American and other wines down a corridor on the right. The first thing to do is to look for the map in your swag bag and find the booths of the wines you have to try. A hefty binder in your swag bag has winery details that you won't have time for now, but will savor later at home. A separate sheet has an alphabetical winemaker list. A few good ones are tricky to find, appearing under the name of their distributor. Another list has winemakers with their corresponding booth numbers.
If you are like most people, you can't sift through this in a twinkling. And you will want some advice. So it works better to have done a little thinking ahead.
Here is what worked for me last year. Before the fest, the Post-Gazette published Downer's top 20 winemakers list along with details on the wines she said should not be missed. I shamelessly printed and highlighted it, marked it with my own additions and taped into a pocketsize reporter's notebook.
Cross-referencing Downer's picks, along with the lists and maps the festival supplied was easy and kept me as disciplined as an amateur at a wine festival can be. She promises to file a list this year.
I managed to taste about 25 wines, though what I thought of the last ones will not be known from my notes, which got more rapturous and less readable as things progressed.
If trying to drink the entire planet is just not you, or if you've been to this fest before and want to narrow your focus, the Tribune Review's Dave DeSimone's suggestion might fit: "I like to target regions, say, French and Italian whites or California red blends."
Downer, who lived in France and is expert in French wine, prepared a somewhat "Frenchy" list. If you'd prefer to focus more on the U.S. or want to craft a customized approach, you might want to look at a good reference such as Karen MacNeil's Wine Bible. MacNeil lists "best producers" for every region and explains which products in each producer's line are outstanding.
This is a two-tiered tasting. The VIP portion, running from 5 p.m. to 6:30 p.m., costs $250 and offers tasters a head start and better shot at the "showcase" wines that each vintner pours. The Grand Tasting follows from 6:30 p.m. to 9 p.m. for $125. While plenty of terrific wines will be poured through the evening, the "showcase" wines go pretty quickly, and not all will last 'til the last dog is hung.
You should also know if you are a serious taster or Francophile that the European wines run out first, with the French being the first to go.
"Engage the winemakers," Downer urges. "Many of the greats are there in person. This is a valuable opportunity to understand things so much better."
Ditto, says Executive Chef Chris Jackson of Six Penn Kitchen, who ranks the Pittsburgh festival tops and values the back and forth with vintners — "especially pairing food with wine. It's a chance to broaden my knowledge of grapes and technique. I got turned on to ice wines and learned a lot about them."
Can you tell a man by what he drinks? It could be fun following in a chef's footsteps. Here are some Jackson "memorables" from last year: "Pio Cesare Barolo, Allegrini amarone, Pascal Jolivet Sancerre and Veuve Clicquot, La Grande Dame." About everyone had that Barolo and amarone on their list, including the brothers John and Ken Watt, who have planned their calendars around the fest for several years, along with a major blow-out tasting dinner they prepare for family.
John, 42, is a Pittsburgh commercial real estate consultant, and Ken, 41, directs the practicum for career cooking students at Johnson and Wales University in Providence, R.I.
"Some wines we taste every year," said John. "We concentrate on northern Italian and Southern French. We like the Ornellaias and Sassacaias and amarone and the Jean-Luc Columbo Rhones. At some booths we 'taste through' [all the wines offered], particularly the white burgundies you can't fathom affording."
They suggested we "taste through" the booth of La Chablisienne, France's great dry, very lightly oaked chardonnay, which they consider a great value in Northern white Burgundies. We did and fell in love.
You can learn from people you bump into.

As the gears mesh
The gears of a major wine festival may not mesh in exactly the way you think.
Matt Rutkowski, a private wine consultant who has helped craft a fest or two and has served on the advisory board of this event, says if festivals originated as bridges to a generally ignorant wine-drinking public, the people who come to today's events bring a very different set of expectations.
"Attendees want their wine and more. They want chef demos, wine auctions, tasting seminars, elaborate wine dinners, VIP 'after-parties' and, of course, the Grand Tasting. In a nutshell, they want to be entertained, buzzed and — in select cases — informed," he said in a newspaper column last year.
"The wine merchants, on the other hand, really want to get the attention of the restaurant and hotel trade. Yes, they are tolerant, maybe even slightly interested, when Dr. X chooses to inquire about 'possibly adding this to his collection.'
"But the true goal is having Dr. X say the same thing to the sommelier at the restaurant that buys 10 cases of their wine each month. Then the mission is accomplished."
But there is another good reason to hold a wine festival, especially if you are a producer.
The Pittsburgh Wine Festival, produced for the past six years by Chairman Ed Herrell, last year raised $1.4 million for the University of Pittsburgh Cancer Institute.
"Amazingly, the charitable endowment has become the cornerstone of nearly every major U.S. wine festival," Rutkowski says.
Not a bad reason at all to get a buzz.
And this from Six Penn kitchen chef Chris Jackson: "Taste, the only good taste is your taste — if you've got it."