What's Missing in Pittsburgh Dining?
Our experts say we've come a long way, but several key ingredients need to be added
Illustrations by Stacy Innerst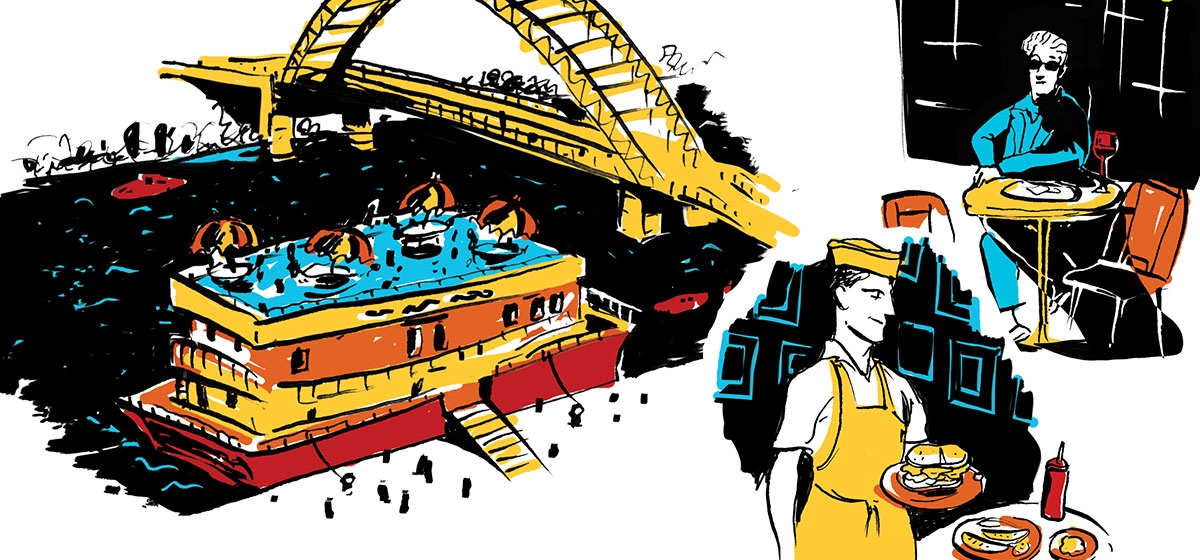 May 23, 2019
The Pittsburgh Quarterly Restaurant Review Board has been tasting and testing local cuisine for 25 years. We asked our mavens to weigh in on what they'd like to see in Pittsburgh's culinary future. Their responses follow.
Pittsburgh has made great strides in cleaning our rivers and reclaiming our waterfronts. The time is right for restaurants built right on the shoreline. If you travel to an island a Mykonos, many of the best dining spots are at the water's edge, affording incredible sea, town or marina views. Requirements are shade, some protection from the wind and weather, with views of crew teams and recreational boats. Many of the sites along our rivers near the point are separated from the water by roadways, railroad tracks, trails and planting buffers. The goal is a more intimate connection to the water.
* * *
While Squirrel Hill has become a mecca of specialized international cuisine, Pittsburgh has capacity for more exciting focused varieties of authentic global food. At Fat Rice in Chicago a blend of Southern Chinese and Portuguese ingredients and techniques known as Macanese cuisine is offered. Macau China was a Portuguese territory until 1999 and in the 16th century represented the heart of the spice trade and arguably the seat of the world's first fusion cuisine. Portuguese sardines with Chinese mustard and Eurasian pickles, braised octopus with pickles and punched potatoes, piri piri chicken and arroz gordo (literally Fat Rice, which consists of curried chicken, fork roasted pork sausage, wood roasted beef, Manila clams and chili prawns) wowed my taste buds and senses. More well-executed unusual cuisine would be a stirring addition to our restaurant scene.
* * *
One of my favorite things about dining out is watching people. People walking arm-in-arm, or talking to themselves, or enjoying their meal, just being people. And there's no place for this pastime as good as sitting in a chair with a glass of wine and a basket of bread on the sidewalk in front of your favorite restaurant on a warm evening. If I had a magic wand and could add anything to our dining scene, I would put tables in front of EVERY restaurant and bar on Butler, on Penn, and on Highland. This will allow me to start in mid-April, going from place to place having a drink and an appetizer, or a panino and an iced tea, and not stop until October.
* * *
A highly designed restaurant like the old Le Cirque in Las Vegas or the renovated Russian Tea Room in New York. In these places, the walls, ceiling, light fixtures, chairs, tabletop and waiter attire are coordinated, with the menu, music and food following suit. The entire meal is an "experience." The food is the star of the show but beautifully presented to work with the environment. Although many of our restaurants have moved in this direction, I feel the level of consistency between design and food could be pushed to an even higher level.
* * *
Greater depth in our 'Burgh Greek and Lebanese restaurants! Although in the summer many Greek churches celebrate an extended weekend serving their delicious homemade cuisine, I crave it all year round. Why do we have to wait? In the winter I would love to have the hearty filo layered pastitsio, moussaka and spanakopita. I know you can purchase dolmades (grape leaves stuffed with meat and rice) but nothing compares to the homemade rollups with lamb. My mouth is watering thinking of my favorite Greek dessert galaktoboureko, creating a custard, adding semolina and then enveloping it in layers of filo and baking it. Truth be told I could put tzatziki (yogurt, cucumbers and garlic) on a burger every day! These are my faves. Yours may be different but we probably all agree this is an awesome cuisine that is underrepresented in the 'Burgh!
* * *
Casual dining choices in the Mt. Washington area to take advantage of the gorgeous view of the city. Perhaps a Bonfire, casual type restaurant. Also, I would like to see dining on the water—other than Station Square and Washington's Landing, there really isn't much to offer. Another suggestion would be more BYOB restaurants, and a Mexican/Latin/Spanish restaurant similar to Oyamel in Washington, D.C. We recently dined at Oyamel and it was amazing, offering a different twist on the typical Mexican restaurant, with ceviche to die for!
* * *
An honest-to-goodness Jewish deli, fashioned after many a deli diner's favorite: the one and only famous Katz's in New York on Houston Street. There is no better deli in New York City than Katz's. It is a cafeteria-style Jewish deli that has been serving customers for over 100 years. Giant pastrami and brisket sandwiches served with perfect barrel pickles, kosher hot dogs and kosher-style meals. Add to that a myriad of other dishes, soups, fantastic breads, bialys, bagels and many authentic deli delights. Deli food can be addictive when all meats and meals are made on the premises. The menu would not need to be as extensive as the New York location, but all that would be on the menu would be the quintessential in deli food.
* * *
A movement for restaurateurs to get back to the basics. There needs to be enhanced focus on consistency in food and increased service standards. That's not to say we don't need culinary innovation and more diverse food selections, but if it is not consistently executed by both the front and back of the house, then the overall dining experience can be bad. An elegant dining experience where the product, environment and ingenuity are presented with excellent service in a comfortable, well designed space. Pittsburgh has come a long way in the past 10 years and has many more wonderful casual choices with innovative chefs, but the refined presentation of a truly first-class restaurant is not here yet.
* * *
A delicious floating dining experience that takes place on our rivers. Imagine a barge dry-docked on the Ohio River between the West End Bridge and the Fort Pitt Bridge with that amazing view of The Point as a backdrop to dine as the sun is setting on the river. I always admire the view from the West End Bridge in late afternoon as the sun sets on the city reflecting all the beauty of the amazing architecture. To have a floating restaurant with amazing first-class food and a fun, airy environment would just be a perfect addition to our already wonderful new dining establishments. In the summer I enjoy sitting at Redfin Blues on Washington's Landing in the evening watching the sun set. The food is ordinary, but the atmosphere creates the ideal ambiance for a great group get-together for fun cocktails and simple food. Hats off to all who have heightened our "Dining Scene" and here's to "Toasting the Future."