What Do We Need to Make Western Pa. the Best Place to Live?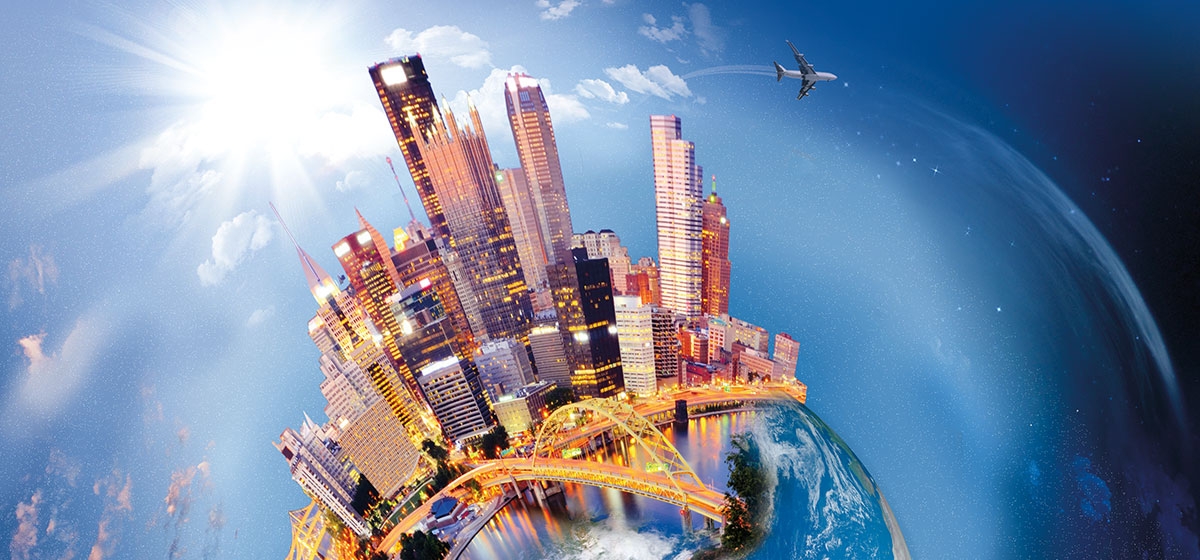 February 20, 2018
We asked a cross-section of regional leaders to respond, in 75 words or less, to this question: What do we need to do to make Western Pennsylvania the best place to live in the world?

"The incredible transformation here in such a short time gives me tremendous hope and excitement for the future of our great city, and the region. The new jobs in our blossoming technology industry, the excellence in our hospitals and universities, and the cultural sophistication of our arts all contribute to a palatable and attractive energy. Let's keep building on what we're already doing; we will be the best place to live in the world.'' –Michael J. Annichine, CEO, Magee-Womens Research Institute and Foundation
"Our region must first be the best place to live for every child, regardless of background or circumstances—a place where every kid feels loved, supported, respected, and safe; where every school and learning space sparks curiosity, creativity, and joy. All of us—parents, educators, neighbors, and policymakers—must work together to ensure all children can follow their passions, find their purpose, and bring their unique brilliance to bear on our community and world.''–Gregg Behr, executive director, The Grable Foundation
"A comprehensive regional transportation system driven by a coherent regional vision of land use is essential to the future growth and prosperity of southwestern Pennsylvania. Our aging bridges, tunnels, roadways, railways and transit systems are an opportunity to reimagine the future of our region's transportation resources as we create new solutions responsive to changing demographics and the technologies transforming how and where citizens work, live and spend their leisure time. Regional mobility is now among the "front burner" issues that will determine our destiny.'' –Dusty Kirk, partner, Reed Smith LLP
"Nurturing the strengths and qualities of this impressive young generation remains an overriding objective in preparing for the future. They have a sincere desire to make the world a better place. High-impact service learning complements their generational qualities and develops compassion, a civic awareness, and an understanding of the long-term social issues faced by the communities where they work, live and are educated, enabling them to be the transformational leaders of the future.'' –Douglas G. Lee, president, Waynesburg University
"To me, the best place to live is a place where people feel connected and invested. I'm a big believer in the power of purpose. Everyone wants to make a difference, but if we can rally around common goals, we can have a much greater impact. It's the journey there that connects us, and the resulting change that keeps us invested. But above all, we should never stop striving to be the best.'' –Rebecca Lucore, head of CSR and Sustainability, Covestro LLC
"While familiar with the beauty of Pittsburgh's riverfronts, it wasn't until I began working at Riverlife that I realized how varied our riverfronts are. Some communities provide recreational opportunities, others have industrial uses, still others have a mix of diverse waterfront activities. Let's celebrate Western PA's riverfronts by ensuring that everyone has access to them. Imagine if we double the number of places where the public can enjoy our rivers with additional seating and open spaces, restaurants, new boat launches, improved trails, even overlooks where the public can watch and learn about water-dependent industrial uses.'' –Vivien Li, president and CEO, Riverlife
"Over the course of raising five children here in Pittsburgh, my wife, Mary, and I have seen their commentary about the future switch from 'Why would we stay here?' to 'Why would we leave?' Pittsburgh is now among the top places for millennials to build a career and family. Our region needs to redouble its commitment to cutting-edge technological innovation, social justice and livability. Let's also fully use the incredible gift of our unique natural resources, in particular, our rivers, as a springboard to create an even more dynamic living environment for all our descendants.'' –Dean A. Calland, co-founder and shareholder, Babst Calland
"Provide the best cultural experiences from sports to the arts! These activities add an exciting dimension enhancing our quality of life. Western Pennsylvania has a unique landscape providing diversified opportunities from hiking and water sports to museums and symphonies. We need to continue to support and expand these offerings, complementing a life worth living!'' –Roxann Booser, executive director, the Maridon Museum
"Pittsburgh is a great place that I love. The city is obviously not perfect. We face challenges such as the city's water service. Fortunately, we recognize our problems and can and will solve them. The city has always had passionate citizens, business leaders, fantastic health care and universities. Today, Pittsburgh is more vibrant, and our strengths are more well-known. We need to believe in ourselves more and tell our story to the world." –Louis R. Cestello, head-regional markets and regional president-Pittsburgh & SW PA, PNC Financial Services Group
"The Pittsburgh region is known for many things including education, medicine, arts and culture, food, tourism and especially technology and robotics. No one has made the strides we have in that technology. We should utilize them more to make this the best place to live in the world. Travel and tourism could utilize them to welcome travelers at the airport or accompany people at our many attractions. This would lead to more people considering it as a place to live or invest. (For the record, I already think this is the best place, in the world, to live.)'' –Craig Davis, president & CEO, VisitPITTSBURGH
"Transportation and infrastructure should be a strategic priority. Increasing the number of direct flights in and out of Pittsburgh and expanding our light-rail system to connect prominent destinations like the airport, Oakland and the business district would significantly improve our regional appeal and make the area more inviting to businesses. These investments would drive job growth and significantly improve Pittsburgh's chances of securing new corporate headquarters, in turn improving job prospects and the retention of local talent." –Vincent J. Delie, chairman, president and CEO, FNB Corporation and First National Bank
"Pittsburgh was built on a foundation of generosity and philanthropy. In fact, many of the city's iconic landmarks were made possible through support from local individuals and organizations. I believe it's this sense of giving that sets Pittsburgh apart from other cities—it's the defining mark of a Pittsburgher. Making Western Pennsylvania the best place to live means finding ways to harness this sense of charity, and encouraging younger generations to continue the tradition.'' –Patricia L. Dodge, managing partner, Meyer, Unkovic & Scott LLP
"Bridging the bridges: Western Pennsylvania is a robust region of individuals, neighborhoods and homes. Businesses, universities, business, health care and culture draw us out of our neighborhoods, but how far do we really go? An infrastructure of smart mass transportation would lead to increased economic and cultural vitality: making the region THE most desirable place to live, along with recognition as a city and region that has taken the lead in how we engage our community." –Annie Hanna Engel, chief legal officer, Howard Hanna; president and COO, Howard Hanna Insurance Services
"Western Pennsylvania is a great place to live and work. To continue to help drive the region's robust economy and to ensure we have the workforce required for continued innovation—colleges and universities must focus new academic program development in the areas of growth and potential growth for employment, such as health care, information technology, and business strategy. Further, partnering with area businesses to provide relevant internships that offer real-world experiences is essential. Seton Hill continues its 100-year tradition of educating students, the vast majority of whom live and work in the region post-graduation, and looks forward to continued partnership with the business community.'' –Mary C. Finger, president, Seton Hill University
"We need to ensure the decisions we make today lead to a sustainable future for our region. At Duquesne Light, we provide our customers with information and tools they can use to make smarter energy decisions. We also see an opportunity to reduce greenhouse gas emissions and improve air quality by advancing the adoption of electric vehicles, which generate less than half the emissions of conventional vehicles, and cost roughly half to refuel.'' –Richard Riazzi, CEO, Duquesne Light Company
"Since 'the best place in the world to live' is highly subjective, making western PA a great place to live seems more achievable. The key to unleashing Pittsburgh's potential is to make it a thriving boutique city that supports technology development at our universities and medical centers. Attracting and developing technology is autocatalytic—the more you have, the more you get, and the residual benefit attracts federal research support, which in turn creates the highpaying jobs that a great city needs.'' –Gerald D. Holder, U.S. Steel dean of engineering and Distinguished Service Professor of Chemical and Petroleum Engineering, University of Pittsburgh Swanson School of Engineering
"FedEx believes that the brightest futures start with connecting people and possibilities. Our civic and corporate leaders have a duty to work together to foster an environment where these connections solve problems and convert ideas into reality. With all the unique resources —economic, educational, environmental, and cultural—at our disposal, Western Pennsylvania can be a place where any and every dream is realized.'' –Henry J. Maier, president and CEO, FedEx Ground
"We know, based on what we are doing at Phipps, that we in Pittsburgh have the technology and ability to be leaders in creating a healthy world for people and the planet. We can address climate change through net-zero energy buildings and our water issues through green infrastructure and we can address our air pollution, which is among the worst in the country, and is truly the only thing that is holding us back.'' –Richard V. Piacentini, executive director, Phipps Conservatory and Botanical Gardens
"We need to emphasize improving the health of all of our region's residents. We must change our region's poor air quality so that it no longer ranks 8th worst in the country and give our residents the cleanest air to breathe. We need to reassert our regional narrative as one dedicated to inclusive self-determination as a basis for building our future. We must resist the temptation to let petrochemicals, plastics, fossil fuels and backwardlooking paternalistic, exclusive and non-transparent agendas to influence our future." –Matthew Mehalik, executive director, Breathe Project
"Swagger. I moved here seven years ago and I can attest that Pittsburgh is already one of the best places to live. It is special and unique in so many ways. Despite its rich and impressive history, Pittsburgh is entrepreneurial and always looking forward. From healthcare to robotics and advanced manufacturing, Pittsburgh has unbelievable opportunities to shape the future, and those not lucky enough to live here should be made aware. Pittsburghers are unapologetic about the greatness of their sports teams. They should carry the same swagger about the city as a whole.'' –Mark Opitz, partner, Morgan Lewis & Bockius LLP
"Our claim to be the best place in the world to live will not be manifested by our collective wealth and economic prowess; not by our sports championships; not by our region's wonderful cultural, recreational, and environmental features. As important as all of these attributes are (and they are important), the world will judge Pittsburgh by the degree to which we take care of our most vulnerable citizens—a place where the old are honored and feel secure; the young are kept safe and can aspire to any opportunity; and where those with disabilities are empowered and feel they are respected for what they can do, not dismissed by their limitations.'' –Timothy Parks, president & CEO, Life'sWork of Western Pa.