New Paradigm
Pandemic forces foundations to shift gears
Andrew Carnegie photo: Library of Congress. Donation jar photo: Adobe Stock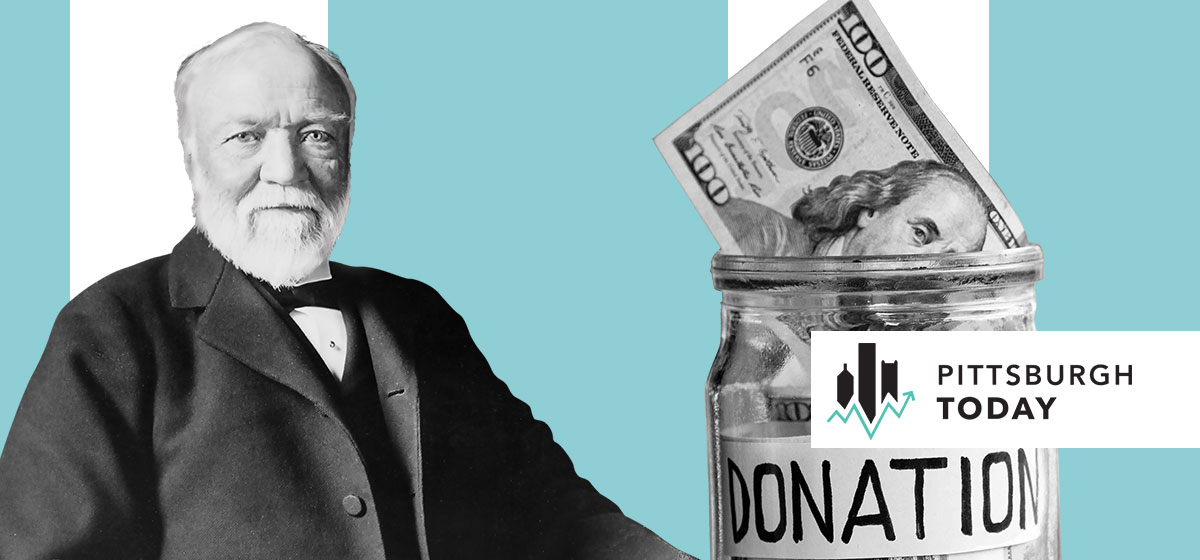 April 26, 2021
In 1889, Andrew Carnegie, whose immense wealth was earned along the banks of Pittsburgh's rivers, called upon his peers to direct their fortunes toward the public good. In "The Gospel of Wealth," he pitched "an ideal state, in which the surplus wealth of the few will become, in the best sense, the property of the many," and urged those with the means to create foundations to ensure philanthropy would have a lasting impact.

That lasting impact is paying dividends as southwestern Pennsylvania battles the COVID-19 pandemic. The region's foundations quickly responded with emergency relief and continuing support for the nonprofits doing the work.
Pittsburgh-based foundations have been in the middle of public crises before, including the collapse of the region's steel industry and the 2007–09 Great Recession. But this one is different, officials say. Never before have they been confronted with the one-two punch of a public health crisis and a sudden, deep economic recession that preys on the most vulnerable and threatens the financial stability of nonprofits whose work is vital to the region's quality of life.
"Even the Great Recession isn't analogous," said Grant Oliphant, president of The Heinz Endowments. "Although financial hardship is a common theme, it's important to see this as a singular event. We're seeing a scale of need that cuts across pretty much every area we fund and massive distress worse in some areas than others at a scale that is simply astronomical."
Urgent cry for help
The impact of the coronavirus pandemic was swift. The virus strained health care systems, laboratories and emergency responders soon after it arrived last March. Within a few months, recession had cost tens of thousands of people in the region their jobs, increasing the need for food, shelter and other basic necessities.
After the first few cases of COVID were confirmed, the Allegheny County Board of Public Health turned to the local foundations for help. "What happened at the beginning is emblematic of a special quality in Pittsburgh," said Lisa Schroeder, president and chief executive officer of The Pittsburgh Foundation. "When the board of public health was socked by the reality of what was facing them, they reached out to us and asked us to consider how we could help. We realized we had to set aside the things we were doing and come together, come in fast and come in strong."
Within days, The Pittsburgh Foundation, The Heinz Endowments, the Henry L. Hillman Foundation and the Richard King Mellon Foundation pooled $1 million to seed a new Emergency Action Fund to support government agencies, nonprofits and community health organizations providing public health and human service aid. "We knew that the resources of the public agencies were not going to be able to hit the ground fast enough," Schroeder said.
The fund has raised $9 million and has provided $4 million in grants so far to support frontline services and meet needs ranging from bolstering COVID testing and childcare for essential workers to helping the homeless weather the pandemic.
The impact was so sudden that foundations, which usually are very deliberate in researching the issues and organizations they fund, did not have the luxury of time to devote to such a process.
"At the beginning, there was so much need and there wasn't a lot of time to carefully review every organization and determine how bad it was," Sam Reiman, director of the Richard King Mellon Foundation said. "But we have a lot of data and we know what happens when you see this kind of economic stress. We were preparing for the very worst right out of the gate. We knew there would be issues around homelessness, hunger, domestic violence and around kids not being able to complete their education. We had to get out in front of that, open ourselves up to more partners and think creatively about how the recovery might look like on the other side of [the pandemic]."
At the same time the number of needy residents was increasing, many nonprofits were taking a financial beating. Some had years earlier shifted their funding model to rely more on fees charged for services, which the pandemic has made difficult to perform.
"When the Great Recession hit, a huge amount of revenue that was coming into the nonprofit sector was from government contracts and grants," said Diana Bucco, president of the Buhl Foundation. "Since then, a lot of nonprofits have gone to fee-for-service models. The problem is, during the pandemic, they haven't been able to do their services to get their fees. That has been a really painful moment."
A Hillman Family Foundation study last spring "projected a failure rate of nonprofits that was just frightening," Schroeder said.
In response, foundations have reevaluated how they work with nonprofits. "It's about funding, but it's also how we work with organizations: being more flexible, being more responsive," said Mary Phan-Gruber, chief executive officer at Jefferson Regional Foundation.
"One of the first things we all did was realize that expectations for existing grants needed to be revisited—expectations around deadlines, specific commitments," Oliphant said. "We recognized that all our grantees were transitioning into a different environment that was alien to all of us. They were crushed not only by financial expectations, but also by this shift of how to operate in this virtual environment.
"Many of us lifted our restrictions on grantees, let go of requirements on reporting, converted grants to general operating support and various things like that to make life easier for executives who are under incredible pressure."
The urgent need for emergency relief also confronted foundations with difficult decisions about what issues to address and which organizations to support with limited grant dollars.
"Each foundation has different levels of agility and appetite for changing their model," said Jen Giovannitti, president of the Claude Worthington Benedum Foundation, whose reach includes West Virginia. "The Benedum Foundation shifted a lot of our grantmaking into COVID and are going to continue to try to funnel that money into places where we think it'll have long-term positive impacts through education and health care. But, philanthropy can only do so much. So, we try to be that creative piece and try to leverage other dollars."
Foundations have paused or delayed funding for some nonprofits or programs they deem non-essential in light of the public health and economic crises. Youth enrichment programs are one example. Some foundations stopped awarding grants for capital improvements.
"We've reached out to them early," Bucco said. "We've said that we're going to take a pass this year. We have to respond to the needs of the pandemic. By giving sufficient notice, these nonprofits are able to anticipate and adapt. No nonprofit right now is worried about thriving. They're only worried about meeting the needs of their communities and surviving."
Hard hit
The pandemic almost immediately closed theaters, canceled concerts and darkened galleries, causing the region's arts organizations to suffer harsh economic consequences. For them, tickets and fees are important sources of revenue.
"The spring is a time when many arts groups get their subscriptions renewed, when they get the cash they need for the rest of the year," said Kathy Buechel, executive director of the Benter Foundation. "The pandemic hit them at that vulnerable time when people were not renewing and they had to cancel performances. It was a double whammy."
A group of 16 foundations and a private donor formed the COVID-19 Arts Working Group and a fund to help the arts through the crisis, particularly smaller organizations and those involved in marginalized communities. "I don't think we've seen a collaboration of this many partners working together," Buechel said. "The agencies running it are particularly close to communities of color and under-resourced groups. They helped build a bridge."
"Something that's changed in the past year is how foundations have been typically viewed as providing capital and nothing more," Reiman said. "I think we've all leaned on our networks in ways we haven't in the past to try and come up with solutions to the community. We're much more hands-on than I would've thought when this all started."
Pandemic and recession have also exacerbated deep-seated social problems that foundations were already aware of and addressing. In recent years, many local foundations had turned their attention to narrowing the wide disparities in income, education, justice and quality of life that separate races. Blacks and other people of color have been disproportionately affected by the harshest impacts of the virus and recession, data and surveys show.
"With racial justice, there's no vaccine," Phan-Gruber said. "That's a long-term investment. How do we think about that and respond to that in new ways?"
One approach being explored is to build the capacity of institutions and organizations to be able to promote racial equity on their own. "What does it mean to be an antiracist organization?" said Gregg Behr, executive director of the Grable Foundation. "Schools and other organizations are navigating that now, which is a difficult matter. Looking ahead, we have to make sure there is a system in place for them to address this."
Looking forward
From the early weeks of the pandemic, local foundations have coordinated relief efforts with local government, including the Allegheny County Health Department and Department of Human Services, and the Allegheny Regional Asset District, which allocates revenue from a special sales tax to help support museums, libraries, arts organizations, parks and other amenities that enrich the region.
And they expect to keep doing so. "I think we will continue to look for those niche opportunities where we can work with others to pool our resources together and increase our impact that way," Buechel said. "This next year is a testing of the fortitude to give flexible spending, to give generously, to listen and learn and meet people where they are."
Uncertainty over how long the pandemic will remain a public health threat and how much more economic harm it will cause have raised concern among foundation officials over the fate of local nonprofits. "Every organization we have talked to has said their biggest fear is the next fiscal year," Bucco said.
Meanwhile, foundations find themselves balancing their response to the coronavirus crisis with preparing for unknown circumstances that await them after it passes. "All of us are doing the work that we're doing [around the pandemic], but also thinking about what the next 10-plus years look like in the region," said David Roger, president of Hillman Family Foundations, which was one of several foundations that were in the middle of strategic planning when the pandemic struck.
At The Pittsburgh Foundation, strategic planning delayed by the COVID outbreak picked up again in January with the benefit of lessons learned during the pandemic year. "What spontaneously happened was a very deep dive around issues of racial injustice and fighting for racial equity, without the framework of a strategic planning process," Schroeder said. "We're all thinking about strategy in a very different way."
One lesson from past crises is the importance of the foundation community's resiliency as a partner to lend support to recovery efforts—that however serious the emergency, it is critical to keep an eye on the road ahead. "There's a sensibility that comes up every time there is a crisis that every foundation should be spent out of existence immediately to respond to that crisis," Oliphant said. "If we had done that around the collapse of the steel industry, you'd be talking to an empty room right now. The importance is that these institutions continue and that they continue to provide resources to the community."