A Seismic Shift in Higher Ed
Colleges and universities were already stressed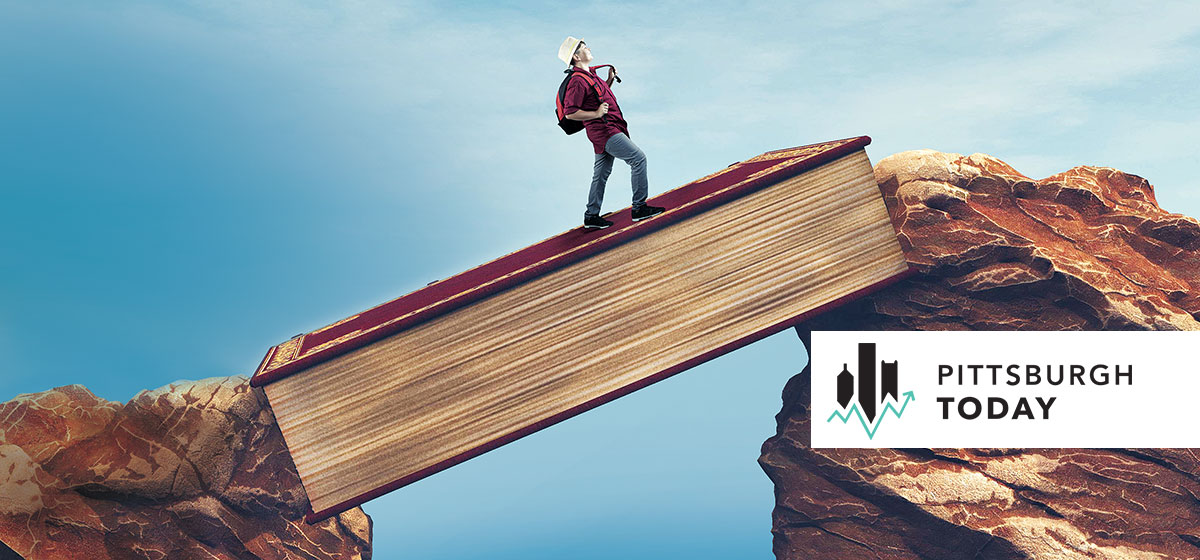 May 10, 2021
Between declining enrollment, rising costs and at least one more pandemic-disrupted semester, Pittsburgh's colleges and universities are facing 2021 budget shortfalls that may impact this mainstay sector of the regional economy for generations to come.

Though often hailed as a bright spot in western Pennsylvania's relatively moribund economy, the higher education sector—locally and nationally—was already confronting significant financial and demographic challenges that COVID-19 exacerbated.
"The number of traditional age college students in Pennsylvania has been declining for several years now," said Drew Wilson, director of media relations at Carlow University. "There is a dramatic reduction in the number of high school students coming in 2025. So much so that it is referred to as 'the cliff' in higher education circles. The cliff was going to affect higher education whether or not the pandemic occurred."
More recently, the Trump administration's immigration policies led to a steep drop-off in the number of international students completing their education in the United States. Foreign pupils are ineligible for much of the financial aid available to their local classmates, and typically pay the full cost of their tuition. For many schools, international students are a critical source of revenue. As Mike Hansen, director and chair of the Brown Center on Education Policy at the Brookings Institution, said, "Essentially they are subsidizing the other students."
Public universities faced further strain due to dwindling investments from state legislatures. "[Pennsylvania ranks] near the bottom of the United States when it comes to public investment in public higher education," said David Pidgeon, director of public relations for the Pennsylvania State System of Higher Education.
As competition increased and revenues shrunk, students at both private and public schools were increasingly asked to shoulder the extra costs. A study from US News and World Report found that tuition rates at private universities had increased by 144 percent from 2000 to 2020. For public universities, out-of-state tuition rose 165 percent while in-state tuition rose 212 percent.
Ten years ago, students in Pennsylvania's state university system paid an average of $6,800 less in yearly tuition than students in state-related institutions, such as Pitt and Penn State, and $8,800 less than their counterparts in private colleges, according to the Pennsylvania System of Higher Ed. As of 2017, however, those differences dropped to $2,200 and $2,800, respectively.
As Pidgeon said, "Over the last 10 years, unfortunately, the affordability edge that we once enjoyed in this competitive market has shrunk."
Punishing pandemic policies
Some of the region's leading universities reported steep financial losses over the last year, as their campuses cleared out and course offering lurched online.
"For the 2019–20 fiscal year, the university lost an estimated $28 million in revenues largely due to refunds on housing and dining as well as revenue loss in other auxiliary services," said Julianne Mattera, a Carnegie Mellon University spokesperson. CMU's revised 2020–21 budget now expects a 10 percent overall revenue decline ($116 million) and a 7 percent cut in operating expenses ($91 million). Even with the loss of many international students, however, CMU experienced a slight increase in undergraduate enrollment in the fall.
The University of Pittsburgh lost $50 million in revenues between March and June 2020 alone. "While there are still uncertainties in fiscal year 2021, the university has budgeted approximately $90–$130 million as a result of COVID-19 costs and lost revenues," said Pitt Communication Manager Kevin Zwick. Fall term enrollment dropped by less than 2 percent, he said, but overall undergraduate enrollment has remained steady, despite a decline in international students.
At Chatham University, because of support from the federal CARES act, a hiring freeze and a pause on major capital projects, "we ended our fiscal year this summer with a net cash flow budget that was above break even," said Vice President of Marketing and Communications Bill Campbell. "We did experience a slight decline in enrollment for fall 2020. But we were anticipating this due to a record size undergraduate class the previous year as we received a large number of students from a transfer agreement with Green Mountain College in Vermont that was closing."
While Point Park University also confirmed a drop in overall enrollment, the Community College of Allegheny County saw increases in both distance education (up 25 percent) and visiting students (up 6.5 percent).
The 14-school Pennsylvania University system estimated that during the 2019–20 academic year, COVID-19 cost the system $103 million. For 2020–21, the system expects pandemic-related costs to reach $100 million. Across the system, enrollment is down 2.7 percent.
Within the state system, COVID accelerated large-scale reforms that were already under way. In February 2020, Chancellor Dan Greenstein issued a directive for every school in the system to draft a plan for how they could become financially sustainable within five years. In April, with the pandemic in full swing, Greenstein shortened the timeline to three years.
"A lot of the challenges that we were confronting, in terms of enrollment and financial security, predate the pandemic," Pidgeon said. "It certainly further agitated the challenge we had."
In July, Greenstein's office announced a sweeping reorganization plan that could effectively merge six of the state's 14 universities, including combining Clarion, Edinboro and California University of Pennsylvania into one entity. Indiana University of Pennsylvania also has announced significant restructuring after its enrollment has fallen 33 percent in the last decade.
As Hansen from Brookings said, "Very few colleges are getting out of this unscathed."