What Cork?
Don't be scared off by screwtops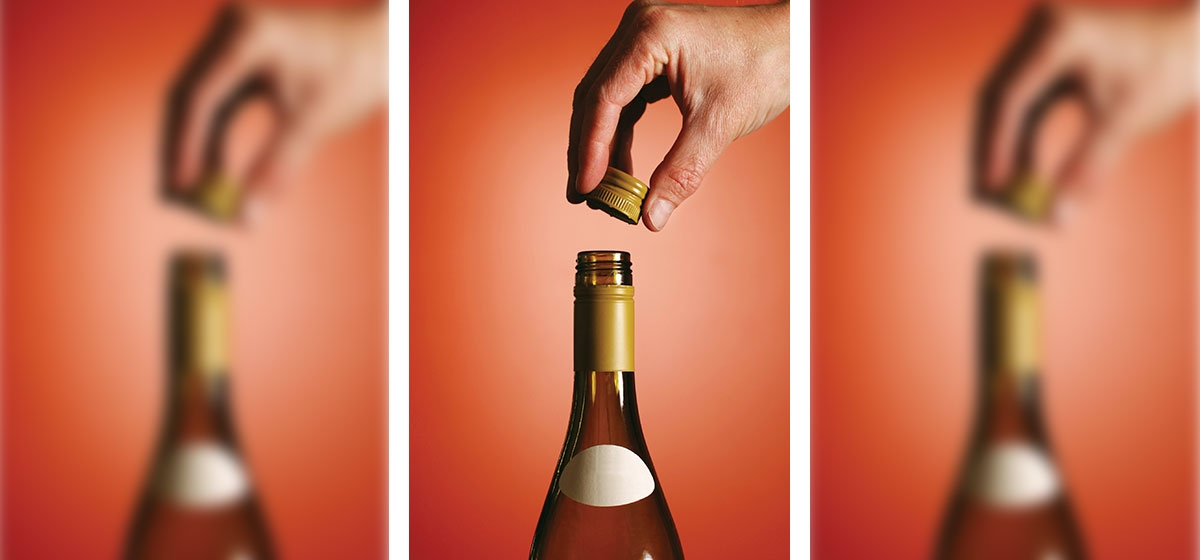 August 20, 2009
Patrons who arrive at our restaurant after dark, or are focused on prime rib, may not notice the unusual mulch out front. It's cork, or more specifically, corks, from the dozens of wine bottles we open every night.

These souvenirs of pinot noirs and viogniers gone by rest at the base of our birches, over time crumbling and degrading and returning to the soil. That's some classy mulch, huh?
Uncorking a bottle of wine is a terrific ritual, filled with anticipation and theater. But I can't get too excited when people complain about screwtops and other non-traditional closures replacing corks in fine wine. They look cheap, people say. There's no romance in a metal twist-off top.
Well, maybe. But the very quality that makes cork suitable for my garden—biodegradability—makes it a poor choice for sealing up wine. So I'm happy to see increasing numbers of vintners bottling wines with screwtops.
Wine sealed with cork is vulnerable to two problems. First, it can become "corked," which means organic material in the cork has reacted to the presence of chlorine, typically from cleaning or sterilizing solutions used in the winery or even in the cork's manufacture. The resulting chemical, 2,4,6-trichloroanisole, or TCA, can render wine as stinky as a wet basement, and give it nasty chemical or garlicky flavors. Second, wine can oxidize—lose flavor and turn brownish—when air gets around a dried-out or misshapen cork and into the bottle. Trust me, you don't want your wine to breathe until you're ready to drink it. The cork people—who, to their credit, are working to improve this ancient product for the modern market— estimate 1 to 2 percent of wines bottled with corks end up… corked. The Wine Spectator has reported a figure as high as 15 percent.
It happens to the best of wines—literally. This past summer, when I judged wines for the California State Fair, a sparkling brut rosé came out corked. The judges called for a new bottle, and once we tasted the wine the way it was meant to be, we voted it Best in Show.
Harry Peterson-Nedry, of Oregon's Chehalem Wines, has experimented with different closures since 1993, and said screwtops "were an improvement for the varieties we produce, preserving the fruit that drives them and keeping both oxidation and TCA at bay." Starting with the 2008 vintage, all Chehalem's wines will have screwtops.
More winemakers are reaching Harry's conclusion. In "To Cork or Not to Cork: Tradition, Romance, Science and the Battle for the Wine Bottle," George M. Taber notes that in 2006, a year in which 20 billion bottles of wine were produced, 80 percent, or 16 billion bottles, were sealed with natural cork. Some 8.5 percent, or 1.5 billion bottles, were sealed with screwtops. The rest had synthetic corks made of plastic or, in the newest experiment to watch, glass.
The new-world winemakers of Australia and New Zealand lead the way, with 50 and 95 percent of their bottles, respectively, screw-topped. Mario Mazza, who studied at Australia's University of Adelaide, came home to Lake Erie's Mazza Vineyards and convinced his family to go with screwtops. Mazza Vidal Blanc ($7.49 at Pennsylvania Wine & Spirits stores) is a favorite at our restaurant.
Why be snobby about screwtops when, with a twist of the wrist, they open such good wines? Try Conundrum, a California blend of sauvignon blanc, chardonnay and other grapes ($24.99), or the excellent Montes wines from Chile.
Wines from California's Bonny Doon Vineyards—whose leader, Randall Grahm, has been a colorful advocate for screwtops—are reliably good. Bonny Doon's Pacific Rim Riesling ($11.99) is a regular item in Wine & Spirits stores; their unusual varietals such as muscat, viognier and albarino regularly pop up in Premium Collection stores.
Even at the very highest end, some cult winemakers are bold enough to put screwtops on their wines. I hope they'll inspire more. Because when you tuck PlumpJack Cabernet Sauvignon Reserve ($254.99) into your picnic basket, isn't it nice not to have to worry about bringing a corkscrew?