Valliant's Diner
Breakfast, lunch and a touch of magic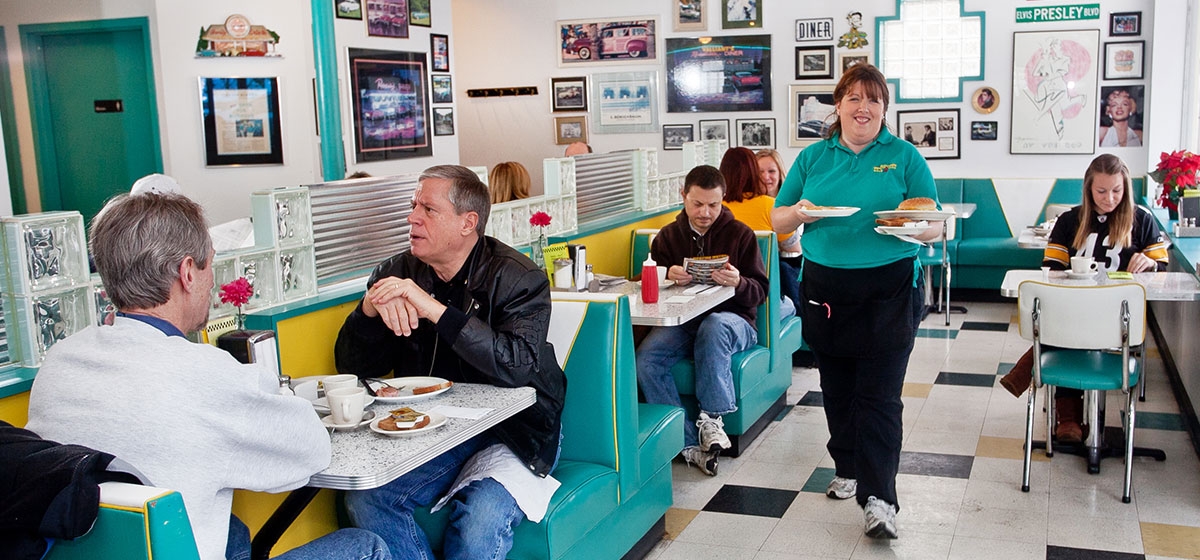 February 17, 2011
Pete Valliant arrived in America in 1950 with $20 in his pocket, no English, and a vague notion that he had relatives near Pittsburgh. The Greek merchant sea captain thought he would give the mainland a try, leaving behind his island home on Cephalonia, where Louis de Bernières set his 1994 novel, "Captain Corelli's Mandolin."
In the novel, Italian army captain Antonio Corelli falls in love with the daughter of the island's doctor and is transformed. In Pittsburgh, Pete met Helen Kastanis, daughter of a restaurateur, at a Greek church dance. They courted and married, and like Corelli, Pete then lived a changed life, all for love.
The couple quickly set up a little lunch counter under some steps inside the Pennsylvania Railroad terminal on Smallman Street, working side-by-side from that point on. And when they found a house on Babcock Boulevard in Ross, they moved in with their son and daughter, built a diner onto the front of it, and opened for business in 1968.
Their son Gerri took over in 1995 and now commands the griddle as if he is steering one of his father's old ships. Mom has passed on, but Pete still works behind the counter, makes fresh soup daily, and banters with old friends and new. The crowd is a mix of texting teenagers, retirees and everything in between.
Every Thursday, a freshly roasted turkey is sliced at the counter; on Fridays Gerri will carve a baked ham from the shank, and just about everything you order is made right in front of you every day. Once open for dinner, Valliant's is now a breakfast and lunch joint, with a true Pittsburgh menu.
For $4 or less you can enjoy a Greek gyro, a Philly cheese-steak, grilled kielbasa, corned beef on Jewish rye, or a fried bologna, egg and cheese sandwich. Burgers are a half-pound of grilled sirloin for around $5. Grilled cheese, a bowl of soup and hot dogs are just over two bucks, and a quick breakfast of two eggs and toast is $2.25.
Choose buttermilk or blueberry pancakes or French toast for $3.25 and add ham, bacon or sausage to any order for $2.75. Omelets range from $4.25 to $6. Valliant's is one of those few places left where you can get good, fresh food for not a lot of money.
Check out the photos, knickknacks and posters on the walls, and it is clear that this is a second home to the many patrons who have contributed to the collection. It might be a Little League team picture, a Marilyn Monroe poster, or anything that folks can bring from home that makes this more than just another diner.
And ask Gerri about the mysterious die-cast model car collection. It was started long ago by a regular patron with the gift of just one, but it continued to grow as other patrons spontaneously added to it. A while back, for about a year, Gerri would find new little cars as he was cleaning up, each half-hidden by an anonymous donor, each awaiting discovery.
There is a little bit of magic here, and maybe Bernière's fictional island doctor explained it while describing the nature of love to his daughter, saying, "You have to work out whether your roots have become so entwined together that it is inconceivable that you should ever part." Helen and Pete worked that out, and that is how they came to build their diner.
But even if you do not believe in magic, you could embrace the simple philosophy of Corelli, who proclaimed, "I have always found something in life worth singing about, and for that I cannot apologize." And if you are looking for something to sing about, grab a bite at Valliant's Diner.