Mateo's
Small and special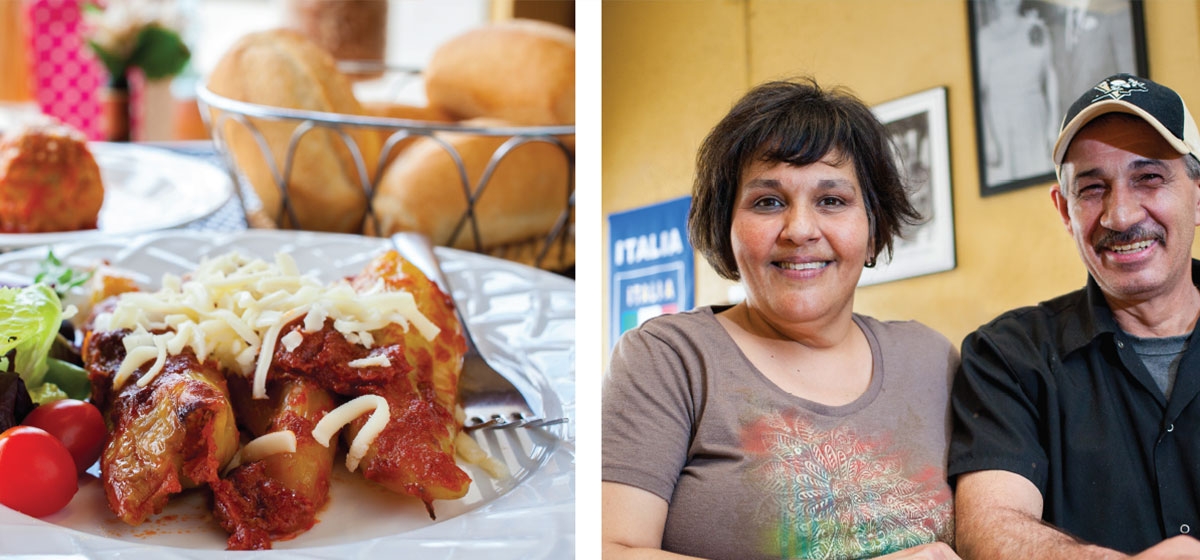 May 20, 2013
Grandson Mateo, now 8 years old, was a newborn when Franco and Lisa Gualtieri started cooking real Italian food in a small kitchen for pickup and delivery. When Mateo was 4, his grandparents opened the tiny restaurant they now operate on Brookline Boulevard and named it after him.

Easy to pass before turning around, the space is 14 feet wide, and the seating area is about twice that distance deep. There are eight tables, including a couple of wrought iron numbers, and 18 diners fill the house. For parties, usually on Mondays when the restaurant is closed, no more than 25 can dine.
A collection of mementos are scattered on the walls—nothing in English—a soccer banner, a calendar and a few family photos. One with Lisa's Uncle Lou and legendary boxer Rocky Marciano gets special note, but the main event is the portrait of Salvatore and Giuseppina Guarino, Lisa's grandparents and the benefactors of the family recipes.
Franco was about Mateo's age now when he started working at his family's trattoria in Catanzaro, Italy, and he has been cooking as long as he can remember. He courted Lisa in Calabria and followed her home to Pittsburgh, where they married, raising their family in Brookline. He worked construction as necessary, but the man seems born to cook.
Most times, except for the busiest, Franco scribbles your order on a pad, hustles through the open pantry to the kitchen in the back and emerges a little later with your meal, piping hot. On weekends there is an additional server, and you catch glimpses of Franco and Lisa, mostly ensconced in the kitchen.
Mateo's is a "red sauce" joint, revered by Italian Americans who spent Sundays at their nonna's house, savoring the aromas as she nudged the flavor out of the humble tomato. Here, the sauce is made fresh every morning, neither thin nor chunky, just the right partner for al dente pasta. As Franco says, "You have to know how to work the tomato."
There are nearly a dozen chalkboard specials, including a killer eggplant parmigiana, but mostly pastas, including red or white clam sauces, bistecca sauce, aglio e olio and marinara. These are joined by gnocchi, lasagna, ravioli and tortellini on the regular menu, most for less than 10 bucks.
Other main dishes include chicken parmigiana or stuffed banana peppers, each served with pasta and fresh Italian bread, for $12.50. An array of panini includes steak pizzaiolo, steak & cheese, and sausage, all on 9-inch rolls, for $7.95. And while the instinct is to jump straight to the main items, there are starters not to be missed.
A bowl of wedding soup, minestrone, pasta e fagioli or tortellini in brodo is under $5, likewise for a cup of greens and beans. A fresh salad of mixed greens is a little less. A Calabrese specialty, zucchini pancakes, just might be the star, for $5.50.
And if red sauce is the queen of Mateo's, the meatball, the measure of Italian home cooking, is king. Here, it is a main dish, a side dish or a sandwich. "The best in town," is Franco's meatball mantra, to which a Mateo's regular patron recently retorted, "No. Not the best in town. The best in the country."
Intimate by necessity, Mateo's is easy, and even BYOB is a breeze, with the liquor store two doors away and several nearby taverns for beer. Take a seat, ponder the menu, mix it up a little with Franco, place your order and wait to be satisfied. As Lisa says, "We're small in space, but mighty in taste."
And when you occasionally look up from your plate, you are likely to connect with another diner, a stranger but for Mateo's, who smiles, as if to say, "So… you know about this place, too."