Millvale's Grant Bar
From prime rib to pie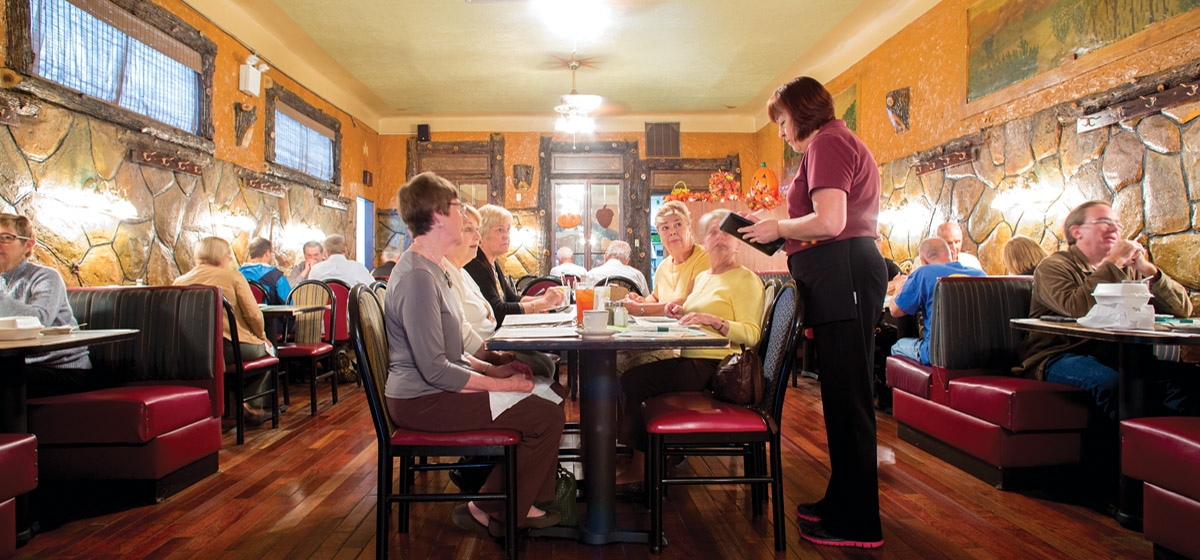 November 20, 2015
Amidst the worldly comings and goings, observe how endings become beginnings," says the Tao Te Ching, the Chinese book of philosophy and religion from 6th century BC.
Despite the separation of millennia, the ancient author could have been inspired by the comings and goings at Grant Bar in Millvale. Since 1933, Frank Ruzomberka and his family have operated this neighborhood joint through good times and tough times, and the endings have all become new beginnings.
Grant Bar opened as a mill worker joint in the thick of the Great Depression, inauspicious timing for any new venture. The mainstay was cold beer and harsh whiskey for men who were numb to the bone from 12-hour shifts. But even then, it was known for great food.
"Our mother did all the cooking upstairs in our family kitchen," Frank says. "And Dad always had a whole ham and a top round on stands behind the bar."
Thanks to Frank, that fine-food tradition endures. He started as a boy, sweeping the sawdust floors before the bar opened for the day, and rose to be named the 1986 Chef of the Year by the Pittsburgh Chefs Association. At 82, he still runs the kitchen.
Everybody knows a place that makes the very best of one thing, but Grant Bar has a menu full of universal favorites, recipes refined and tweaked by Frank, until he was satisfied that he "got it." These are special dishes that keep regulars coming back from miles around.
The jumbo gulf shrimp are butterflied and breaded when ordered, and then fried to a golden brown. Fresh, crisp and tender, they are available as an entree and a la carte.
Black Angus top sirloin steak is "steeped in a special marinade then charbroiled to give it a unique flavor of its own." Grant Bar "Surf & Turf" combines 4 ounces of this marinated steak with three fried shrimp.
Pork chops come two ways—charbroiled or lightly breaded and fried. Baked Amish ham is grilled "just until crisp around the edges." And baby beef liver is still done right, smothered with tender fried onions, and served with bacon.
Prime rib is a regular special on Saturday nights. It is roasted in a special oven that Frank spent a king's ransom on decades ago because it was the only way to do it perfectly—well-done around the edge and medium rare all the way through.
There are several chicken dishes, broiled and fried seafood platters, a New York Strip, Cod Almondine and other seafood entrees. Sides always include real mashed potatoes and a fresh vegetable.
The lunch menu, also done to Frank's exacting standards, includes "The Grant Bar Club," grilled or breaded chicken breast sandwiches, charbroiled hamburgers, both cod and perch sandwiches, reubens, a grilled portobello sandwich and an eggplant parmesan sandwich.
As for those endings that became beginnings, Frank remembers the close calls. When his father died young, it seemed like the end. But his mother began again and saved the bar with the help of his four older brothers.
When World War II began, all four brothers enlisted, leaving the bar for the battlefields. Again, Mom started over, hiring help and squeaking by until the boys returned.
In 2004, Hurricane Ivan hit Millvale so hard that it surely should have been the end of Grant Bar. There was water halfway up the walls, but when Frank arrived to assess the damage, his employees were already there to start rebuilding. It was another new beginning.
The old Taoist maxim has even worked its way into the hearts of Frank's customers. Some years back, he added pies for dessert—Dutch apple, pumpkin, coconut, banana, chocolate and lemon cream. Grant Bar is now famous for them. They are made fresh daily, in limited numbers, and they always sell out.
Because of this, some customers take the end of the meal and make it the beginning. They eat their pie first; it is that good. In the Ruzomberka tradition, endings always seem to become beginnings.