The Bigham Tavern
Mount Washington hot spot since 1910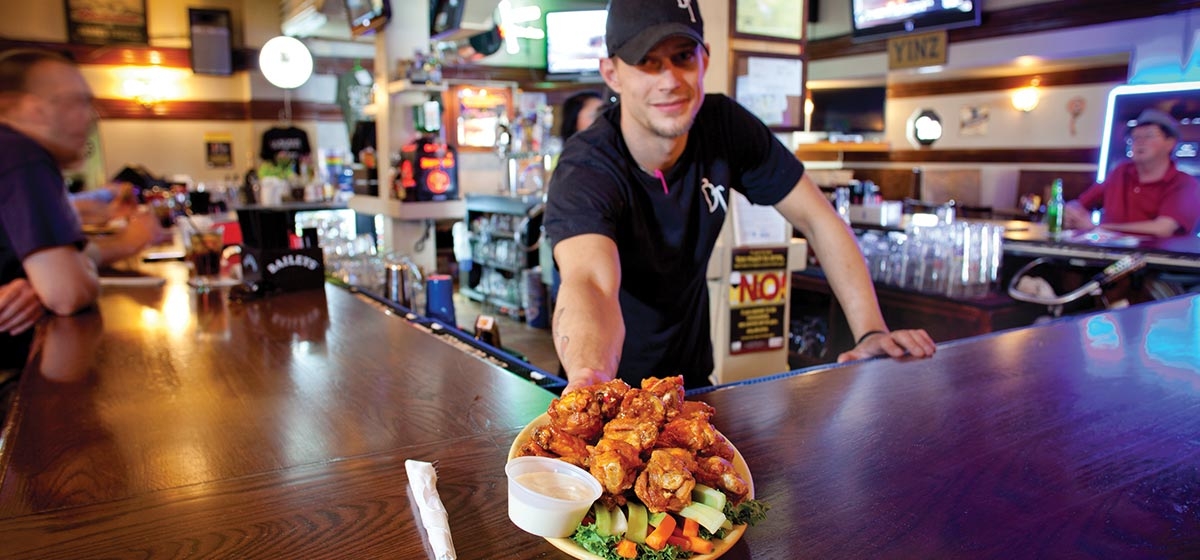 August 30, 2012
In the early 20th century, weary men from Mount Washington finished their factory shifts on the banks of Pittsburgh's three rivers and ascended the sharp cliff to Grandview Avenue on several inclines, disappearing above the cacophony and grime.

Their throats were parched and burned from the dense smoke that led James Parton to describe Pittsburgh as "Hell with the lid off" in 1868. And while the robber barons considered the workers just one more raw material that went into steel, immigrant families were quietly proud, working swing shifts and 12-hour days.
They mostly lived on the back of the cliff, in a real neighborhood, shielded from the city, easily the better view in those days. Free time was scarce, but they made the most of it, seeking relief, maybe a cold beer or a whiskey, and camaraderie.
Since 1910, that has meant dropping by the Bigham Tavern. It is the kind of joint Samuel Johnson, the 19th-century man of letters, was talking about when he said, "There is nothing which has yet been contrived by man, by which so much happiness is produced as by a good tavern."
And the Bigham Tavern is a good one. An easy stroll for many patrons, it has changed owners a few times, even its name for a short stretch, but this latest chapter is a true Pittsburgh story, wrought from energy, tenacity and rebirth.
A modern Pittsburgh neighborhood joint, the walls are adorned with flat screen televisions, and any local team will have fans crowded around the bar and squeezed into booths in the dining room. Game or not, you can shoot pool or throw darts in the back room, listen to the great jukebox or relax on the new patio, where dining al fresco is under clear skies these days.
Here, the wing is king, and the tavern's signature wings, in over 30 flavors, are only 44 cents on Wednesday wing nights and during Steeler and Penguin games. "We don't even make money on these bad boys, we just want to see your happy lil' faces," according to the tavern's website.
Great bar food, like nachos, fresh-cut fries, soft pretzels, Southern-style chicken strips, burgers and hoagies are done with care, and a solid meal can be had for under $10. There are also daily dinner specials like General Tso's chicken with fried rice, baked farfalle with meat or marinara sauce and stuffed peppers with garlic bread, ranging from $10–$14.
Choose from over 100 bottled and draft beers, all good and cold, with an emphasis on local brews. The tavern embraces its reverence for beer as a homage to Ben Franklin's declaration that "Beer is proof that God loves us and wants us to be happy."
The reborn tavern is the mission of two couples, Jessica Lazor and Joe Rewis, and Amelia Barber and Bradley Yoder. The guys are pals from Duquesne Law School, while Jessica and Amelia worked together in the hospitality industry. Their friend and contractor Terry Malsch completes the group, Pittsburghers all.
The motto of the Bigham Tavern espouses a simple formula that has worked for over 100 years: Good Friends, Good Food, Cold Beer. Surely Thomas Bigham, the 19th century lawyer and abolitionist known as the "Sage of Mount Washington," would wisely recommend a pleasant respite at the tavern that bears his name.
Pittsburgh's past is only a memory now, gleaned from old photos and stories retold several times. But for a glimpse of Pittsburgh's present and future, climb Mount Washington, slip down over the back of the hill, take a break from your daily labor and have a bite and a cold one in a place where the old spirit is new again.