The shrine on Troy Hill
5,000 Christian relics draw pilgrims and visitors
photo: courtesy of St. Anthony Chapel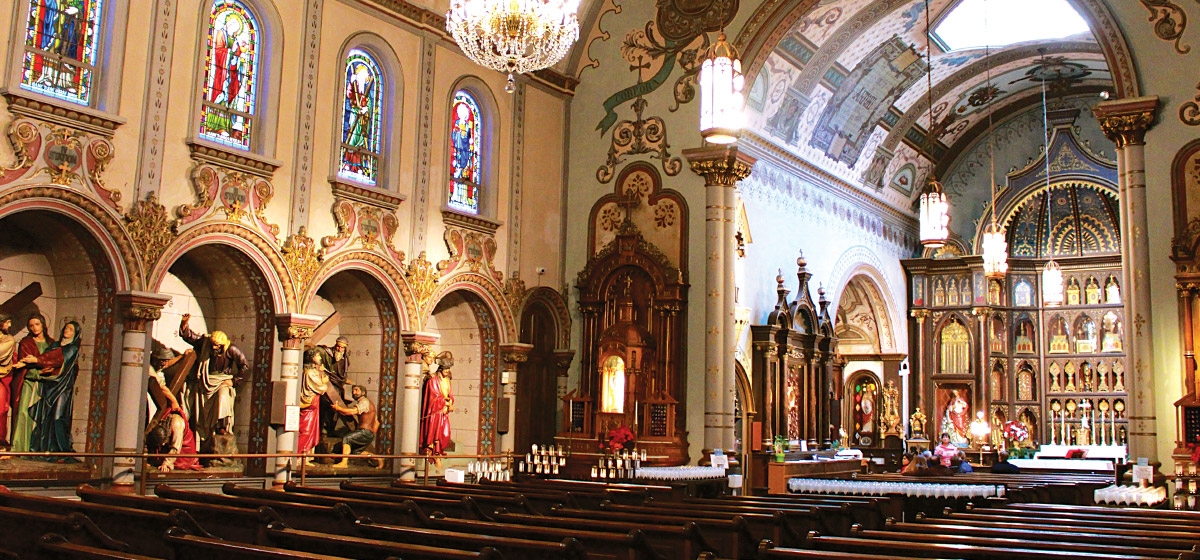 November 21, 2015
The story of how St. Anthony Chapel in Troy Hill came to house the largest collection of Christian relics outside of the Vatican begins in the 1850s with a young man from a wealthy Belgian family.
After attending medical school, Suitbert Mollinger became a Catholic priest who followed his vocation to America. By 1868, he became the first pastor of Troy Hill's Most Holy Name Parish. When parishioners couldn't afford a chapel to display his collection of relics, Father Mollinger used his personal fortune, spending an estimated $300,000 (about $6 million in today's dollars) to complete the Romanesque St. Anthony Chapel in 1883.
Father Mollinger became well known in Pittsburgh, providing spiritual healing and, with his medical training, physical healing. So many people came that the Troy Hill trolley was dubbed "the ambulance," and every year on the Feast Day of St. Anthony, up to 20,000 pilgrims lined up to see him.
In 1892, he completed a large addition to the chapel in order to display life-sized linden wood Stations of the Cross, an organ and exquisite stained glass windows, all commissioned in Europe. But the day the addition was dedicated, Father Mollinger became ill. He died two days later.
Upon his death, the Diocese of Pittsburgh bought the chapel from Mollinger's heirs for $30,000, a sum that was repaid by the parishioners of Most Holy Name, which today maintains St. Anthony wholly by donations.
"During the early 300s, St. Helena, mother of the Emperor Constantine, traveled to the Holy Land seeking Christian relics."
Now, visitors come from all over the world to see the chapel and its estimated 5,000 relics, which claim a range that is spectacular to some and unbelievable to others.
Relics are the physical remains or objects generally connected with people of religious significance. Christianity, Hinduism, Buddhism and Islam are among the religions that recognize these tangible objects, which are revered by their followers.
The most venerated relic at the chapel is a tooth of St. Anthony of Padua, the chapel's patron saint. Relics that pilgrims believe are associated with Jesus include: 22 pieces of the true cross, a thorn from the crown of thorns, a piece of the manger, a piece of Mary's veil, a piece of the Holy Sepulcher, relics from the three kings and more. There are reliquaries that purport to hold a piece of bone for the patron saint for each day of the year, and one with a bone chip from all 12 Apostles. There are skulls, a full skeleton and relics of hundreds of saints. And St. Anthony's altar also is reputed to contain wood from the table used at the Last Supper.
During the early 300s, St. Helena, mother of the Emperor Constantine, traveled to the Holy Land seeking Christian relics. She collected numerous items, including the cross, which Church hierarchy verified, though this is obviously a matter of faith.
Such Christian relics became highly prized among European churches. They inspired devotion, and pilgrims travelled to pray before them. Relics were generally put into ornate reliquaries of gold, ivory and wood, embellished with precious stones.
In the late 1700s through the mid-1800s as Europe became more secular and Papal control diminished, Catholics often were persecuted and their relics destroyed. To protect them, churches and private owners hid relics or sent them to other countries for safekeeping, which is how Father Mollinger accrued his vast collection.
For many Catholics and pilgrims, St. Anthony abounds with spiritual significance. The daily Masses and Tuesday evening Benediction and Novena to St. Anthony provide formal worship opportunities. But visitors also come for its historic and artistic significance. Created when the most highly skilled artisans created primarily religious pieces, the reliquaries were wrought with astounding detail.
Across the street is a building with a gift shop and museum on the life and works of Father Mollinger. Donations from visitors, along with tours and store profits fully fund the chapel's maintenance.