Torpedoes to Aquaponics
New life for a gigantic old Westinghouse plant in Sharon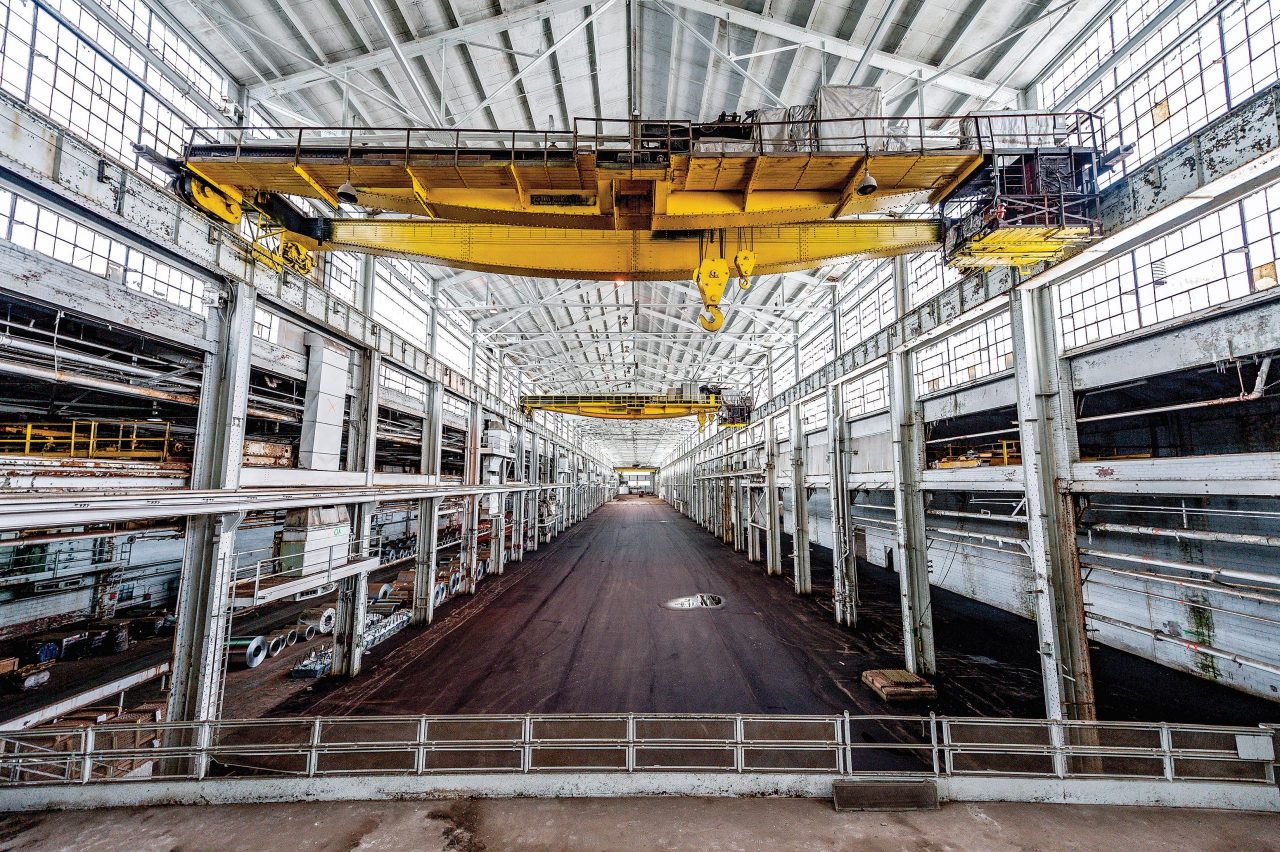 February 14, 2022
They called Rhonda Jordan's dad lucky lee because he caught shrapnel just hairs away from his carotid artery over in Europe. While he was fighting the Germans, his wife was one of thousands of women who put away their heels and aprons for work in the massive Westinghouse factory in Sharon, Pennsylvania.

You could say "everyone" worked in the plant in one form or another, contributing to the war effort. This output fueled life in Shenango Valley towns like Sharon, Greenville, Sharpsville, Transfer, Hermitage and others, making them beacons of opportunity. Folks from all over the state moved up to take jobs. Communally, they were close-knit and surprisingly integrated for the times. Overall, people were on the same page.
It's hard to imagine. In today's digitized, divided, ephemeral world, where things are made, traded, sold, created, and stored in seemingly invisible pockets of human-made clouds, it's nearly inconceivable to imagine a business occupying 58 acres of physical space in the middle of a town. But from 1922 to 1984, the behemoth Westinghouse Sharon Transformer Plant pulsated with 1.4 million square feet of life along North Sharpsville Road in Sharon. Located several blocks from the Ohio border and 75 miles northwest of Pittsburgh, the place is as magnificent a tribute to the way we were in this rust belt as any other bygone factories that are part of our region's fabric.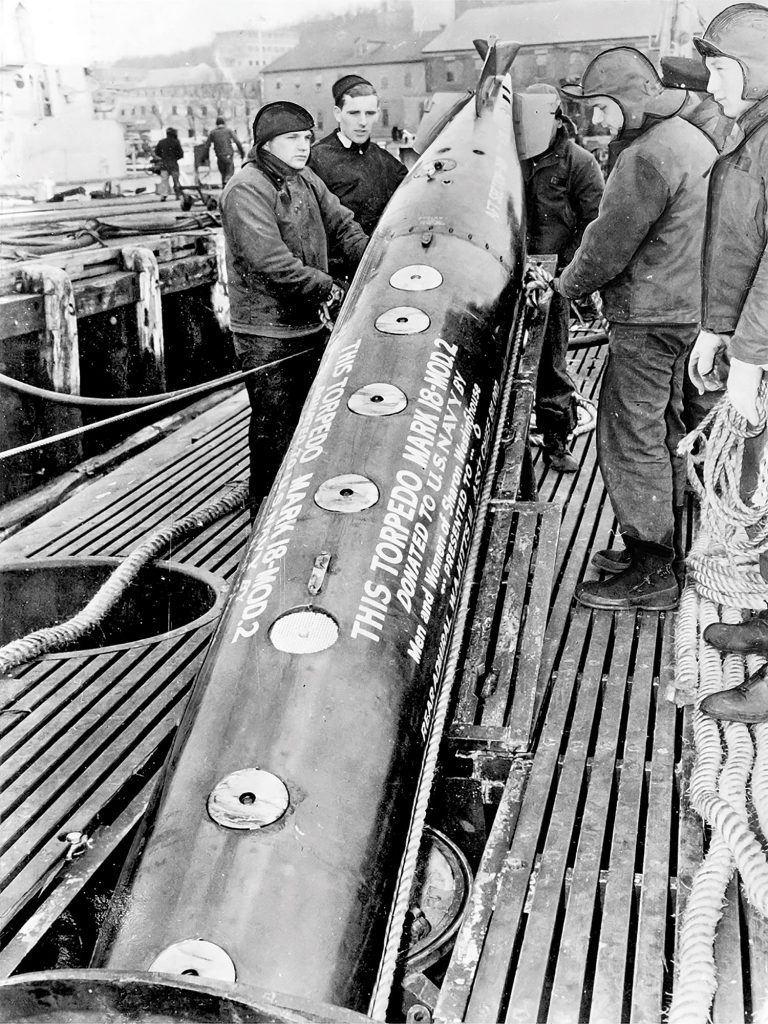 At its peak, more than 10,000 men and women streamed in and out of its guts, lunch pails or briefcases in hand. An entire ecosystem grew from the plant — from company-built barracks for GIs leaving to fight and later to house them, to the fleets of "Victory Buses" that got women from pick-up spots to the plant. Jordan, 73, recalls her mother (Lucky Lee's wife) telling her she and other women frequently had to hitchhike part of the return trip home because gas was rationed.

There was so much news in the world and their microcosm of it, that Westinghouse produced a company newspaper, The Victory News, in partnership with the local Record Argus paper in Greenville.

Donald Sebastian, 90, sold The Pittsburgh Post-Gazette and the Cleveland Plain Dealer in front of the plant during the war. "I was in junior high school. I started at 7:30 in the morning to catch the day turn coming in and the night turn coming out. The papers were four cents. Most of the guys were good sports and gave me a nickel for 'em without asking for change." Years later, Sebastian would take a summer job as a sweeper in the machine shop of section E-10. His brother worked there too, as a draftsman.

The Sharon Historical Society maintains a Facebook page dedicated to the plant and all who have a connection there. Frequent posts illustrate how vibrant and important a place it was to area residents. More than a few people post about how their parents met there. Whole families proudly went to work their entire adult lives at the plant.
"My father was an employee. We used to go to Christmas parties in one of the plants at the auditorium; the other was conducted by the union at the union hall. Everyone went. The company's summer gathering at Conneaut Lake Park was the highlight of the year. My dad actually did not want to retire; he loved the place so much."

The Westinghouse plant saw many iterations of mechanical production over the years but was always a community anchor of hard work and productivity. Until it wasn't. When the last door clicked shut in 1985, the remaining 600 people were out of a job at the end of an era.

CLOSING, EBBING, FLOWING

It's utterly awe-inspiring to stand in the simultaneously wide-open and labyrinthine vacancy of an old manufacturing plant. Much like the submarine that is shrunken to microscopic size and injected into the bloodstream of a scientist in "The Fantastic Voyage," walking around the place is like a fever dream. Even weirder is coming upon abandoned offices winding through the intestines of the place. One spot still has stacks of invoices on a filing cabinet. In a salvager's ideal find, an old drafting cabinet, there are neat stacks of hand-drawn engineer's renderings of torpedo parts.

Why the office items were left behind and not destroyed or packed up is anyone's guess. When initial crews started cleaning the place foot by foot, developers say the office walls were avocado with orange shag rug everywhere. "It really was a time capsule when we found it," says Clancy Atkinson of Hemlock Wealth Management and chairman of the Valley Shenango Economic Development Corporation, a key player in attempts to revitalize the plant.

Time clocks for punching in still hang on the walls and a tattered sign reads: "Don't put coffee grounds down the water fountain."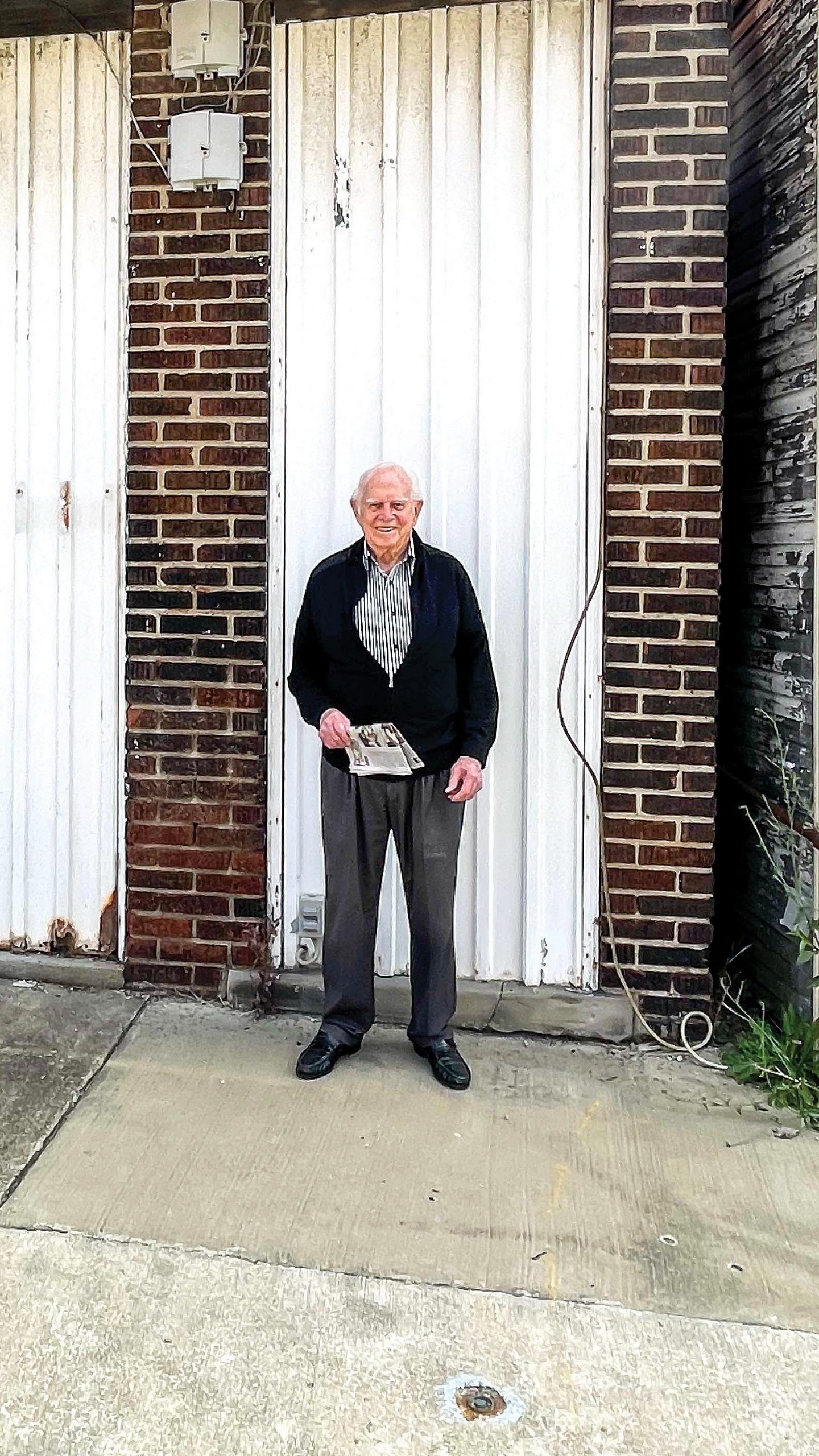 Certainly nothing was stashed away to hide. An accounting ledger stares open at the ceiling, its last transcription documenting a $17,000 cash transfer from someone to something. Maybe it was that the company closing was announced on New Year's Eve 1985, leading to employee malaise preventing lockers and offices from being properly packed up.

As crews continue to clear out the massive space, they frequently find stuff stuck in time like an old Western Union telegraph machine.

Like most steel companies in the eighties, the plant was killed by overseas production and a host of other well-documented factors. Its demise triggered the comorbid condition of despair all steel towns experienced. Doors shuttered, causing ripples of decay down the corridors of working-class Sharon. From its peak population in 1950 of 26,454 to its current 13,227 (as of 2019) the four-square-mile town sputtered like its counterparts across the Midwest. But that number is slowly climbing.

Some families moved on, some stayed. Recently, new families are moving in. There are five high schools, two of them brand new. After the plant shut down, a few old bars like the corner staple Our Gang, limped through afternoons pouring cheap bourbon and American beers to locals for decades. Like so many little joints in steel towns, due to the sheer will of survival of its locals, the place is still there. Thriving, in fact. Recently the corner bar enjoyed some national recognition when Pennsylvania's Lt. Gov. John Fetterman raved about it as serving "the best wings in the country" during an interview on CNN. Then, in August, the bar hosted now-candidate for United States Senate Fetterman, an event some could read as a proclamation of a new day in more ways than one.

RESURGENCE

Recently, the enormous plant has caught the eye of a new generation of idealists who want to resurrect it, understanding that when it thrived, the town thrived. Now it's in the hands of a diverse group of residents, businesses, the state of Pennsylvania and Penn State University who want to see it hum again. Like so many parts of a turbine and other things produced there in its heyday, these people are trying to fit together, sequential step by step, each playing a role in making the dissected giant whole again.

Penn State Shenango will partner with Atkinson and his group to build a 25,000 square-foot aquaponics farm in the section that used to produce some type of widgets for the torpedoes. Aquaponics is essentially an agricultural system that features a sequence of fish eggs, fish, fish waste, and elaborate filtering that then feeds plants. The output is fish to sell and eat along with fresh green vegetables.

Jo Anne Carrick, the campus director and chief academic officer of Penn State Shenango says, "Our location in Sharon makes us the only urban campus in the Penn State system and yet our roots are in agriculture." The area is both rural and urban. Many people moved out of town and launched farms. "Aquaponics is a way to extend growing seasons and diversify crops. But it can be complex and must be learned. Partnering with them makes great sense. They need the education component, and we need space. The plant has plenty. We'll retrain and educate people in the skill set of controlled-environment agriculture."

The resurrection of the plant was started more than two decades ago by Winner Development, a family-owned empire which has anchored Sharon for five decades through their bespoke department store, The Winner, and dozens of other business ventures. This includes more than 100 products that are an offshoot of entrepreneur and family patriarch Jim Winner's invention of the famous anti-theft device for cars, The Club.


The Winners bought the Westinghouse site in 1999 understanding the Olympian effort it would take to bring it into environmental compliance and financial viability. As major philanthropists across the Shenango Valley, they saw the potential for community revitalization once they found the right time and partners. Recently they've co-funded projects as diverse as a new performing arts space to a Haitian restaurant and thousands of square feet of renovation of various historic buildings.

Filling the Westinghouse plant with new life is no small task. Its monstrous size and sheer square footage will take time to occupy. Connecting with people like the Atkinsons, Remax Realtors, and a wealth of grant makers and investors ensures that its new life is constantly evolving.

Occupants so far are diverse. On the ground floor, literally a few blocks away but in the same building from each other, are manufacturer Sharon Coating and Blissed Out Designs, a custom coaster company. The third floor hosts some funky artist space.

American Industries, a railroad part supplier, has set up shop in huge swaths of the acreage. A Russian steel manufacturer occupies another space. Further down, big boats sit dry, waiting for a good lake day. Winner Development also has plans for developing commercial and retail space.

Atkinson, along with his wife Amy and three children, came up from Pittsburgh in 2001 by way of Mellon Bank. As wealth managers and active nonprofit volunteer leaders, they recognized the area's potential. "Its access points to interstate is great. I can leave my home in Sharon and be on the interstate in very quick order," he said. " Less than an hour to Cleveland, Cranberry, Erie, and a straight connection to out East."

THE TWAINS OF PAST AND FUTURE

The Valley Shenango Economic Development Corporation named the headquarters for the whole endeavor "The Landing," making a small dent in one of the front sections of the building, turning it into a cool concrete gathering area and sleek board room.

Atkinson says they've already removed a ton of stuff, and replaced hundreds of square feet of roof, walls, electric, plumbing, and other infrastructure, recycling and repurposing where possible. Plans to work with the Senator John Heinz Regional History Center, the Sharon Historical Society and others are on the "to do list." Some elements of the building have made their way into local homes.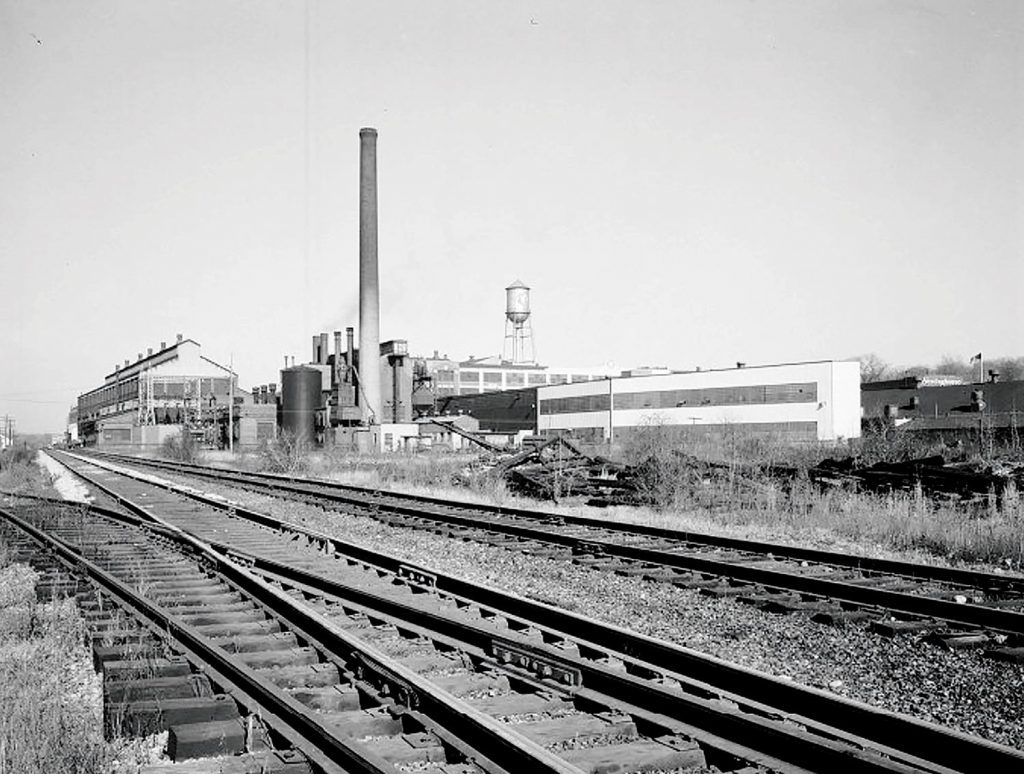 Jack Campbell, the representative for Winner Development, says he got a call in 2020 when crews started refurbishing one of the street-facing buildings. "A woman asked if she could have one of the windows we were replacing. She said her father tossed up a flower into that very window every day for a year when he was courting her mother who typed at a desk right there in the 1950s."

From gun mounts for ships to a failed two-seater car called the Twombly, the plant produced pieces of history for decades. One could explore the space for days and come upon items that, for a time, were all in a day's work. "In one area, the ceilings are 25 feet tall," Atkinson notes. "A huge metal door closes to make the room soundproof. Who knows what was tested in there?"

Not surprisingly, after the suspected carcinogen PCBs were found, the EPA designated the plant a Superfund site (one of the most severely polluted land classifications), charging Westinghouse and its successor company Viacom for the bill for initial cleanup. The EPA is currently conducting a five-year review of the remedy to ensure it's adequate for protection of human and environmental health, which will be completed in in 2022. It's a task everyone in the area and connected to the project takes very seriously, understanding the health of the site is key to forward motion.

The old Westinghouse plant will likely never be suitable for living space, but that's OK. Atkinson sees it as a place that will literally support life. "Sharon is considered a food desert, so we have an interest in building to grow fresh food. The venture is two-pronged, commercial with a social service twist." Key to this is the Penn State partnership. It's just the beginning of plans to launch a series of businesses they hope will fill the food void, starting with the fish and vegetables yielded by the aquaponics enterprise.

It will be a few years before the acres of space are filled. There likely will never be 10,000 people streaming in and out. But the fact that there is funding in hand, real investors, and visionaries with teams of qualified people is reason to believe. Certainly, the sprouting of new businesses surrounding the old giant, like cafes, shops and the expanding presence of Penn State's campus, are already more than anyone could have hoped for back in 1985.

"This is happening," Atkinson says. "It will create jobs and opportunities here that haven't existed in a long while."
For information on leasing space, contact Tracy Mantzell, of RE/MAX Select Realty, tracy.mantzell@remax.net, (724) 933-6300 x 418.